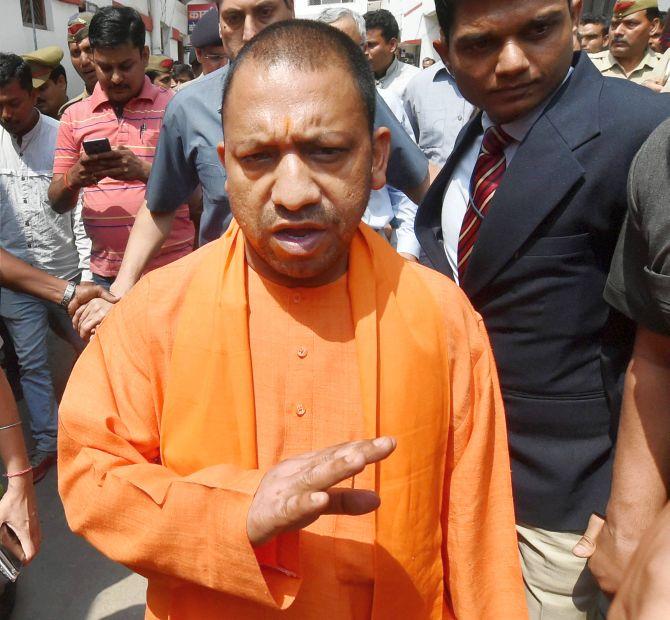 Uttar Pradesh Chief Minister Yogi Adityanth is rushing back from Karnataka on Friday night, cutting short his election tour amid opposition flak for staying away from his own state even after a storm claimed 73 lives there.
The chief minister will arrive in worst-hit Agra on Friday night and visit the affected areas on Saturday morning, state's Principal Secretary Information Avanish Awasthi said.
Adityanath will review the relief efforts in the district and then leave for Kanpur and other areas.
Parts of western UP were battered in Wednesday's storm which also struck the adjoining Rajasthan districts.
Forty-three people died in Agra district alone. Altogether, 124 people were killed and over 300 others injured in five states due thunderstorms and lightning in the last two days, the Union Home Ministry said today.
Adityanath was criticised in UP and in Karnataka, where he is campaigning with Prime Minister Narendra Modi's ahead of the assembly elections on May 12.
"I am sorry your CM is needed here in Karnataka," Siddaramaiah had tweeted. "I am sure he will return soon & attend to his work there."
Samajwadi Party president Akhilesh Yadav, while condoling the deaths, said in a tweet, "CM should immediately return to UP leaving aside campaigning in Karnataka. People have elected him to resolve the problems of their state and not for politics of Karnataka."
If he doesn't rush back even under such circumstances, "He should form his own mutt there (in Karnataka) for all times," Yadav tweeted last night.
Bahujan Samaj Party president Mayawati said despite the calamity, Modi and Adityanath were busy in the Karnataka campaign "only to serve their selfish electoral interests".
In a statement, she said not much should be expected from the government "which has such a narrow mindset".
This is the reason why both the Centre and the state governments of UP and Rajasthan "have remained totally lax and irresponsible" after the loss of life and property, she added.
Congress spokesman Amarnath Agarwal also lashed out at the chief minister for continuing with his Karnataka tour, saying it indicated that the BJP government has "no concern for the people and their welfare at this critical juncture".
Adityanath was earlier scheduled to campaign in Karnataka till Saturday noon.