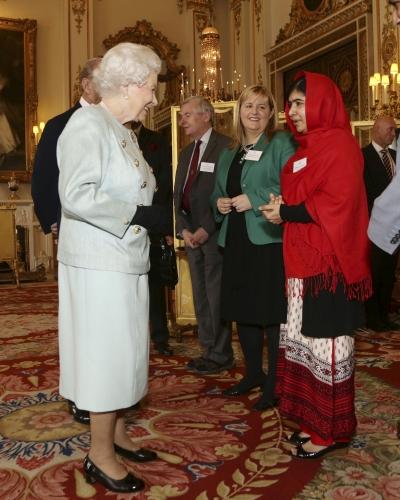 Pakistani teenage activist Malala Yousafzai, who survived an assassination attempt by the Taliban, met Queen Elizabeth II on Friday and spoke about the importance of education.
The Queen and her husband, Prince Philip, invited 16-year-old Malala to a reception for Commonwealth, youth and education at Buckingham Palace, where they met and chatted for a short time.
The teenager, accompanied by her father Ziauddin, gave the Queen a copy of her book, 'I Am Malala', during their meeting, telling her, "It is a great honour for me to be here, and I wanted to present you with this book."
Accepting the gift, the 87-year-old Queen replied, "That's very kind of you."
Malala told the Queen she was passionate about every child having a right to an education, everywhere around the world, The Guardian reported.
She added, "Especially in this country as well. I have heard about many children that can't go to school, and I want to continue our work."
Malala was reduced to laughter by a comment from the 92-year-old duke, who quipped that in this country people wanted children to go to school to get them out of the house. Malala covered her face while in a fit of giggles at his joke.
Malala has been based in Britain since she was flown to Birmingham for emergency treatment last year after the Taliban shot her in the head in her native Pakistan because of her efforts to promote girls' education.
Last Friday, as the world marked the International Day of the Girl, she met US President Barack Obama and First Lady Michelle Obama at the White House. Last week, Malala won the Sakharov Prize for Freedom of Thought, awarded by the European Parliament.
There had been speculation that Malala might also be awarded the Nobel Peace Prize last Friday, but it went instead to the world's chemical weapons watchdog.

Image: Britain's Queen Elizabeth speaks with Malala Yousafzai during a Reception for youth, education and the Commonwealth at Buckingham Palace in London

Photograph: Yui Mok/Reuters