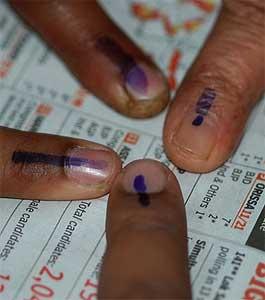 Security agencies are not too thrilled about the Election Commission's decision to share its data with interns from the United Nations.
Days after its plans to team up with Google were grounded by cautious security agencies, the Election Commission has found itself in a similar muddle.
EC authorities are again facing flak from intelligence agencies over their decision to open up the chief electoral office in six states for interns of the United Nations Development Programme.
The EC has given its nod to a programme under which UNDP interns will study, monitor and evaluate the patterns of voters -- in poll offices across six states -- during the forthcoming election season.
Officials of the Election Commission have been asked to supply the complete voters' lists in these states to the UNDP interns.
"This is a breach of data security. Sharing such data can be dangerous to functional democratic elections. We shall take up this issue with the Prime Minister's Office," said a senior source in the external affairs ministry.
The Intelligence Bureau, the Research and Analysis Wing and the EAM are all up in arms against the EC's deal with the UNDP, informed sources told Rediff.com.
The EC had earlier got into trouble over its plans to team up with Google on a project to help Indian voters access information about the entire poll process.
Google had pitched an idea to the Election Commission to create a simpler and faster search tool for Indian voters to check whether they were registered correctly.
After severe warnings from security agencies -- which feared that the United States government could use the information accrued by Google to intensify its spying operations -- the EC had to scrap the agreement.
The Lok Sabha polls -- the world's largest democratic exercise -- are expected to be held in May 2014.
Security agencies were also concerned about the fact that most of the UNDP interns belonged to a certain university in Delhi.
The EC's decision to team up with UNDP interns will be reviewed at the end of January, said highly-placed sources.