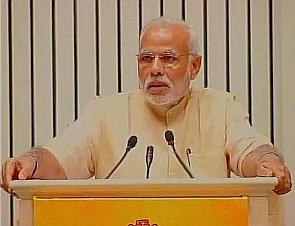 With an intent of developing rural India, Prime Minister Narendra Modi launched an ambitious scheme on Saturday under which he asked each of around 800 MPs to develop physical and institutional infrastructure of three villages by 2019.
Under the Saansad Adarsh Gram Yojana (MP Model Village Scheme), announced by Modi in his Independence Day address, an MP will be free to choose any village but it should not be his or her own village or that of his in-laws. He said he will choose a village in Varanasi, his Parliamentary constituency in Uttar Pradesh.
If all the MPs adopt three villages each, nearly 2500 villages will be developed by 2019.
Launching the scheme, the PM said it is envisaged that under the leadership and through the efforts of Members of Parliament, one village would be developed by each MP by 2016.
On the basis of the model created by this experience, it is envisaged that two more villages would be developed by each MP by 2019 and that one village will be developed every year.
"We are nearly 800 MPs. If before 2019 we develop three villages each, we reach nearly 2,500 villages. If in the light of this scheme, the states also create a similar scheme for MLAs, then 6-7000 more villages can be added," Modi said.
The PM also said that if one village is developed in a block, it is also likely to have a "viral" effect and development would permeate other villages also.
He said that till now the model of development being followed in the country has largely been supply driven. "In Delhi, Lucknow or Gandhinagar, a scheme is prepared and then an attempt is made to inject it everywhere. Through this 'Adarsh Gram' (scheme), we want to shift from supply driven to demand driven model."
He also said that atmosphere should be created where every person is proud of his or her village.
The PM said that after his extensive tour of rural India, he has come to a view that villages can be developed only through participation of people.
"This is not a money driven scheme. This is a people's driven and is going to march ahead with people's participation...The aspirations of the people living in villages are no less than aspirations of those living in cities," he said.
Talking about development, Modi said, "A debate is going on for long as to whether it should be from top to bottom or from bottom to the top. Discussions do help. But those who are working have to begin work somewhere...The talk about bottom to top and top to bottom will continue in the academic world."
Underlining his intention to bring about a change, he said, "We want to work. We want to see whether we can bring change through public participation... I am not claiming that I will change the situation all of a sudden...This schemes is not the ultimate. Changes and improvement will come in this with the passage of time."
He said ever since the country got freedom, all governments worked for rural development in their own way, but "this effort has to go on continuously incorporating changes according to changing times."
Quoting socialist icon Jai Prakash Narayan, Modi said while democracy and politics were inseparable, damage was often caused by bad politics. "This scheme would inspire a movement towards good politics, with MPs acting as facilitators and catalytic agents."
Referring repeatedly to Mahatma Gandhi and JP, he said the scheme under which each MP will take responsibility of developing physical and institutional infrastructure in one village by 2016 and three villages by 2019, is "not a scheme about money".
He said though government schemes were working across the country, in each state there were a few villages that the state could be proud of. "This shows that there was something extra that the leadership and people in those villages had done, beyond government schemes. This something extra is the spirit behind Saansad Adarsh Gram Yojana," the PM said.
"The model of our development has been supply driven. Schemes are made in Delhi and Lucknow and are pushed further. We want to change it from supply driven to demand driven," he said.
Image: Prime Minister Narendra Modi delivers a speech at the launch of 'Saansad Adarsh Gram Yojana' on Saturday