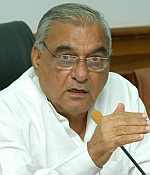 After drawing flak over a series of rapes, the Haryana government on Friday came in fire fighting mode and announced a slew of measures, including enhanced patrolling and supervision by senior officers, to effectively check crime against women.
Nineteen rapes have been reported in Haryana in one month.   
Haryana Chief Minister Bhupinder Singh Hooda reviewed the steps being taken to curb crime against women in a meeting with senior officials of the state and also of the police department in Chandigarh and announced to set up a statewide single number helpline for women.
Hooda announced to appoint a senior police officer of the level of thw additional director general of police to exclusively supervise these measures and ensure speedy trials of criminals involved in crime against women.
This police officer would report to the director general of police, who would forward the report to the home secretary at a weekly interval.
The additional director general of police would visit all districts personally to ensure effective monitoring of investigation and prosecutions in such cases, an official spokesman said. The ADG would also ensure that criminals involved in earlier cases of crime against women are prosecuted.
The chief minister also announced that at the district level, the police would be empowered to avail the services of special prosecutors so that the criminals, involved in crime against women, get stringent punishment.
Hooda also announced that at district level, either a lady deputy superintendent of police or a lady inspector would be posted to facilitate the women in getting their complaints lodged with the police.
The government also took steps to ensure that the incidents are reported properly in media.
The chief minister directed that the field officers, especially the superintendents of police, would fix a specific time to meet media persons daily on the pattern of meeting the general public to redress their grievances. This, he said, would also help in ensuring effective communication with the public through the media.
Hooda also approved the proposal to recruit a public relations officers, who will be in touch with the district superintendents of police, inspector generals of range and the director general of police (headquarters) for media related work.
"Officers of the rank of the inspector general and superintendent of police should be easily accessible to the public. Also, in case of any incident of crime, they should visit the affected persons without any delay," Hooda directed.
Deputy commissioners have also been asked to remain alert and promptly redress the grievances of the people, he said. He said that police patrolling would also be ensured as it would instill confidence among the people and create fear in the minds of anti-social elements.
The spokesman said that the state government through a written communication urged the Punjab and Haryana high court to ensure a speedy trial of cases against women, especially those concerning incident of rape.
Chief Secretary PK Chaudhary, Additional Chief Secretary (home) Samir Mathur, Director General of Police RS Dalal and other senior officers were present at the meeting.

Image: Haryana Chief Minister Bhupinder Singh Hooda