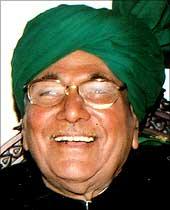 As Haryana encountered the 15th rape case in a month on Tuesday, former chief minister Om Parkash Chautala has backed the idea of Khap panchayats to marry of girls early to curb such crimes, citing a Mughal era practice.

"Look back at the past. The Mughal sultanate in this country used to misbehave with women and used to kidnap them. In order to prevent that people started getting their young girls married early so that no one does anything wrong to them," the opposition INLD leader said.

"...currently a similar situation is arising in the state. I think that's the reason Khap has taken such a decision and I support it."

Chautala made these remarks when asked by newsmen to respond to Khap panchayats' controversial suggestion after he submitted a memorandum to Governor Jagannath Pahadia over recent cases of rape in Haryana.

He also slammed the Congress government in Haryana for the "worsening" law and order situation in the state. Following a rise in cases of rape in Haryana, Khap panchayats had suggested doing away with the marriageable age limit, claiming it will check such crimes.

"Boys and girls should be married by the time they turn 16, so that they do not stray... this will decrease the incidents of rape," Sube Singh, a Khap representative had said.

Congress sought to defend Haryana Chief Minister Bhupinder Singh Hooda, saying he is "not sitting with hands tied".


Asked as to why the Haryana administration was unable to check the rising incidents of rape, Chowdhary told reporters, "....There is an issue in society. All over the world, crime is rising.... It is a challenge.

"The Chief Minister is not sitting with his hands tied. It is an unfair accusation. He is seized of it and he will deal with the matter."

A 19-year-old Dalit girl, said to be five months pregnant, alleged she was abducted and raped by two youths in Kalyat area of Katihal district yesterday even as police said a probe showed she had made a telephone call to one of her rapists in the wee hours. The youths have been arrested in the rape incident, the 15th within a month.