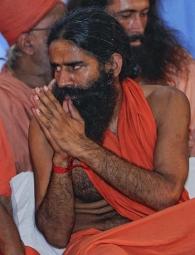 The Chhattisgarh Election Commission has proposed the addition of expenses incurred during Baba Ramdev's recent visit to the state in the election expenditure account of the Bharatiya Janata Party, as his speeches during this period allegedly amounted to a campaign in favour of the ruling party.
"We have proposed to add the entire expenditure incurred in the meetings held by Baba Ramdev during his recent visit to the state to the election expenditure account of the BJP," said Chief Electoral Officer Sunil Kujur.
In the wake of Ramdev's public meetings in different districts of the state, Congress and a regional party 'Swabhiman Manch' had complained that he was using his platform to campaign for the BJP, citing it as a violation of the model code of conduct, Kujur said.
After checking the video recordings of the yoga guru's meetings and other investigations, the Commission found that although he had taken formal permission for conducting a voter awareness campaign and a yoga camp, his speech during the events could be considered as an election campaign in the Bharatiya Janata Party's favour, he said.
On the basis of the findings, a proposal has been sent to the Election Commission of India, Delhi, asking it to add the expenses of the meeting of Baba Ramdev in the expenditure of the ruling party in Chhattisgarh, he said.
Baba Ramdev was on the tour of five districts-- Durg, Bemetara, Kawardha, Rajnandgaon and Korea -- for conducting voter awareness campaign and yoga camps in nearly 15 constituencies of the state between October 3 and October 8.
The model code of conduct came into force in the state on the evening of October 4 after the announcement of the poll schedule for five states, including Chhattisgarh.
Alleging that during his campaign, Ramdev praised BJP's prime ministerial candidate Narendra Modi and criticised Prime Minister Manmohan Singh and United Progressive Alliance Chairperson Sonia Gandhi, the Congress and a regional party had complained to the Election Commission.