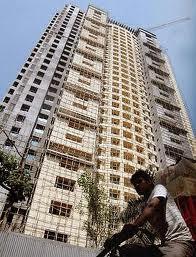 The Maharashtra government has reinstated senior bureaucrats Jairaj Phatak and Pradeep Vyas, who were suspended 2 years ago for their alleged role in the Adarsh housing scam.
Chief Secretary J S Saharia said the 2 officials were reinstated on Monday. Postings will be given to both the bureaucrats later. However, inquiry into cases against them will continue, he said.
According to a Government Resolution, a government employee cannot be suspended for more than 2 years. They said criminal proceedings and departmental enquiries are on against the two. They were suspended on March 22, 2012.
While the CBI found Phatak's son Kanishk had a flat in the posh South Mumbai society, Vyas's wife Seema, herself an IAS officer, had a flat in her name. The two were jailed for more than two months.
Phatak, who was member secretary of a statutory board before his suspension said a departmental enquiry has been initiated against him and Vyas.
"We have been given a showcause notice and asked to respond in ten days. The notice was served on May 19," he said adding the case in High Court pertains to whether CBI has jurisdiction in the matter.
"We will defend ourself and prove the land belonged to the state government. We had to be suspended because CBI arrested Pradeep Vyas, and after being in custody for 48 hours we are deemed to be suspended. I was arrested after suspension," he said adding both he and Vyas are likely to be given non-executive posts as is done for government officials facing inquiry.
"It is better to work and get 100 per cent salary rather than sitting at home and get 75 per cent of it," Phatak reasoned.
Vyas was Finance Secretary at the time of his suspension.
Phatak is a 1978 batch IAS officer and will retire in 2015 while Vyas, a 1989 batch officer, will retire in 2023.
Phatak, a former Mumbai municipal commissioner, was responsible for clearing an additional floor for the Adarsh building without the requisite sanctions, while Vyas was the collector of Mumbai when the land was allotted to the controversial Adarsh society in 2003.
The two were also indicted by a Judicial Commission headed by Justice J A Patil.