Maharashtra minister Sudhir Mungantiwar on Thursday claimed that Gautam Adani prospered during the Congress regime in Gujarat and said one cannot become the prime minister by growing a 'beard', referring to Rahul Gandhi's remarks on the industrialist in Parliament.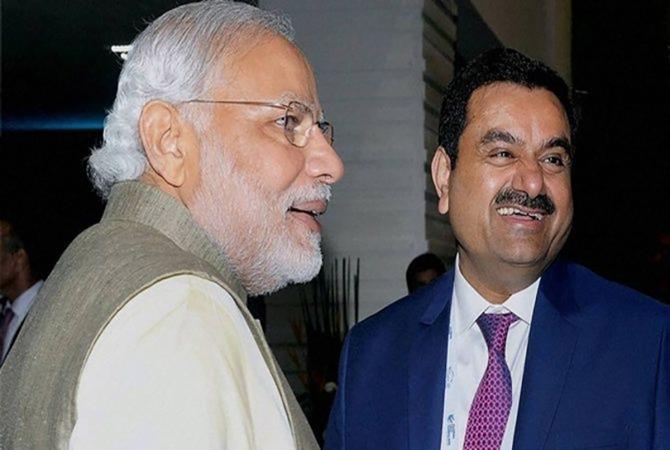 Citing the Hindenburg report, Gandhi on Tuesday said in Lok Sabha that the meteoric rise in Adani's fortunes happened after the Bharatiya Janata Party came to power in 2014 as he rose in the global rich list from the 609th to the second spot eventually.
His remarks drew a sharp response from the treasury benches, with Law Minister Kiren Rijiju asking him not to level 'wild allegations' and to furnish proof of his claims.
"I believe that no one can become the prime minister by growing a beard, one becomes (PM) by growing intellect. Today, when you (Gandhi) are talking about Adani, don't you know when Adani prospered?" he said.
Mungantiwar, who holds forests, cultural affairs and fisheries portfolios, was talking to reporters here during the BJP's campaign kick-off for the bypoll in the Kasba Peth constituency, scheduled to be held on February 26.
"In 1993, when Chimanbhai Patel was the chief minister (of Gujarat), it was you (Congress) who gave land to Adani at 10 paise per square metre. When Chhabildas Mehta was the CM of Gujarat, the Mundra port work was given (to Adani group)," said Mungantiwar replying to a question about Gandhi's allegations in Parliament.
The minister said there is an attempt by the Congress to spread lies about the Adani controversy.
US short-seller Hindenburg Research has levelled allegations of fraud and manipulation against Adani's companies that triggered an unprecedented stock crash. The group has denied the charges.
Asked about the comment on Congress state chief Nana Patole in Shiv Sena mouthpiece Saamana and whether there is disquiet within the Maha Vikas Aghadi -- comprising the Shiv Sena-UBT, the Congress and the Nationalist Congress Party -- that has started to come out in the open, the minister said there was no need for them to check what is happening in the MVA.
"Our work is not for power, our work is for truth. Our work is for dharma (righteousness) and not adharma (unrighteousness). Our work is for people's development and not for betrayal. I do not see any need to comment on what is going on there (in MVA)," he said.
In Saamnana's latest editorial, Patole's 'abrupt' resignation as assembly speaker was termed one of the reasons for the MVA government's fall last year.
The editorial said it was not a 'wise' decision as a series of crises unfolded after that.
Mungantiwar said the BJP's campaign for its candidate Hemant Rasane for the Kasba Peth constituency started today.
He said voters from the constituency have been giving first preference to the BJP since 1978, barring the exception of the 1985 state polls.