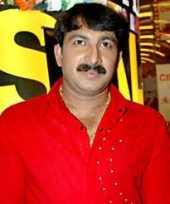 Bhojpuri actor-singer Manoj Tiwari has said he was ready to contest the next parliamentary elections from any constituency of Bihar, if Chief Minister Nitish Kumar wished.
"If Nitishji wishes I am ready to fight the 2014 elections," Tiwari told PTI in Patna claiming he had provided a positive image to the state.
"I am a big fan of Nitishji because of his dynamic leadership qualities," said the Bhojpuri artiste, who had contested the last parliamentary elections from Gorakhpur in Uttar Pradesh on a Samajwadi Party ticket.
Tiwari, a resident of Atarwalia village in Kaimur district, had also actively participated in Janata Dal-United Adhikar rally at Patna on November 4 last year and will take part in the party's rally in Delhi on Sunday.
Asked about constituency, he said this would be decided by the chief minister.
A popular face in Bihar, the Bhojpuri actor has been actively associated with Chhath functions at Mumbai.