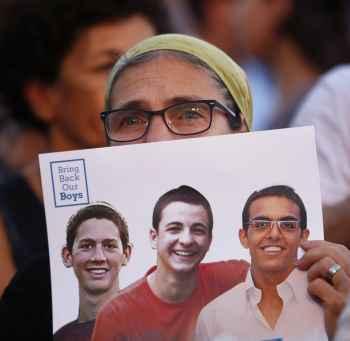 Israel has found the bodies of the three missing teenagers buried in a grave in southern West Bank, just over two weeks after their kidnapping allegedly by Hamas, and vowed to make the Islamist movement pay for their deaths.
The bodies of the abducted teenagers -- Gilad Shaer, Naftali Fraenkel and Eyal Yifrah -- were found by an Israeli Defence Forces team on Monday in a village northwest of Hebron, 17 days after they disappeared.
Five Palestinians were killed and more than 450 arrested during the huge manhunt launched to track down the teenagers.
Security forces believe the boys were shot shortly after their kidnapping in a premeditated plan by their abductors.
Israel's internal security agency, Shin Bet, is continuing with intelligence efforts to track down two Hamas militants, Marwan Kawasme and Amar Abu Aysha, whom Israel has accused of involvement in the kidnapping.
One of the civilian volunteers involved in the search said the bodies had been found under a pile of branches and stones in a remote area.
Israeli Prime Minister Benjamin Netanyahu vowed to make Hamas pay for the murders as he convened an emergency meeting of his Security Cabinet.
"Hamas is responsible and Hamas will pay," Netanyahu said.
"All signs indicate that they are the bodies of our three abducted youths who were abducted and murdered in cold blood by human animals," he said.
Right-wing Bait HaYehudi party leader and Economy Minister Naftali Bennett called for retribution.
"There will be no absolution for murderers of children," Bennett said.
The three teenagers disappeared while hitch-hiking home from their yeshivas in the West Bank.
Opposition leader and Labour Chairman Isaac Herzog called the murders "despicable."
"The kidnapping and murder of innocent boys under cover of night is a despicable and unforgivable crime," he said adding "there is no justification or excuse, and I am convinced that the long arm of the security forces will reach the killers."
Outgoing President Shimon Peres expressed sorrow to the bereaved parents and demanded a crackdown on the "criminal" terrorists.
"Our war against terror will only grow and not weaken so that the murderous terrorists will not dare to raise their heads", Peres said.
Image: An Israeli woman holds a sign with images of three missing Israeli teenagers, at a rally in Tel Aviv
Photograph: Reuters