Delhi Chief Minister Arvind Kejriwal's apology to a Shiromani Akali Dal leader and former Punjab minister Bikram Singh Majithia for accusing him of drugs trade pushed the party's Punjab unit into a crisis as the state leadership contemplated breaking away and forming a separate unit, saying the 'meek surrender' was painful and very unfortunate.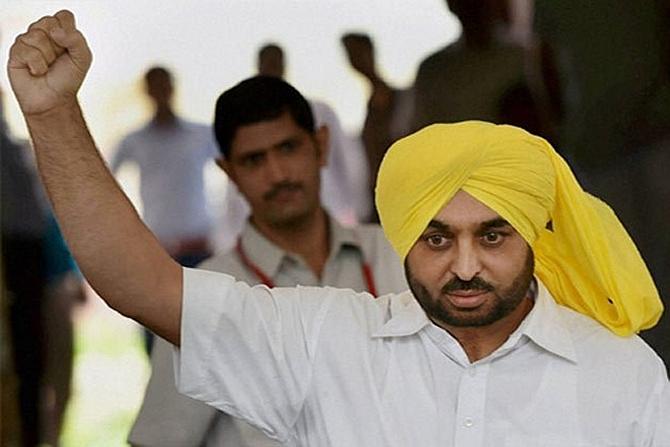 Kejriwal's apology to former Majithia triggered upheaval in the state unit as AAP's Punjab unit president and co-president Bhagwant Mann and Aman Arora resigned their posts.
Mann announced his resignation on Twitter.
'..I m resigning as a president of AAP Punjab...but my fight against drug mafia and all kind of corruption in Punjab will continue as an 'Aam Aadmi' of Punjab (sic),' Mann said in a tweet.
In a further jolt, the Lok Insaf Party, their ally in the state, announced to break its alliance with AAP in the wake of Kejriwal's apology.
"We have announced to break our alliance with the AAP. We cannot be associated with a party whose main leader meekly surrendered by tendering apology to former minister Bikram Singh Majithia," LIP leader and MLA Simrjeet Singh Bains said.
AAP state unit leaders also said they were now facing allegations whether Kejriwal had entered into an understanding with the SAD by tendering apology to Majithia in defamation case.
Kejriwal also earned wrath of the ruling Congress and SAD-Bharatiya Janata Party leaders, who accused him of being in the habit of making false allegations against his opponents to garner votes.
A two-round marathon meeting was held by the Punjab unit of AAP here in which a resolution on splitting from the Delhi unit and forming a separate unit was discussed, though a final decision was deferred.
As many as 20 MLAs including two legislators of Lok Insaf Party took part in the meeting in the morning even as a few legislators stayed away from the second round of the meeting held later in the evening.
"All MLAs condemned the apology tendered by Arvind Kejriwal without consulting the state leaders. This has made party's position in Punjab untenable and our party volunteers, our constituents and even our NRI supporters are very upset. Disussion took place what should be our next course of action, what is the next option for us.
"Two to three resolutions were kept, which were discussed thoroughly. One among these was whether we should split from the Delhi unit and form a separate unit or should we continue like this. Consensus could not be built on this even though majority MLAs wanted to break away.
"The members said they were very angry with this apology while others felt that they wanted to ask Delhi leadership on apology issue.
"Therefore, decision on this has been deferred for the time being," AAP senior leader from the state, Kanwar Sandhu told reporters.
Replying to a related question, Leader of Opposition and AAP senior leader Sukhpal Singh Khaira said the apology has been condemned said across the party's state unit.
"A vast majority of the leaders was of the view why a separate unit of Punjab AAP should not be formed which will have alliance with Lok Insaf Party and also forge alliance with like-minded parties and can even go to the extent of having former Punjab unit convenor Sucha Singh Chhotepur on board..," Khaira said, adding decision on this has been deferred for the time being.
Among the decisions taken at the meeting, Kanwar Sandhu said, "We have also decided that future meetings with our leadership from Delhi be held in Chandigarh".
On LIP breaking ties with the AAP, Sandhu said, "They too are upset with Kejriwal's decision and said they cannot support him anymore, but they have assured their continued support to the state unit to raise the issues concerning people of Punjab."
"Kejriwal may have apologised, but our state unit will continue its fight against drugs," Sandhu said, adding, "Our stand continues to remain unchanged, we demand that CBI probe drug racket case and if involvement of any political leader is found, that too should be probed by the CBI."
To a question, he said that some party MLAs did not attend the second round of meeting in the evening due to some preoccupation, but they are standing by the decisions taken in today's meeting.
"If some colleagues did not turn up, this doesn't mean we have fallen apart," he said.
AAP Punjab chief Bhagwant Mann, who was away to Delhi, and senior leader H S Phoolka also said they would support whatever decision AAP leaders from Punjab take, said Sandhu.
AAP MLAs were also of the opinion that Kejriwal should not have tenderd an apology when he himself led the charge against Majithia on drug issue during the 2017 Punjab assembly polls.
Among other issues, drug abuse was a major issue in the Punjab Assembly elections last year, he said.
"Kejriwal was leading the charge..in such circumstances, Kejriwal's apology was painful, very unfortunate. It is like our big leader while showing psychological weakness, has surrendered," added Khaira.
Khaira said that he was getting numerous messages from volunteers and that he wanted to ensure that whatever decision is taken, it would be in the interest of Punjab.
Kejriwal had on Thursday apologised for levelling charges of involvement in drugs trade against Majithia, saying he had learnt that his allegations were unfounded.
The chief minister in his apology letter had said, 'In the recent past I made certain statements and allegations against you (Majithia) regarding your alleged involvement in the drug trade. These statements became a political issue.'
'Now I've learnt that the allegations are unfounded. Hence there should be no politics on such issues. I hereby withdraw all my statements and allegations made against you and apologise for the same,' he said.
Punjab cabinet minister Navjot Singh Sidhu accused Kejriwal of 'murdering' the AAP in Punjab by tendering his apology, while Union Minister and BJP leader Vijay Sampla said the Delhi CM can go to any extent to grab power.
"I feel Kejriwal has murdered AAP in Punjab. It is as if their existence has been wiped off. With what face will they speak against drugs in Punjab now?" Sidhu asked.
Former Chief Minister and Akali Dal patriarch Parkash Singh Badal said by tendering apology, Kejriwal has admitted that he had made false accusation against Akali leader.
Leader of Opposition in Punjab Sukhpal Singh Khaira said that he was 'stunned' by the apology by Kejriwal.
'We're appalled n stunned by the apology of @ArvindKejriwal tendered today,we don't hesitate to admit that we haven't been consulted on this meek surrender by a leader of his stature,' he said on Twitter.
In another tweet, Khaira said, 'We promise to continue our tirade on the burning issue of drugs destroying the youth of Punjab'.
'I fail to understand the timing of Kejriwal's apology when STF of PB has stated to the High Court today that there's substantial evidence to proceed against Bikram Majitha on the issue of drugs-khaira (sic),' he had tweeted on Thursday.
Union minister and SAD leader Harsimrat Kaur Badal said Kejriwal's apology has exposed the 'low level of politics' adopted by the AAP.
"A classic example of a smear campaign run by them (AAP) in Delhi and Punjab by spreading false propaganda. They built the entire momentum of their election campaign (in Punjab) on lies...he (Kejriwal) stands thoroughy exposed," she said.
Congress leader Pratap Singh Bajwa said the AAP supremo did not have the guts to stand by his words, while BJP's Vijender Gupta said Kejriwal could have rendered his apology publicly instead of sending a private letter.
"Why did he (Kejriwal) send his apology privately when he had made the allegations publicly," Gupta asked.
Reacting to the development on Twitter, senior AAP leader Kumar Vishwas said, 'I have been regularly dropping my shows to attend several court hearings related to 2013, 2014 and 2015 poll campaigns without any legal assistance from AAP. Another one pending tomorrow and I hv been again engaging my personal lawyers for this. Will carry on this fight. Jai Hind (sic)'.
Meanwhile, AAP's Punjab in-charge and Delhi Deputy CM Manish Sisodia said that the party leadership will talk to state leaders, who are unhappy to solve the issue.
"We fight for the people on streets. It is not our work to fight in court. However, we will fight for people in court," Sisodia said on the apology to Majithia.
"If we spend time in court, then how we will be able to spare time for the people?" he said.
Image: Bhagwant Mann. Photograph: PTI Photo.