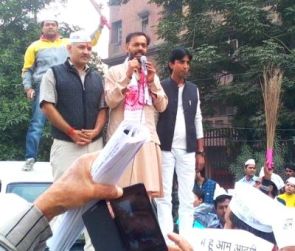 The Delhi poll results have thrown up several "giant killers" who led a life of anonymity and were political novices before they entered the electoral battle on AAP tickets.
Rakhi Birla, a former journalist with a private news channel, stole the thunder from Congress's Raj Kumar Chauhan, who was the PWD minister in the Sheila Dikshit government. She defeated Chauhan by a margin of 10,585 votes in Mongolpuri constituency.
Hailing from the Valmiki community, Birla has humble origins as her mother works as a MCD sweeper. She defeated Chauhan on the anti-corruption plank. Chauhan was indicted by the Delhi Lokayukta in a land grab case but the Dikshit government had refused to sack him.
Ashok Kumar, contesting from Ambedkar Nagar, not only defeated BJP stalwart Khushi Ram Chunar by 1,1670 votes, he also pushed veteran Congress leader Chaudhary Prem Singh, who has not lost any elections from this constituency since 1958, to the third place.
Known to be associated with cricket in his area, debutant Kumar defeated Singh, who got 19,753 votes, after securing a total of 36,239 votes.
Singh also holds a Limca book of records of winning ten consecutive terms from the same constituency as well as the same party.
Amongst other AAP candidates, Rajesh Garg won from the otherwise BJP stronghold of Rohini defeating BJP heavyweight Jai Bhagwan Aggarwal by a margin of 1,872 votes.
An RTI activist and associated with the Congress for a long time, Garg's wife had contested the municipal election on the party ticket.
A former NSG commando Surendra Singh defeated BJP's Karan Singh Tanwar by a margin of 355 votes in the Delhi cantt constituency.
He served the Indian Army for 14 years and fought in wars like Kargil and took part in operations Parakram, Sadbhavna, and Black Thunder (post 26/11 Mumbai terror attacks).
AAP's Veena Anand, a social activist, defeated BJP's Poornima Vidyarthi by a margin of 6262 votes in Patel Nagar constituency.
AAP contestant Ashok Kumar Binny from Laxminagar constituency toppled Health Minister A K Walia by a margin of 7,752 votes.
He had, however, won the election standing as an independent candidate twice from his assembly. Connecting directly to the people, Binny used to invite suggestions for development works in his contituency from electors by writing letters to them.
AAP had taken this idea as part of his manifesto and decided to set up "Mohalla Sabhas".