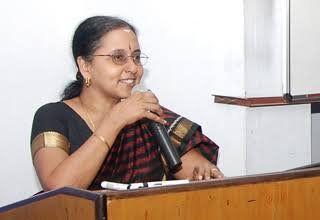 Tamil Nadu Chief Secretary P Rama Mohana Rao was on Thursday replaced from the top post a day after income tax raided his house, office and other premises linked to his kin in connection with a tax evasion probe and claimed to have seized Rs 30 lakh in new currency and 5 kg gold.
Additional Chief Secretary Girija Vaidyanathan was appointed as the new chief secretary, bringing the curtains down on the seven-month stint of Rao.
He was appointed to the post in June this year after the late J Jayalalithaa led her All India Anna Dravida Munnetra Kazhagam party to a successive term following the May 16 assembly polls.
However, there was no clarity on the status of Rao, even as he was stripped of the portfolios held by him and the government handing them over to his successor.
"Dr Girija Vaidyanathan IAS, Additional Chief Secretary/Commissioner of Land Administration, is transferred and posted as Chief Secretary to Government, vice Dr P Ramamohana Rao," a Public (Special A) Department order said.
Vaidyanathan shall also hold full additional charge of the post of Vigilance Commissioner and Commissioner for Administrative Reforms, previously held by Rao, it said.
Rao's removal as chief secretary comes a day after I-T conducted searches at his Anna Nagar residence, besides the premises of his son and some relatives, prompting the opposition to seek his removal.
Dravida Munnetra Kazhagam Treasurer and Opposition Leader MK Stalin and Communist Party of India-Marxist state secretary G Ramakrishnan, among others, had strongly argued for Rao's removal.
Stalin had called the raids "unprecedented" in the state's political history.
Rao's house and office were on Wednesday searched by Income Tax officials who claimed to have recovered Rs 30 lakh cash in new notes and 5 kg of gold besides getting "disclosure" about Rs 5 crore of unaccounted income.
With about 35 personnel of CRPF providing security, around 100 Income Tax sleuths, launched the raids as early as 6 am at 15 places, including the office and the residence of Rao, his son Vivek and some relatives in Chennai and Chittoor in neighbouring Andhra Pradesh, IT sources had said.
IMAGE: Girija Vaidyanathan. Photograph: ANI