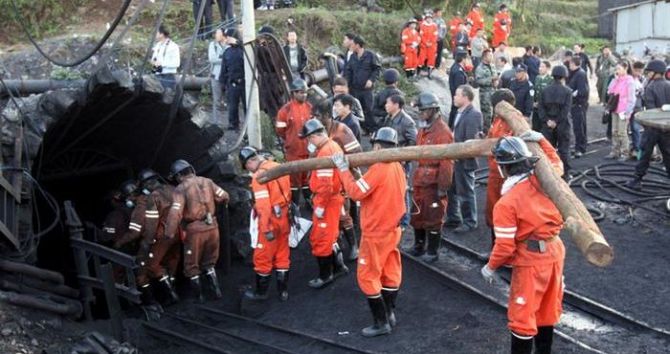 At least 26 workers were killed and 50 others injured when a major fire engulfed a coal mine in China's north-eastern Liaoning province on Wednesday soon after a mild earthquake jolted the region, in one of the worst mine accidents in the country in recent years.
The fire was noticed in the early hours at the coal mine under Hengda Coal, a subsidiary of state-owned Fuxin Coal Corporation, a major producer in the province.
In the blaze, 26 mine workers were killed and 50 others injured, state-run Xinhua news agency reported.
Fuxin Coal said the rescue is over and all the injured workers have been hospitalised.
Among those taken to hospital, mostly with burns and respiratory injuries, 30 were seriously hurt and four were in life-threatening condition.
"Some of the injured are still in critical conditions and might need to be transferred to bigger hospitals in the provincial capital of Shenyang," a medical worker with the general hospital run by the mine company said.
During initial investigations, it was found that coal dust in a shaft was ignited shortly after a weak earthquake with a magnitude of just 1.6 hit the mine.
Local government is further investigating connections between the tremor and the fire.
Operations have been suspended at the mine for safety checks.
Built in 1978, the Fuxin mine is one of the largest coal producers in north-east China with an annual production of 1.5 million tonnes.
It's not the first time such an accident has happened in the mine, which has some 4,660 employees.
Last year, eight workers were killed during a gas leak in a Fuxin Coal.
Photograph courtesy: Twitter