Drone cameras will monitor the crowds in real time.
Virendra Singh Rawat reports.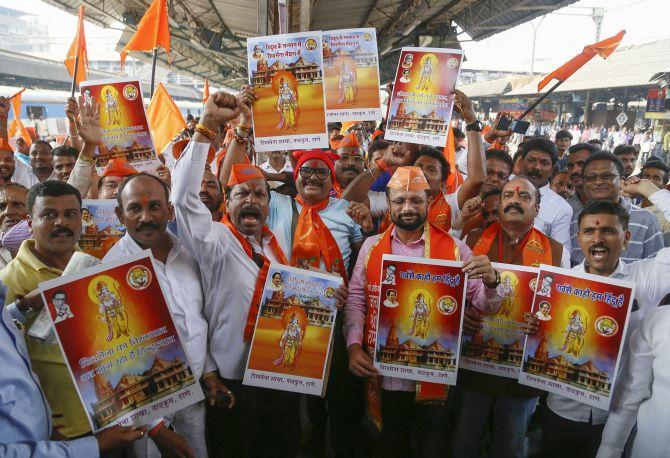 Following the mass mobilisation events announced by the Vishwa Hindu Parishad and Shiv Sena on Sunday, November 25, in Ayodhya, the temple town has been turned into a virtual fortress to thwart any untoward situation, which could escalate and pose a threat to the law and order situation for the Uttar Pradesh government.
Almost 70,000 security personnel have been deployed under a multiple-tiered security arrangement in Ayodhya.
The state government has been mandated to ensure security in Ayodhya according to Supreme Court guidelines. The UP government has deployed anti-terror squads, special police and paramilitary personnel, including Rapid Action Force and drone cameras to monitor the crowd in real time.
While security is always on high alert in Ayodhya, especially around the disputed site, the security apparatus has further been strengthened in view of a large number of people who are expected to arrive for the two separate programmes.
The VHP has announced a Dharam Sansad (religious parliament) seeking a law to facilitate an early construction of the Ram temple in Ayodhya. It claims to have invited thousands of its members to arrive in Ayodhya to display its support for the temple cause.
On the other hand, Shiv Sena chief Uddhav Thackeray is scheduled to arrive in Ayodhya on Saturday for Sunday's programme. The Sena has already booked two special trains to ferry its activists from Maharashtra to show solidarity for the demand.
Thackeray will meet Hindu seers, perform Saryu Aarti and visit the makeshift Ram Lala temple during his two-day stay in Ayodhya.
A high-level meeting was held in Lucknow on Thursday night to review the security arrangements in Ayodhya.
Two senior Indian Police Service officers -- Additional Director General of Police Ashutosh Pandey and Deputy Inspector General of Police Subhash Singh Baghel -- will supervise security arrangements in Ayodhya.
While Pandey is tasked with the charge of the blue and yellow zone of the disputed site, Baghel has been given the task of ensuring the security of the red zone.
Pandey will also officiate as the security in-charge during the Shiv Sena programme and would manage the security for the VHP's event.
According to sources, 48 companies of the Provincial Armed Constabulary have been sent to Ayodhya apart from RAF companies.
Around 10 companies of the PAC and other security agencies are permanently posted for year-round security at the disputed site, trifurcated into blue, yellow and red zones.
UP Director General of Police O P Singh had ordered deployment of five superintendent of police rank officers in Ayodhya along with 15 additional SPs and 19 deputy SPs. Ayodhya has been divided into eight zones and 16 sectors headed by a magistrate and an ASP and DSP rank police officers.