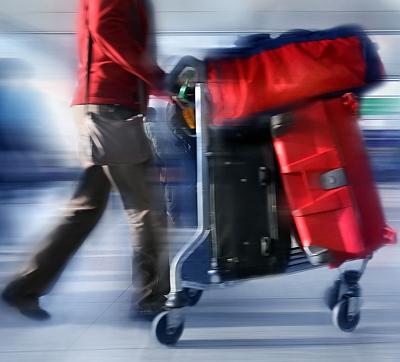 Three Hyderabad-based cousins, who allegedly planned to join "jihadi terror groups", were on Saturday picked up from Nagpur international airport while on their way to Srinagar, months after they were put under watch for being influenced by online Islamic State propaganda.
Earlier reports had said that the trio was arrested as they were planning to join the dreaded terror outfit.
Police said the three were rounded up in a joint operation by Maharashtra Anti-Terrorist Squad and Telangana Police at the airport when they were trying to board a morning flight to Srinagar after arriving in Nagpur from Hyderabad on Friday.
The youths, in their 20s, were counselled by police last year after they were caught while allegedly planning to join ISIS and have been under watch since then.
"They have a jihadi kind of mindset. They were going to Srinagar. But they do not have any connection with ISIS as of now. We do not know of anything which can suggest that they were in touch with ISIS people," a senior Intelligence Official of Telangana Police told PTI.
"The trio wanted to reach Srinagar from where they wanted to explore (the idea of) joining some terror organisation. They did not have any well prepared plan but they wanted to explore ways to join some jihadi terror organisation," he said.
All three, who are students, were counselled earlier and they were under watch of police. About two days ago, they ran away from their homes here about which the police were informed by their family members.
Police tracked them down at Nagpur and alerted the Maharashtra ATS following which they were picked up, a senior Special Branch Official of Hyderabad Police said.
Asked on reports that the trio were planning to join ISIS, the official said, "As per our information, they don't have any such plans...however, if there is something such in their minds we need to ascertain it."
Last year, they had got attracted to ISIS propaganda online and when police came to know about it, they were caught and counselled following which they stopped the activity.
"All three are being brought back to Hyderabad. Once we get them back to Hyderabad we will question them to check from them on their plans. Only after questioning them we will come to know about if they had any other intentions (joining ISIS or any other terror organisation)...then we will proceed further accordingly," the official said.
"There is no case against the trio and they have not been arrested. They have been only picked up," he said clarifying on reports that they have been arrested.
The youths are related to late Student Islamic Movement of India president Syed Salahuddin, who died in a car accident in October last year in Telangana.
Recently, four youths went'missing' from suburban Malwani in Mumbai, allegedly lured by the ISIS ideology. While two of them have returned home, two others are still intraceable.
Besides, a Pune-based 16-year-old girl, who was reportedly radicalised by her ISIS contacts abroad and brainwashed to go to Syria, was questioned by ATS sleuths earlier this month and sent to a de-radicalisation programme.
Notably, in May last year, four youths from Kalyan township in Thane district of Maharashtra had gone to Syria to join the ISIS. One of them, Areeb Majeed, returned and is currently in NIA custody while the whereabouts of the other three were not yet known.