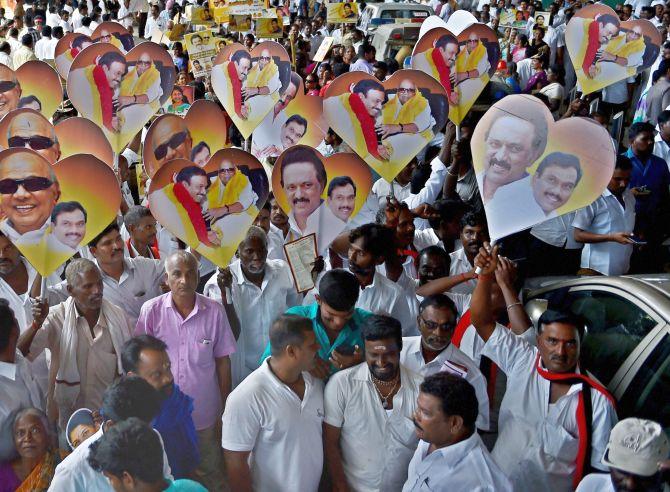 IMAGE: DMK leaders A Raja and Rajya Sabha MP Kanimozhi being welcomed by party workers upon their arrival in Chennai on Saturday. Photograph: PTI Photo
Two days after their acquittal in the 2G scam case, former Union minister A Raja and Dravida Munnetra Kazhagam Rajya Sabha member Kanimozhi on Saturday arrived in Chennai to a rousing welcome by party workers.
Led by DMK Working President M K Stalin, a host of party leaders, including Duraimurugan and former Union minister TR Baalu, welcomed them at the airport.
Stalin and others presented shawls to the duo.
Cadres showered flowers, burst firecrackers and played traditional music. They also performed folk dances like 'Karagattam' and 'Kavadi'.
Raja and Kanimozhi visited party patriarch M Karunanidhi at his residence and took his blessings.
Upon their arrival at the Gopalpuram residence of the nonagenarian leader, Raja touched the top leader's feet as a mark of respect and presented a shawl.
The former Union minister told Karunanidhi "I have been acquitted in the 2G Spectrum case" and shook his hand.
Kanimozhi took the blessings of her father and party chief and reportedly told him that she and the party stood vindicated in the case.
Karunanidhi smiled and later waved at the party cadres.
Since October last year, the nonagenarian leader has been inactive in politics due to ill health.
The party workers erupted in cheers when the wheelchair-bound leader waved at them, which is not an everyday gesture nowadays in view of his health.
Raja, Kanimozhi and 15 others accused were on Thursday acquitted in the politically-sensitive 2G spectrum allocation scam cases by a special court in Delhi, which held that the prosecution "miserably failed" to prove the charges.