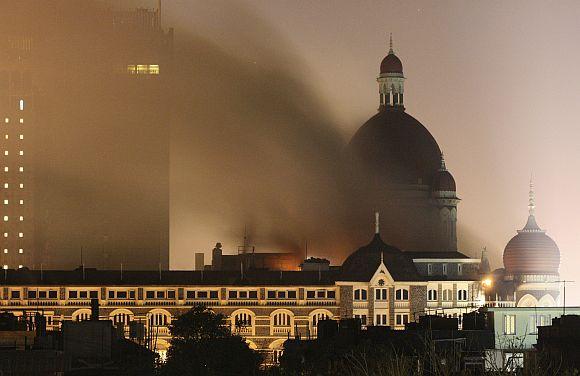 An Al Qaeda document recovered by US Navy SEALs from the Abbottabad hideout of Osama bin Laden describes the 2008 Mumbai terror attack by Pakistan-based Lashkar-e-Tayiba terrorists as a "heroic Fidai" operation and the one at German Bakery in Pune as a "beautiful huge" bombing.
The 15-page document "Terror Franchise: THE UNSTOPPABLE ASSASSIN: TECHS vital role for its success", originally in English, lists the Mumbai terror attack as one of the "blessed" operations.
The document directs Al Qaeda and its affiliates to kill and target Americans and its allies, including those in Britain, Germany and India with their terror attacks.
"The mission of the Global Mujahideen is to destroy the American economy by targeting American economic targets globally," it said.
"Following the London bombing and before it, there were several blessed operation against American and European targets in Indonesia, Pakistan, Egypt, India and elsewhere, such as the brave bombing of a bus carrying French nationals, the Marriott hotel massive bombing, the bombing of the Denmark embassy in Islamabad, the massive Bali bombings, and lately the heroic Fidai (martyrdom) operations in Bombay -- India's economical capital -- in which several western targets were struck in which many Americans and other westerners were killed," the document reads.
"Following that, was the beautiful huge bombing -- also in India -- of the German bakery mainly visited by Jews and western nationals in general," it said about the 2010 blast that was carried out two years after the Mumbai attack.
This is among the large tranche of documents recovered by the US from the compound of the house where Laden was hiding when the US secret forces killed the Al Qaeda leader.
US intelligence officials have described these documents as a treasure trove of information.
A portion of these documents -- many of which are in Arabic -- were declassified and translated by the Office of the Director of National Intelligence.
"The release, which followed a rigorous interagency review, aligns with the President's (Barack Obama) call for increased transparency," an official statement said.
A quick glance through these documents running into several hundred pages shows that Laden was very much aware of the Mumbai terror attack and his machinery described this as one of the success stories to be emulated by other Al Qaeda affiliate groups globally.
In these documents, Al Qaeda is very strongly against the Inter Services Intelligence of Pakistan and describes it as an ally of the CIA.
"In a nutshell, Pakistan's ISI sold or surrendered to America its 60-year-old (already prepared) infrastructure of senior agents, informers, recruiters, bases, political parties, airports, logistics, and all that the Americans demanded from them," it alleged.
"ISI dogs gathered the somewhat freely available info from their countless money-worshipping tribal agents, or from the many captured among the Mujahideen and civilians, in checkposts, sudden ambushes, and sudden raids on houses" between 2003-2006, according to the document.