The Uddhav Thackeray-led Shiv Sena (UBT) on Tuesday claimed 22 MLAs and nine MPs from the rival Shiv Sena were feeling suffocated due to the "step-motherly treatment" by the Bharatiya Janata Party and could quit the group led by Maharashtra Chief minister Eknath Shinde.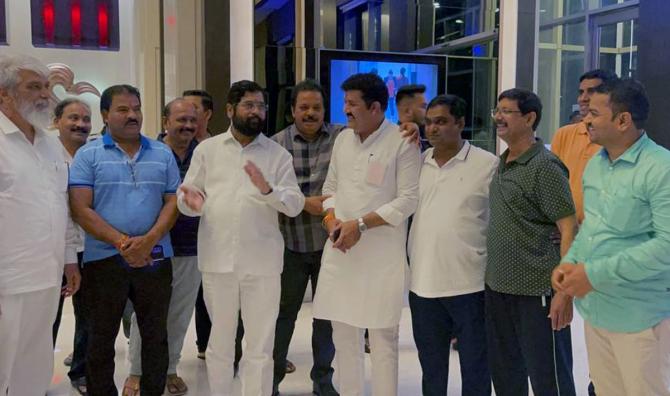 Latching on to Shiv Sena MP Gajanan Kirtikar's remark that his party was getting step-motherly treatment, an editorial in Shiv Sena (UBT) mouthpiece Saamana dubbed the Shinde group MLAs and MPs as "hens and cocks" imprisoned in the BJP coop and that it cannot be said when they could be slaughtered.
It said Uddhav Thackeray-led Shiv Sena (then undivided) severed ties with the BJP (in 2019) due to the same "step-motherly treatment" which became unbearable, and also for its safety and self-respect.
The Thackeray-headed Shiv Sena exited the National Democratic Alliance (NDA) in 2019 and joined hands with the Congress and Nationalist Congress Party to form a government in Maharashtra.
After the split in the Sena last year, Shinde joined hands with the BJP to become CM.
Kirtikar, the Lok Sabha member from Mumbai, on Friday said, "We are part of the NDA....So our work should be carried out accordingly, and (NDA) constituents should get a (suitable) status. We think we are being given step-motherly treatment."
The editorial in Saamana on Tuesday said reports are that Shinde group's "22 MLAs and nine MPs are feeling suffocated because of step-motherly treatment by the BJP and they have developed the mindset to quit the group."
It said the Shiv Sena MPs and MLAs "betrayed" the Thackerays and joined hands with the BJP, but within a year, their "love affair" has turned sour and there are talks of their divorce.
Kirtikar last week said the Shiv Sena contested 22 Lok Sabha seats (out of total 48) in Maharashtra in the 2019 and this arrangement with the BJP will continue in the state even in the 2024 Lok Sabha polls.
The editorial claimed the Shiv Sena has asked for contesting 22 seats in the Lok Sabha, but the BJP will not give it more than five to seven seats.
The Shiv Sena's claim that it will fight on 22 seats is laughable, the Marathi daily said.
Targeting Deputy Chief Minister Devendra Fadnavis, the editorial claimed he has become the "driver" of Chief Minister Eknath Shinde, which means all powers of the state government lie with the BJP leader.