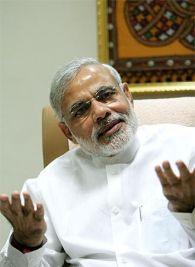 Bharatiya Janata Party leader Narendra Modi on Tuesday said the upcoming general elections will be a "magnificent event" that would not be fought on the basis of number of seats alone but the connect between party leaders and the electorate.
"The next election would be a magnificent event. The country is sinking and we have to save it. This election would be the rarest of the rare election."
"So many political pundits are analysing the outcome of the polls. But I can definitely say the next elections will not be based on mathematics (number game alone), but on chemistry (between parties, leaders and voters)," Modi said while addressing BJP workers at Gandhinagar Town Hall.
He said there are no full stops in politics and no politician can ever be written off. He was speaking at a function where Gujarat Parivartan Party, floated by BJP rebels a couple of months ahead of the December 2012 Assembly polls, merged with the saffron outfit.
Welcoming former Minister Gordhan Zadafia, one of the founder members of GPP and its President, and his supporters into the BJP fold, the saffron stalwart said "Politics has a rule. There are no full-stops in politics."
"What next? -- don't keep this question in your mind. We have instances in history where people who had packed their bags suddenly saw their fortunes reviving suddenly. Our former Prime Minister Narasimha Rao called it a day but suddenly his life changed and he became prime minister."
Modi asked GPP workers to remain in touch with common people. "The more you are connected with people, the more you will succeed in public life. We have to make constant efforts to understand the pain and grievances of general public."
"I have learnt from my own experience that in politics, there is no bigger power than patience. If we work with patience, no power on earth can defeat us."
On Monday, Zadafia drove to the BJP headquarters along with his supporters and announced his party's merger with the BJP. GPP MLA has also joined BJP along with Zadafia.
On February 13, former chief minister Keshubhai Patel, who was the driving force behind GPP, announced he was quitting active politics. Patel, once a stalwart in Gujarat BJP, later fell out with Modi and became his critic.
Former Chief Minister Suresh Mehta was the lone voice in GPP to oppose merger with BJP, saying he will continue his fight against Modi.
GPP was formed by Gujarat BJP dissidents, including Keshubhai, Mehta and Zadaphia, who was minister of State for Home when 2002 riots took place in the state.
Zadaphia formed Mahagujarat Janata Party when he walked out of BJP on the eve of 2007 Assembly polls owing to differences with Modi. Later, he merged MJP with GPP.
GPP suffered a body blow when Keshubhai's son Bharat switched over to BJP and later the veteran leader himself stepped down as party President, quit as MLA and announced his retirement from active politics. Keshubhai, too, had advised GPP to merge with BJP.
GPP, which fought the 2012 Assembly elections on the plank of "parivartan" (change) and presented itself as an alternative to Modi, failed miserably at the hustings, winning only win two seats out of the total 182.