Syed Firdaus Ashraf lists 10 instances when the BJP didn't pull its punches.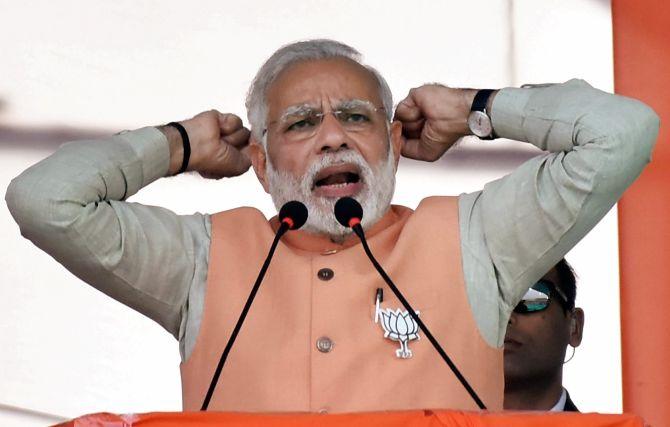 The storm over Mani Shankar Aiyar's remark calling Narendra D Modi 'neech kism ka aadmi' (a vile man), has not blown over.
Even as the Congress suspended Aiyar from membership of the party, the Bharatiya Janata Party went all out to make political capital from the episode.
Modi quickly pounced on the remark: 'Shriman Mani Shankar Aiyar said Modi is of 'neech' (lower) caste and is 'neech' (vile).'
'Is this not an insult to Gujarat?' Modi asked, converting Aiyar's remark into one directed at his caste.
BJP President Amit A Shah tweeted, stating that in the last 15 years, the Congress has given Modi many titles -- 'Yamraj, Maut Ka Saudagar, Ravan, Gandi Nali Ka Keeda, Monkey, Rabies Victim, Virus, Bhasmasur, Gangu Teli, Goon.'
The BJP was clearly on the front foot following Aiyar's unsavoury remark, but a quick recap reveals that its leaders have not lagged behind when attacking Opposition leaders, often marking a nadir in the use of political idiom.
1. Just not cricket
March 2013. At the BJP's national council meeting at New Delhi's Talkatora stadium, Modi, the party's rising star, called then prime minister Manmohan Singh a 'night watchman.'
'Once Sitaram Kesri was Congress president. We felt as if a night watchman was sitting. Because if a competent person comes, what happens to the family?' Modi went on to say. 'And I remember the time Kesri was thrown out of office. Is such democracy seen anywhere?'
'Then when the time came to form the government, they (the Gandhis) chose a prime minister who can do what the family wants, so another night watchman.'
'The nation never thought the night will be so long and dark.'
2. Udder nonsense
During Lal Kishenchand Advani's Bharat Uday Yatra in Gujarat in 2004, Modi mounted a blistering attack (external link) on Congress President Sonia Gandhi, calling her a Jersey cow and her son Rahul Gandhi a hybrid bachda (calf).
Asked about this, Sonia responded: 'I welcome it (the abuse), it must mean we are doing something right.'
3. Employment exchange
During the 2004 Lok Sabha election campaign, when he managed BJP prime ministerial candidate Advani's campaign, Modi said Sonia and Rahul were not even worth being hired as a shop clerk or driver (external link).
4. When it rains, it pours
In February this year, Modi took a dig at Manmohan Singh in the Rajya Sabha stating, 'Even though many scams took place in the country, Singhsaab's image remained clean. People should learn from him how to bathe in the bathroom wearing a raincoat.'
Dr Singh had earlier described demonetisation as 'organised loot and plunder'. Obviously, it irked a prime ministerial nerve.
5. Invoking the Mughals
On December 6, G V L Narasimha Rao, one of the BJP spokespersons, called Rahul 'Babar bhakt and kin of Khilji'.
On the 25th anniversary of the Babri Masjid's demolition, Rao tweeted (external link): 'Rahul Gandhi has teamed up with Owaisis, Jilanis to oppose Ram temple in Ayodhya. Rahul Gandhi is certainly a "Babar Bhakt" & a "Kin of Khilji". Babar destroyed Ram temple & Khilji plundered Somnath. Nehru dynasty sided with both Islamic invaders. Travesty & Perversity of the dynasty!'
6. Dog days
In 2002 Vishwa Hindu Parishad President Dr Pravin Togadia called Sonia an 'Italian kutri' (female dog)!
During a speech in Bhuj ahead of the Gujarat assembly election, Dr Togadia said, 'First, the local pups started barking. Then dogs from other parts of the country joined them. And last came Italyki kutri (the female dog from Italy).'
7. The colour of politics
In April 2015, Union Minister Giriraj Singh, no stranger to controversies, asked if the Congress would have accepted Sonia as its leader if she was not white-skinned (external link).
'If Rajiv Gandhi had married a Nigerian and Sonia Gandhi wasn't white-skinned, would the Congress have accepted her?' Singh wanted to know.
Following the uproar, Singh quickly apologised.
8. A new low
In July 2016, Dayashankar Singh, the BJP's then UP vice-president, shockingly compared (external link) Bahujan Samaj Party Supremo Mayawati to a prostitute.
His statement created a huge national furore and BJP leaders were compelled to sack from the party.
Later, however, the BJP gave his wife Swati Singh a ticket to contest the 2017 UP election from the Sarojini Nagar constituency, a seat which she won.
Election done, Dayashankar Singh was back in the BJP too, his abuse of a national leader forgotten.
9. Targeting Vadra
In the run-up to the December 2014 Delhi election, Sadhvi Niranjan Jyoti, the BJP MP from Fatehpur, dragged Robert Vadra, Sonia's son-in-law, into her election speech (external link).
'The son of an ordinary family who owned a utensils shop, he looted the poor, sucked them dry,' the sadhvi alleged.
The voters, she then added, must choose between Ramzadon and Haramzadon. 'You must decide if you want a government of those born of Ram or those born illegitimately.'
Following an uproar in Parliament over her remark, Modi was forced to apologised for the sadhvi's statement, calling it inappropriate.
10. Political lunacy
In May 2015, BJP MP Sakshi Maharaj launched a blistering attack on Rahul, calling him a 'mad man'.
Comparing Modi to Lord Krishna, Maharaj went on to say that Rahul had gone mad (external link) because he could not make out the difference between wheat and maize.
IMAGE: Prime Minister Narendra D Modi. Photograph: PTI Photo