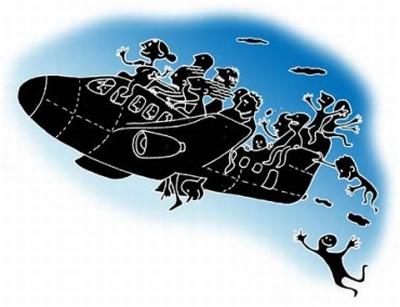 A 17-member delegation of the Uttar Pradesh government on Wednesday left for a five-nation tour from Lucknow, drawing criticism from opposition parties for undertaking the visit at a time when Muzaffarnagar riot victims were living in difficult circumstances in relief camps.
The Bharatiya Janata Party and the Congress accused the Samajwadi Party government of being interested only in "having fun" and not public service as they also slammed it for holding the extravagant Saifai Mahotsava at a time when people were dying of cold in the state.
The UP government delegation, consisting of eight members of the Akhilesh Yadav Cabinet, will go on a 20-day-long tour of Turkey, Netherlands, the United Kingdom, Greece and the UAE to study Parliamentary techniques in those countries, official sources said.
Urban Development Minister Azam Khan, who is also incharge of Muzaffarnagar district, will lead the delegation comprising Raghuraj Pratap Singh alias Raja Bhaiya, Ambika Chowdhury, Om Prakash Singh, Abhishek Mishra, Bhagwat Sharan Gangwar, Shiv Kumar Beria and Yogesh Singh, the sources said.
Chief Minister Akhilesh Yadav, State Assembly Speaker Mata Prasad Pandey, Legislature Party leader leader Pradeep Mathur and Shivpal Yadav have opted out of the tour, they said.
The Congress criticised the state government for sending the ministers on foreign junket, saying it was busy in "fun and frolic" at a time when people were dying of cold in the state and situation of Muzaffarnagar riot victims was "pitiable".
"If so many ministers remain out of the ministries for 20 days, you can understand what will happen. Already, law and order in the state is worst, people are dying of cold in the state including Muzaffarnagar, where condition is pitiable," Congress leader and legislator Akhilesh Pratap Singh said.
"The SP was voted to power by the people for their service, but the government is busy in fun and frolic. The misuse of government machinery at Saifai is a glaring example of this and now this foreign junket," he said.
BJP Chief Spokesman Vijay Bahadur Patak aired similar views alleging that the state ministers were interested in having "fun" instead of public service. "The way in which ministers left for foreign tour shows they are not interested in working for the common man, who is suffering in the state," Pathak said.