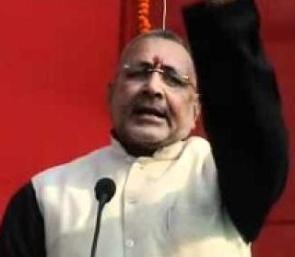 The Modi minister, known for his controversial statements, dropped another bombshell on Thursday.
M I Khan reports.

Giriraj Singh, a member of Narendra Modi's council of ministers, now has a peeve against IITians.
"Aaj samaj mein jo bachche gir gaye hain ha, gau maans kha rahein hain. Padhe likhe dus log jo gau maans kha rahein hain unmein se nau IITs ke hain (People who have fallen in society eat beef. Out of 10 educated people who eat beef, 9 are from IITs)," Singh, the Bharatiya Janata Party MP from Nawada, Bihar, said on April 21.
Earlier, Singh demanded that the voting rights of couples with more than two children be revoked, to develop the nation.
"If Malaysia and Indonesia can make such a law, why can't we?" the minister asked, adding, "The nation won't progress without population control."
"There must be a balance. Hindus, Muslims, Sikhs and Christians -- all must have at least one to two children. Those who don't follow, their voting rights must be revoked," Singh declared.
"A law is needed on population control for all religions if development is required," he added.
On Wednesday, Singh said if India did not change its population policy and enforce a two-child norm for all religions, then the nation's daughters would not be safe and may have to wear a veil as they do in Pakistan.
Speaking at a cultural yatra in West Champaran's Bagaha town, Singh was apparently referring to Bihar districts Araria and Kishanganj, where the Muslim population has increased faster than the Hindu population.