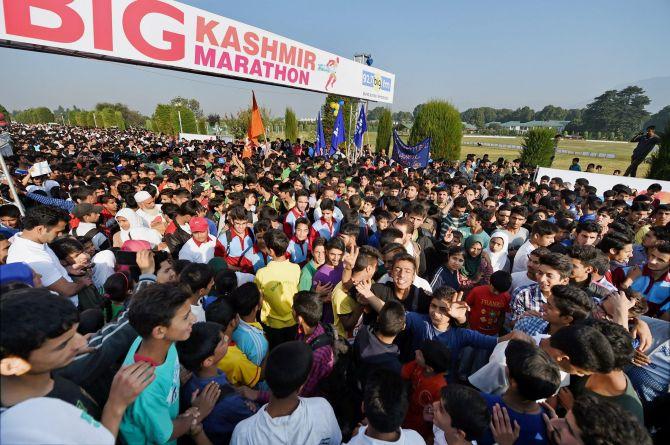 Police on Sunday arrested 12 persons allegedly involved in incidents of molestation and eve-teasing during the first-ever International half-marathon in Kashmir Valley in Srinagar, which witnessed disturbances due to stone-pelting.
"A sporting event was organised today at Kashmir University which attracted a huge gathering mostly of youth.
"Besides some international marathoners, a large number of locals also participated. The race was flagged off as scheduled and the function was going on smoothly till some miscreants within the crowd started passing obscene and lewd comments at girl participants and those in the audience," a police spokesman said.
He said the incidents of passing remarks by "rowdy elements" were also witnessed at Habbak Crossing, at Kashmir University and en route the 21-km run.
"FIRs have been registered into the incidents of molestation and eve teasing at Police Station Nigeen and 12 miscreants involved in molestation and eve teasing have been arrested so far," the spokesman said.
The 21-km half marathon was flagged off this morning from the Kashmir University at Hazratbal. It passed through the banks of Dal Lake along Foreshore Road.
However, shortly after the flag-off ceremony, clashes broke out between a group of youth and security forces near the venue of the event.
Police said a group of youths indulged in sloganeering and started pelting stones at the forces during the event. Tear gas shells were used to disperse them.
Image: People take part in the first International Kashmir half marathon, at Foreshore road on the banks of Dal Lake. Photograph: PTI Photo