'After Modi, Yogi is the most popular face of Hindutva, but it's too early to say that he is someone who could succeed Modi.'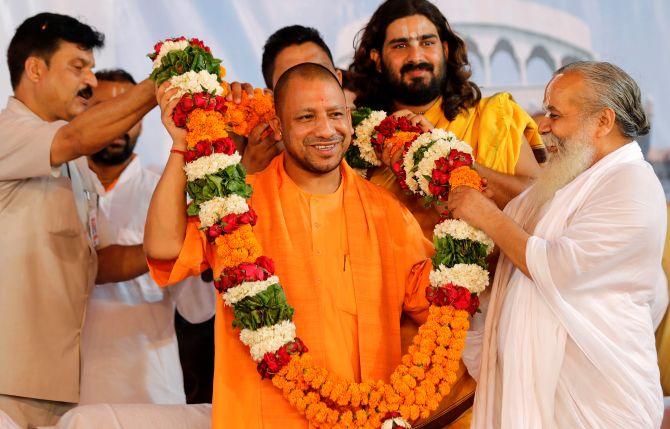 IMAGE: Uttar Pradesh Chief Minister Yogi Adityanath completed one year in office on Monday, March 19, 2018.
A five term Lok Sabha MP, the BJP suffered a shocking defeat in his home seat of Gorakhpur last week. Photograph: Pawan Kumar/Reuters
Yogi Adityanath completed his first year as Uttar Pradesh chief minister on Monday, March 18, 2018, in the shadow of the Bharatiya Janata Party's shocking defeat in his personal citadel of Gorakhpur.
His choice as UP chief minister may have taken many by surprise, but his biographer Pravin Kumar says Adityanath was the chosen one as early as 2013.
Kumar's book Yogi Adityanath: The Rise of A Saffron Socialist traces his journey from a boy from Panchur in Uttarakhand to UP's chief minister. The Hindi version of the book will be released soon.
"He has an image of a hard taskmaster. He himself works at least 13 to 14 hours a day. Although he was an MP for five terms, he never had an administrative post. But officers working with him say it never appears that it is his first brush with administration. On the weaker side, his anger is legendary, but those working with him say he has mellowed down a lot," Pravin Kumar tells Rediff.com's Archana Masih in an e-mail interview.
In your opinion, why did Mr Modi and Mr Shah decide to make Yogi Adityanath Uttar Pradesh chief minister?
As I have mentioned in my book, Yogi Adityanath: The Rise of A Saffron Socialist, Yogi was in Mr Shah's mind ever since he took over as the in-charge of the UP BJP unit in 2013.
He had found that Yogi was the most popular face of the party in UP, but was largely ignored and relegated to Gorakhpur.
First, he roped him extensively in the 2014 Lok Sabha election campaign.
It was early as then that he had reportedly hinted before a select group of journalists that if the BJP won a majority in UP, Yogi Adityanath could be the CM pick.
When the BJP and allies had a thumping majority in 2017 with 325 seats, the party needed a commanding personality who could hold this mandate together.
Despite his strong preference for Yogi, Mr Shah allowed the selection to take place through a proper channel -- he took the PM on board and ran the shortlist of three names through the parliamentary board.
So, Yogi Adityanath may have appeared like a surprise choice, for Mr Shah, probably he was always the first option to run a BJP-majority government.
Was the decision taken with 2019 in mind, and a possible resolution of the Ayodhya issue?
Was it taken as an experiment to see if he could step up to the challenges of running a state and possibly be one of those who could succeed Mr Modi when he stepped down as BJP leader and prime minister?
The 2019 Lok Sabha elections, of course, were in mind.
The thinking probably was to utilise the two years to showcase a model where development and Hindutva co-exist well.
Yogi told me in an interview about 14 years ago that Hindutva and development are not separate from one another -- 'Jahan Hindutva hai wahan vikas hai, jahan nahin hai wahan vinaash hai (Hindutva is where there is development and without development there is destruction).'
As far as his stature as a national leader is concerned, it's growing, despite the bypolls setback. But it's too early to say that he is someone who could succeed Mr Modi.
Mr Modi earned the PM's chair after running one of the most successful governments in Gujarat for more than 12 years.
One year after he became chief minister, what does the BJP's defeat in Gorakhpur mean for Yogi Adityanath?
It's a setback no doubt. He was credited to have won over voters in Gujarat and Tripura and is all set to campaign widely in Karnataka. But his party lost his own seat and the one held by his deputy.
Whatever the reasons could be, the loss of Gorakhpur and Phulpur is a big blow symbolically.
Has his absence from Gorakhpur affected the sentiment of the constituents? Is his sheen wearing off?
After the coming together of the Samajwadi Party and Bahujan Samaj Party for these two bypolls, his absence from Gorakhpur is definitely a factor. And the Gorakhnath temple is a very significant factor.
Whenever a temple candidate is in the fray -- Yogi Adityanath and before him his guru Mahant Avaidyanath -- it breaks the caste barrier in Gorakhpur voters.
This time, the candidate was not from the temple. On the contrary, after his (the candidate) selection, a section of the media projected him as somebody from the 'anti-temple' camp in the BJP.
The SP candidate, on the other hand, claimed himself to be a follower of Matsyendranath, the guru of Guru Gorakhnath, and even went to the temple to invoke his blessings. Both him and his father avoided directly attacking Yogi Adityanath during their campaigns.
Yogi Adityanath campaigns in other parts of the country, so this defeat is shocking -- is religion his greater strength than politics?
His position as the head of the Gorakhsh Peeth is certainly his great strength. But he has also developed himself as an astute politician during his five terms as an MP.

IMAGE: Adityanath with BJP President Amit A Shah and Union Information and Broadcasting Minister Smriti Zubin Irani at the launch of several developmental schemes in Gauriganj, Amethi, October 2017. Photograph: Nand Kumar/PTI Photo
Has being UP chief minister enhanced Yogi Adityanath's profile? In what way?
It has enhanced his profile in the national political arena.
Being the head of the most revered seat of eastern UP, he had his own area of influence in the region, but being the CM has added to that influence.
Among all the BJP chief ministers, Yogi Adityanath was the only one to travel to Kerala for the anti-CPI-M agitation, to Karnataka to campaign against the Congress, Tripura... Was there a plan to test his brand equity, to see if he could become a mascot of Hindutva in areas where the BJP had a low footfall?
I don't think there was any doubt about Yogi Adityanath being a mascot of Hindutva.
After Mr Modi, he is probably the most popular face of Hindutva. That's why the party roped him in to campaign in other states, and in Kerala to campaign in the CPI-M stronghold.
What are the ways in which Yogi Adiyanath has changed Uttar Pradesh for the better in the year that he has been at the helm?
From day one, he is trying to bring about a positive change in the government's work culture. The effect is showing though it is not that dramatic.
On the law and order front, the jury is out on his government's 'bullet-for-bullet' policy to control crime, but its impact is visible.
The power situation has shown signs of improvement. His efforts to purge schools education from the education mafia by cracking down on copying has been appreciated.
Besides, due to excellent ties with the Centre, UP is getting benefit of central schemes like never before.
What are the major disappointments UP citizens have with the Adityanath administration?
Positive changes are not as dramatic as the verdict was.
He started off with a flurry of announcements and set lofty goals for his government. But his team and bureaucracy probably was not really equal to the challenge.
Therefore, the results so far have not been what the people of UP -- and Adityanath himself -- would have expected.
Have Muslims and other minorities been at the receiving end in the Adityanath administration as sections of the national media seems to believe?
Why have communal disturbances risen in UP? Are there different standards of governance for the Hindus and minorities?
Some of the decisions that the government took -- the ban on slaughter houses, withdrawal of certain schemes in which only the minorities were beneficiaries etc and even Yogi Adityanath's own statement that he was a Hindu and didn't need to celebrate Eid -- have given this impression.
But the slaughter house ban in the beginning of his tenure probably equally affected Dalits who are in the majority in this business's work force.
The minority-only schemes were replaced by similar schemes in which all sections of society -- including Muslims -- were beneficiaries.
Besides, when he said, 'I am a Hindu and don't celebrate Eid', he also said that he was not like those people who wear 'janeu' (the sacred thread) inside the house and put on a skull cap when they come out of the house, if the situation demanded.
Since these instances were radically different from what we have been seeing in the 'secular' set-up of the past, it gave an impression that probably minorities were on the receiving end.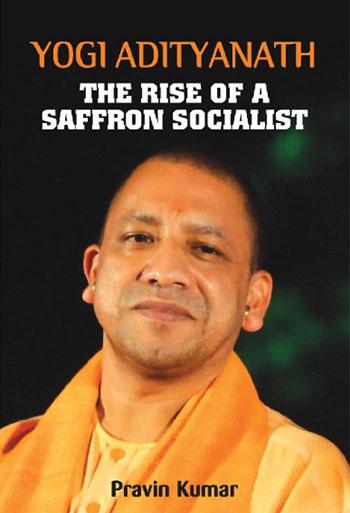 There have been two major law and order problems in UP this year -- the Dalit-Thakur confrontation in Saharanpur, and the Hindu-Muslim confrontation in Kasganj.
How would you assess Yogi Adityanath's handling of both disturbances? He was just a few weeks in office when Saharanpur occurred, and had been in office for several months when Kasganj happened.
How did his handling of either differ, that is, if it did?
In both cases, it was the failure of the local administration that failed to act in time despite pre-warnings.
In Kasganj, however, the government was swifter in taking action which checked trouble-makers after the first day.
How do those who serve in the UP bureaucracy rate Yogi Adityanath as chief minister? Does he have an understanding of administration?
What are his strong points in their view? His weak points? What about his ministers?
Has he been able to extract good performances from them? Does he get along with his deputy chief ministers?
He has an image of a hard taskmaster. He himself works at least 13 to 14 hours a day.
Late evening meetings and presentations, which were unheard of in UP, are very much part of the daily routine now.
Although he was an MP for five terms, he never had an administrative post. But officers working with him say it never appears that it is his first brush with administration.
On the weaker side, his anger is legendary, but those working with him say he has mellowed down a lot.
The performance of his cabinet, however, has been a mixed bag.
Failure of the public works department to fill up potholes and the basic education department to distribute sweaters among 1.6 lakh kids were some of the lows of his government.
What are the social changes that have occurred in UP this past year?
One hears that the upper castes are eager to emphasise their ascendance after 10 years of rule by the Dalits and Yadavs.
What are the changes that you see? What are the changes that worry you?
If at all upper castes had this aspiration, the recent bypoll results may have punctured it.
With the spectre of Dalits and OBCs coming together in the run-up to the 2019 elections, the BJP government will now have to give more power and participation to them to keep them in good humour.