'Not a single person I spoke to there believes that the Kundalkulam plant is safe.'
'There is a huge trust deficit between the people and the government.'
'The government has failed to convince the people about the safety of Kundalkulam.'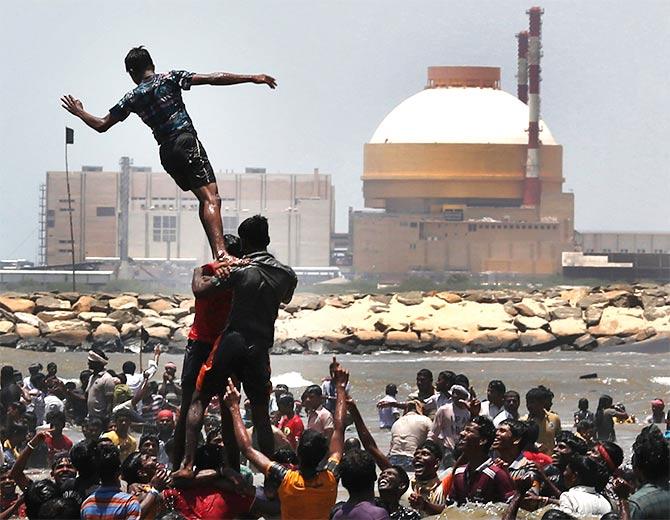 IMAGE: Demonstrators form a human pyramid in the waters of the Bay of Bengal as they protest against the Kudankulam nuclear power project, seen in the background, in 2012. Photograph: Adnan Abidi/Reuters
When journalist Minnie Vaid decided to write a book on the protest against the nuclear power plant at Kudankulam in Tamil Nadu, she had no idea she would form a lifelong bond with the indomitable women she met there.
"They welcomed me into their homes, their lives and their struggle with open arms and full hearts. Their motivation, commitment and focus made me -- a veteran journalist who had covered many such stories in the past three decades -- pause and reflect much after the interviews would get over," Vaid tells Rediff.com's A Ganesh Nadar.
Despite the constant opposition to the plant from local villagers who believe it is not safe, the plant was dedicated to the nation on August 10 by Prime Minister Narendra Modi, Russian President Vladimir Putin and Tamil Nadu Chief Minister J Jayalalithaa.
Vaid's book, The Ant In The Ear Of The Elephant, explains why the villagers oppose the plant and why these brave women will not give up on their protest anytime soon.
What made you write a book about the struggle against the nuclear plant in Kudankulam?
After completing my second book on rights activist Irom Sharmila, I was thinking about my next project and discussed several options with my publisher.
In the past too, in my documentary films as well as in my journalism, the one common running thread I would say is injustice. Most of my work revolves around injustice done to the marginalised.
I had read about the confrontation that took place between the police and the anti-nuclear protesters at Kudankulam in September 2012.
At the time (May 2013), I only had some sketchy details about the agitation, so I told my publisher that I would like to go to the villages and talk to the people before coming to a decision. She agreed.
I then read up extensively on the agitation. I also spoke to veteran journalist Kalpana Sharma who had spent time in Kudankulam and written about what was happening there.
My first visit lasted 10 days. I was hooked. There was certainly a story there and I wanted to do it. And so I began triangular conversations with the villagers, predominantly the women of Idinthakarai and the nearby villages, with the help of my Tamil translator, Amal Raj Leon.
IMAGE: Minnie Vaid, centre, invited two of the Kundakulam protesters, Sundari and Milret, to the lauch of her book, The Ant In The Ear Of The Elephant. The book was lauched by actress-activist Nandita Das. Photograph: Kind courtesy Minnie Vaid
What was your interaction with the villagers of Idinthakarai like?
It was humbling; it was inspiring; it was fabulous.
They (principally, the women of Idinthakarai) welcomed me into their homes, their lives and their struggle with open arms and full hearts.
Their motivation, commitment and focus made me -- a veteran journalist who had covered many such stories in the past three decades -- pause and reflect much after the interviews would get over.
The overwhelming quality that impressed me was that they just did not -- and still do not -- give up.
Even after the plant went critical, they did not give up because they believed in their cause. That they were fighting for the future generations who would have to live with the spectre of a nuclear accident right at their doorstep.
The outcome of their struggle, fighting against impossible odds, battling against a vengeful State, the Kundalkulam plant starting up eventually -- did not bother them too much.
That, for me, was an eye-opener... the fact that you take up a struggle and continue to fight undeterred by the odds of your successful outcome. They would repeatedly and smilingly tell me, 'God is on our side, what do we have to fear?'
They were very hospitable. They would teach me Tamil and I would teach them English words. Today, I consider some of them my friends.
I invited two of the women leaders, Sundari and Milret, to Mumbai for my book launch. They addressed the audience with the help of a translator and got a standing ovation from the entirely urban audience!
They came home. I took them sight seeing. It was a wonderful experience.
Is your book targeted at activists?
Activists already know about events that took place in Kudankulam and the struggle of the protesters. The book is for the ordinary person who has no idea where Kudankulam is or what the people's protest against the nuclear power plant there is all about.
It is meant for students, housewives, corporate people, decision makers in the government, for anybody really.
It is a record of the testimonies of the Project Affected People whose lives are affected by the Kundalkulam plant, yet who are never consulted by the State.
In this book, their voices are recorded for people to know how they feel about a nuclear plant in their back yard.
IMAGE: The protesters, who take turns at the venue, mark time with a game of Thaiyyam, a local version of checkers. Photograph: Kind courtesy Minnie Vaid
Though most of the cases (against the protesters) have been withdrawn after a direction from the Supreme Court, many are still pending. Do you think a vengeful government could take action against these people in the future?
It is certainly a tool that the government has in its hand and can be used any time against them.
The villagers have told me several stories of harassment. Their children could not go abroad to study or work as their passports were not issued or were delayed.
Unit two of the Kudankulam Nuclear Power Plant has started functioning, which means the struggle was a failure. Yet they continue to protest. What do you think is their inspiration now?
I would strongly dispute the statement that the struggle was a failure. It brought safety issues to the fore which is good for the plant and for people living near the plant and the workers.
New power plants elsewhere in the country are likely to follow safety measures on a more stringent basis because of this agitation.
The fact that the women of Idinthakarai are still sitting there on protest makes it special. It is, I believe, the longest civil rights struggle in Tamil Nadu.
What is your opinion about S P Udaykumar (convenor, People's Movement Against Nuclear Energy, who spearheaded the protest against the Kundalkulam plant)?
He is a charismatic, yet sober, leader.
In Tamil Nadu, they make gods of leaders and he had become a god for this movement. But he has not let it go to this head. He always gave a balanced view point and was fully in control of the movement.
Even now, though he is no longer physically present in Idinthakarai, he still opposes nuclear energy in all of the activities he pursues.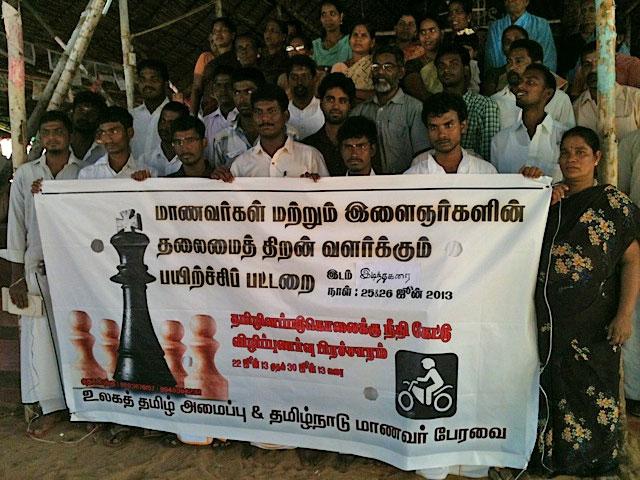 IMAGE: The protest at Kundalkulam. Photograph: Kind courtesy Minnie Vaid
Are you personally against nuclear energy?
When I went there, I was not pro or anti, though I feel any humane person would be against nuclear energy. But my personal opinions had and have no place in what I reported in the book.
I have written what I saw and observed after talking to many villagers in and around Kudankulam and Idinthakarai, which is the Ground Zero for the agitation.
Not a single person I spoke to there believes that the Kundalkulam plant is safe.
There is a huge trust deficit between the people and the government. The government has failed to convince them (about the safety of Kundalkulam) in 24 years.
It has failed to convince them about what to do in case of a disaster; the emergency preparedness plans or drills remain largely on paper.
When six workers were injured in May 2014, there was no medical facility to treat them adequately; some of them had to be taken to Apollo (Hospital) in Chennai, 700 kms away.
I have written about what I saw and heard; what I believe in is of no importance.
Tamil Nadu had electricity problems till Kudankulam came along; today, it has a surplus of power. Under the circumstances, do you believe the protest against nuclear energy should continue?
Would you feel safe if a nuclear power plant was near your house?
The villagers protesting against the Kundalkulam plant also complain that the plant benefits big business, and not the common man, in terms of electricity.
If the protesters want to continue their agitation because they perceive a threat to their safety and future livelihood and their future generations, it is entirely their decision and should be respected.
Sitting far away in Mumbai, I cannot balance equations of Tamil Nadu's surplus electricity versus protestors' fears, whether people deem them valid or not.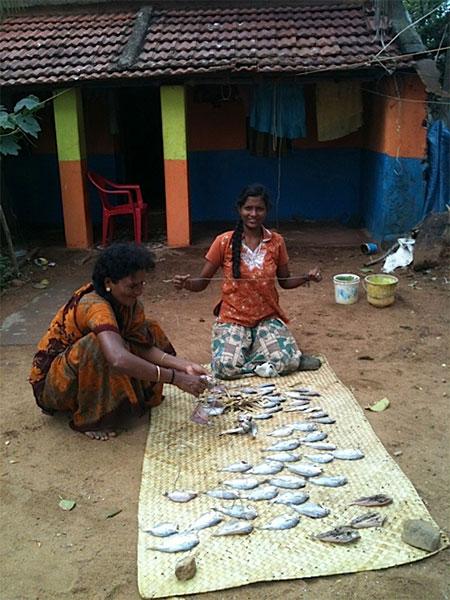 IMAGE: Women sell fish outside their homes in Idinthakarai. Photograph: Kind courtesy Minnie Vaid
The agitation was based on a presumption that there could be an accident. No plant in the world can guarantee that there will be no accident.
I would say the agitation was based on a lot more than only the possibility of an accident.
The people were asking for adequate safety measures, a foolproof disaster management plan, information addressing their health concerns and many other such issues.
The government did not ensure any of this; villagers told me that nobody came to address their issues or 'allay their fears' as the popular phrase goes.
The Fukushima accident was caused by natural causes, yet it was used excessively to agitate the people at Koodankulam.
People criticised Uday kumar saying he is creating apprehensions where none exist. But the protesters are the ones living next to the plant and they have every right to protest if they are scared.
The government has to make them believe the plant is safe. If it does not do so, it has failed in its duty.
Uday Kumar has been accused of receiving foreign funds to fuel his protest. He declared assets of Rs 7 crores (Rs 70 million) when he stood for the national elections. Your book does not mention this.
I did mention the issue of foreign funding in the book since it is one of the routine and main allegations against the People's Movement Against Nuclear Energy and Uday Kumar in particular.
As far as the worth of his personal assets is concerned, the declaration was a later development (post my visits and interviews in Idinthakarai) and not worthy of mention as an epilogue in the book.
All the churches on the seashore were accused of foreign funding and their bank accounts were frozen. Did you speak to the priests at these churches?
No. I did not. My focus was the people's struggle and their issues.