'The sole objective is to harass me, silence me.'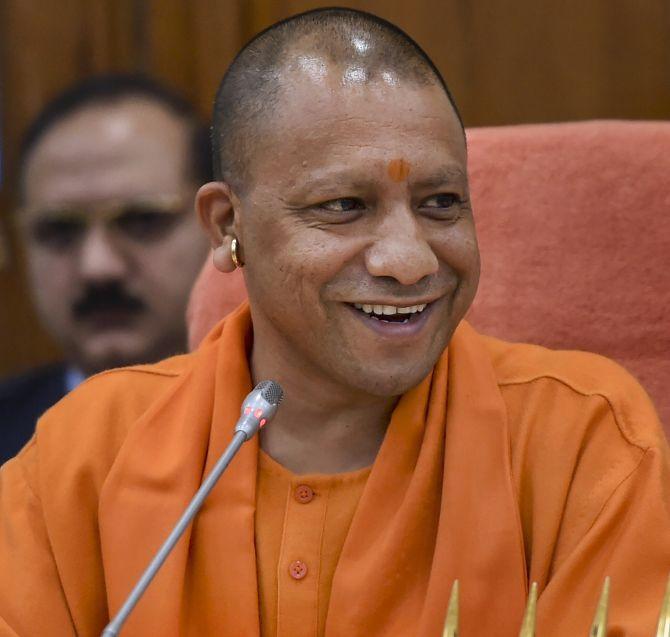 The Uttar Pradesh government may have filed six FIRs against retired IAS officer Surya Pratap Singh in the last 12 months but he remains undaunted.
Singh tells Prasanna D Zore/Rediff.com "Lodging of so many FIRs and false cases is proof that the (UP) government takes me seriously and takes action on the issues I raise."
Why is the UP government filing FIRs against you?
There is no personal reason as such. I have been exposing a number of scandals and raising issues that have arisen due to mismanagement of the COVID-19 pandemic in the state.
There has been shortage of oxygen, medicines, inadequate medical facilities, etc. The fact is they (the UP government) don't like criticism and someone exposing the scams happening in the state.
That is the root cause of why I have been facing so many FIRs against me.
I have a huge following on social media. People listen to me, read my tweets seriously and when I write on issues voiced by people and amplify those issues on social media, the government gets affected.
The government too reads my comments and follows the advice I give, but then they don't like what I write. To silence my voice they keep filing FIRs against me.
That's the chief reason why they have been filing FIRs against me. Other than that, there is no personal enmity with anyone.
The Unnao police recently questioned you for almost six hours. What kind of interrogation took place for six long hours?
If you see through all the six cases (the UP government has filed six FIRs against the retired IAS officer in the last 12 months) properly you will realise that all of these FIRs have been filed on flimsy grounds.
There are no (criminal) cases made out against me. Most of these cases have been economical with facts and based on concocted stories.
The sole objective is to harass me, silence me. So, they were harassing me (during the six hour interrogation).
They came to my house and kept asking all sorts of questions. They wanted to spend time with me, in the sense that they wanted my neighbourhood to know that I have police visiting my house.
They ensured that the entire mohalla, every street in my neighbourhood knew that there was police at my home spending as many as six hours with me (laughs).
They want to discourage me or malign whatever little credibility I have. I can only visualise that this is their thinking.
They think that such actions of the administration will dent my credibility and people will stop listening to me and I will stop criticising government policies that harm people's interest.
I have been raising only those issues of which I have substantial proof. I am not a fool to post messages or videos without verifying facts. All my tweets are based on facts.
The UP government tried to hide COVID-19 numbers by not doing adequate tests. I asked them why were they doing this and putting people's lives in danger. Even today they are not doing adequate number of tests (to prove that they have the spread of COVID-19 under control). And then you say there is no corona.
When you are not doing adequate tests and claim you have got COVID-19 under control, then people like me are going to question your methods. They want to create an image that they have the virus under control, but everyone knows that is not possible unless you keep vaccinating people on large scale.
Not just me, there are many more people -- along with the media at large -- who have exposed the inadequacies of medical facilities, ICUs, oxygen beds, shortage of medicines, etc, but I am the only one who has been picked up for this special treatment.
I have been exposing various governments and people in power in the state, (FIRs) never happened before.
Interestingly, even though I have no political inclinations, people did tag me with the BJP when I criticised the Akhilesh (Yadav) government and now when I am criticising the Yogi government they are saying I am against the BJP.
So, how do you look at all the FIRs that have been filed against you?
I always see the positive side of everything.
Lodging of so many FIRs and false cases is proof that the (UP) government takes me seriously and takes action on the issues I raise. That is the positive I look forward to.
When I raise people's concerns and the government takes action to solve them is proof that the government listens to me. They immediately get affected and spring into action. They pay close attention to what I write. And that helps me solve people's concerns. So, people like me more and I keep writing about their concerns.
Do you think the UP police is doing its job when it keep filing cases against you?
I don't blame them at all. We know that the police only acts on the political whims of their masters. The same applies to bureaucrats. They obey their political masters. They don't have a choice, do they?
But I know many senior and junior IAS and IPS officers and in private conversations I have their sympathies with me. They tell me 'Yeh galat ho raha hai (this is wrong).'
Interestingly, many BJP leaders and ministers from UP and Delhi too call me and say that the UP government is at fault.
'Hamari party ka nuksaan ho raha hai state mein; aap toh youth ke leader ho UP mein (The UP government's actions are harming our political prospects in the state and that I have emerged as the leader of the state's youth),' they tell me.
They have been seeing my work for the past so many years and they know that I have no political axe to grind when I raise people's issues.