'I met someone who came out of jail and started telling me wild things that they did inside.'
'I couldn't believe it and then my curiousity led me to do some more digging.'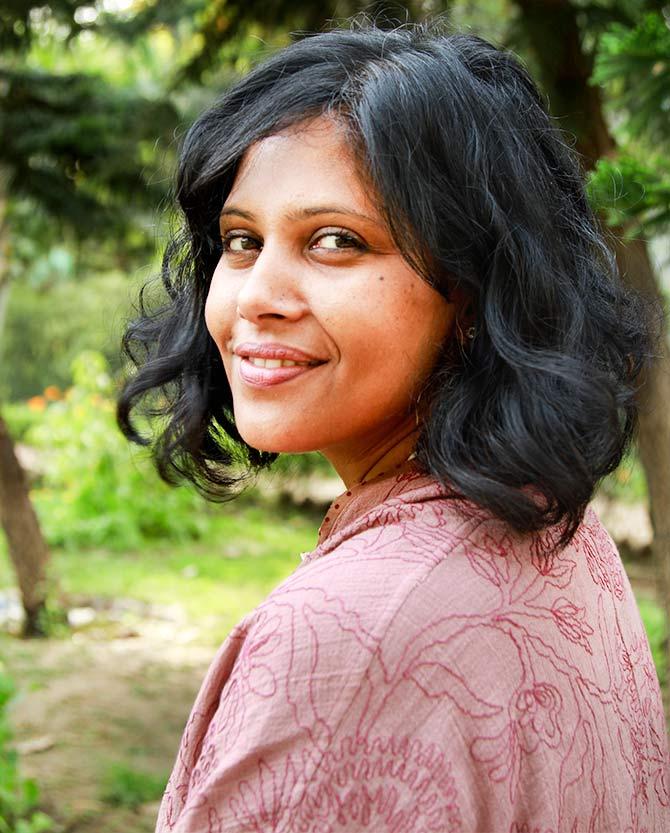 Behind Bars, television journalist Sunetra Choudhury's second book, is about VIPs in prison.
Her first book, Braking News, was about the time she spent on the campaign trail before the 2009 general election.
Choudhury -- who hosts a daily show for the NDTV 24x7 television channel -- spoke to A Ganesh Nadar about her new book.
Your first book was fast, funny, full of life. Why did you choose such a serious topic for your second book?
I'm hoping some of those elements are in this book too!
Seriously, I didn't choose this topic. It kind of chose me.
I'm a reporter and just like the first book happened to me, this one also fell into my lap.
The last time around, it was a work opportunity that led to travelling 15,000 kilometres on a bus across the country.
This time, I just met someone who came out of jail and started telling me wild things that they did inside.
I couldn't believe it and then my curiousity led me to do some more digging and that's how the book happened.
When you describe reporting with your seven-month-old baby in your lap, it reminds us of your first book.
Yes, Braking News was written just before I became a mother.
Behind Bars comes seven years later and is totally different.
The incident you mention with my son is, I think, the only personal detail that is in a book filled with inmates' stories.
What's strange is that other readers, like you, really picked up on this bit and responded to it.
I always tell them how my son, like any reporter's kid, is growing up in a strange but (I hope) fulfilling environment.
The other day, someone showed him the letter 'E' written somewhere and asked what 'E' is for.
My son immediately said 'Economic Times.'
When he was younger, his teacher asked his father, 'Whenever we ask him where his mother is, why does he say CBI?'
It took some explanation, I can tell you.
Your book is not only about life behind bars, but also profiles these VIPs, details their alleged crimes and your conversations with them. Do you believe everything they told you?
No! Not everything. Especially, not the politicians.
But I gave them the benefit of the doubt.
After all, it is a prison diary and it is about how they cracked life in prison, how they spent time.
What I did do for my readers though is that I also got the other side.
So, for instance, I got the chargesheets, the police documents out and made that part of the narrative too because readers have a right to know why the subject ended up in jail.
I also spoke to jail officials to verify stories.
The objective was never to determine if someone was guilty or innocent.
It was always to tell the story of what happens when an unlikely person ends up incarcerated.
You have described a rape in detail. You have discussed bribes paid all over the jail. Aren't you worried about defamation from high ranking officials?
I described in my book the gang rape of a hijra in Ajmer jail.
Everything I mention is not just her oral account, but is also her statement recorded in front of a magistrate.
These form parts of allegations accepted by a court and so no, I don't think they are vulnerable to defamation laws.
Again, the police officers who have been accused of rape are named in the FIRs, complaints and reports by human rights bodies.
Sadly, as the book says, they 'haven't been taken to task' for rape.
This case must be the only one I know of where a rape victim is being asked to take a lie detector test before they can proceed with the investigation.
Why? Because they assume that a hijra or a transgender cannot be raped, she must be lying.
You write that Kiran Bedi removed the class system in Tihar. What was the condition earlier? Did you ask?
I don't think you read my book very carefully.
If you did, you would have read Sushil Sharma, who has spent the last 22 years in jail, describing how it was before she (Kiran Bedi, who served as Delhi's inspector general of police, prisons) came.
Tihar was a smoking zone and so apparently all the cells would be full of spit and phlegm on the floor because people would keep spitting and coughing to get rid of their boredom.
Cigarettes are still available in Tihar, but they have just become very expensive contraband.
Kiran Bedi removed the class system, but what my book reveals is how Sanjeev Nanda (convicted of culpable homicide for killing six people while driving his BMW car), still has a nicely tiled room.
How it is done up better than others and how despite being convicted, he leads a better life than the others, just like the Yadav brothers who are inside for killing Nitish Katara.
Her (Kiran Bedi's) changes therefore remain only cosmetic because inmates and their minders always find a way.
Amar Singh comes out in your book as being wronged. Do you believe that he was falsely arrested?
I have, honestly, no idea.
In retrospect, since he's been acquitted, one can only assume that he was, indeed, wrongly arrested.
There are readers who are enraged at why people like Amar Singh and other privileged inmates crib about prison life when they spent it in comfort.
I would say that suffering is always relative, isn't it?
For him (Amar Singh), losing his trusted doctor was traumatic.
For A Raja who admits he led a comfortable prison term, his daughter's treatment in school was traumatic.
Who am I as an outsider to belittle their trauma?
As a senior journalist you have been in touch with the high and mighty. Politics in India is murky and mostly criminal. Do you agree with this statement?
Yes! Politics in India is murky. I wouldn't agree that it is mostly criminal.
There are some criminal elements in it too.
However, as a political journalist, I enjoy interacting with them because they give me so much material to write about.
As one American journalist once said to me about covering Washington: 'I like going in there and seeing what those funny people are up to today.' I feel the same way!
Is your book meant to be an expose on how prison treats VIPs or is it a peak into the lives of the high and mighty?
You tell me!
I have to tell you that even though I have been a reporter for two decades reporting on crime and politics, what I found while researching this book surprised me a great deal.
So in a way, I guess it can be called an expose.
The chapter on JP (Jayaprakash Narayan), I think, is certainly an expose on Tihar.
What is the topic of your next book?
I don't know. I didn't watch TV for a year while writing this book, so I am binge watching Netflix.
I do know that I will write again and it will most likely be non-fiction journalism.
I don't think I am good enough for fiction.