'Himanta Biswa Sarma has put a lot of effort in demonising Muslims this time.'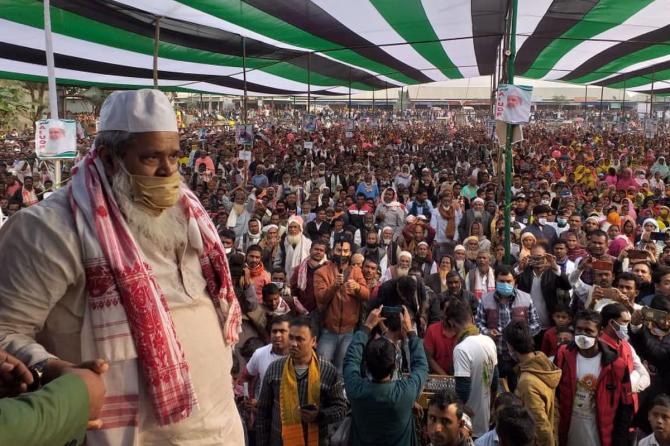 Sahitya Akademi awardee Hiren Gohain stepped down as an advisor to the newly formed political party Raijor Dal of Assam earlier this month, after its president Akhil Gogoi termed the All India United Democratic Front as a 'communal force'.
Akhil Gogoi, currently in jail over cases linked to protests against the Citizenship (Amendment) Act, issued an appeal to all Opposition parties to unite and field a single candidate against each Bharatiya Janata Party nominee to defeat the BJP in the Assam assembly election.
However, Gogoi's letter said the Raijor Dal would not join the Congress-led Grand Alliance till the AIUDF, headed by Badruddin Ajmal, is part of the alliance, as 'We believe that the AIUDF is also a communal force and complements the BJP on many issues'.
The Raijor Dal is contesting the polls in alliance with another newly formed regional party, the Assam Jatiya Parishad, which is headed by former All Assam Students Union president Lurinjyoti Gogoi.
"Ever since launching his party this has been his constant refrain, and I have been openly expressing my rejection of this notion," Dr Gohain, a well-known Assamese writer, tells Rediff.com's Utkarsh Mishra about Akhil Gogoi's remarks about the Ajmal-led party.
You said Akhil Gogoi's letter went against your 'long-term opinion'. Do you refer to your opinion that 'except the Hindutva camp, no mainstream Assamese organisation propagates racist or communal agenda in Assam'?
No. What I meant was the urgent need for solid and seamless Opposition unity.
Most Opposition parties are lukewarm towards this idea and the Raijor Dal broke ranks early by swallowing the Bharatiya Janata Party's canard about Badruddin Ajmal.
Were you surprised by Akhil's statement? Has he made such statements in the past or was this the first time as he is contesting elections?
Ever since launching his party this has been his constant refrain, and I have been openly expressing my rejection of this notion.
Did you try to seek clarification from Akhil or the party?
Yes, for about three months.
What role will you play now in the upcoming elections?
I am not a political party and cannot organise on the ground. But I will write.
Badruddin Ajmal has said many times that his party influences the 30%-35% Muslim population in Assam. Isn't this also like playing identity politics?
Identity politics of all sorts have prevailed in Assam since 1980s onwards. Why single him out?
The BJP led a polarising campaign in the 2016 assembly polls and won a majority. Should that be seen as an approval of their communal politics or there were other reasons for their win?
Last time they used a deceptive slogan 'jaati, maati aru bheti (nation, land and hearth)' as a rallying cry.
Also 'Parivartan (change)', concealing (their) communal-fascist motive.
It is claimed that the Assam Movement was not communal and it was the Rashtriya Swayamsevak Sangh that gave a communal narrative to the whole 'illegal immigrants' issue.
If this is true, the people should have vehemently rejected the BJP, but even the party born out of the Assam Movement -- the Asom Gana Parishad -- chose to be its junior partner. What does it signify?
Self-deception and deception give you the true picture in brief.
BJP leader Himanta Biswa Sarma (Assam's finance minister) says his party doesn't need the votes of Muslims. Do you think that it is like a test for the voters of Assam to defeat the BJP?
Himanta Biswa Sarma changes his story to suit the place and the time.
But yes, he has put a lot of effort in demonising Muslims this time.
CAA/NRC doesn't seem to be a dominant issue in these polls.
Then the Opposition is missing a serious target.
Congress leader Rahul Gandhi did try to raise it by promising that the CAA will not be implemented in Assam if the Congress is elected. Do you think the Opposition isn't doing enough to raise this issue?
At any rate it is too late now to stress it much.
Opposition success will depend on how much they can puncture the BJP balloon and float their own safely.