'The prime minister's advisers may have told him that going along with this AIADMK government will damage his image.'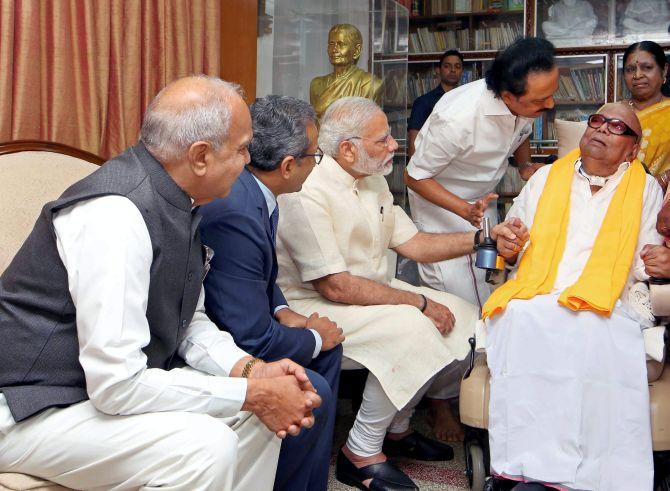 IMAGE: Prime Minister Narendra D Modi meets DMK chief M Karunanidhi and the party's working president M K Stalin in Chennai, November 6, 2017. Photograph: PTI Photo
Central governments using the economic offences wings under it, like the income-tax department or the enforcement directorate, to rattle political opponents is not a new phenomenon.
However, the Bharatiya Janata Party government seems to have fine-tuned this into an art form, going by the way it has been alternatively using the carrot and stick policy especially in Tamil Nadu, a state which has steadfastly aloof to the BJP.
An example was the simultaneous multi-city tax raids on 187 premises linked to deposed AIADMK leaders V K Sasikala and her nephew T T V Dinarakan in Tamil Nadu last week even as the BJP government makes warm overtures to the ruling faction of the political party.
"The party ruling at the Centre has always tried to use its power with the income-tax and other central government agencies to threaten regional parties," R Shanmugasundaram, a former Rajya Sabha MP and leading Chennai lawyer, tells Rediff.com's A Ganesh Nadar.
Shanmugasundaram survived a murderous attack on him in May 1995 after he drafted a criminal complaint to prosecute then chief minister J Jayalalithaa.
A known supporter of the DMK, Shanmugasundaram, left, was appointed special public prosecutor when the party stormed to power in 1996.
Is the BJP using the threat of cases to make regional parties toe its line?
It appears so. We have seen that this is the pattern with parties in the central government. It is happening now, it has happened earlier.
The party ruling at the Centre has always tried to use its power with the income-tax and other central government agencies to threaten regional parties.
The two FERA cases against T T V Dinakaran were pending for 20 years, but suddenly there is a burst of activity about them. Are they related to the trouble he is creating for the AIADMK?
Possible, very much possible.
If you recall the wealth and income tax cases pending against Jayalalithaa and Sasikala, even after the Supreme Court refused to discharge them from the case, the cases were compounded.
The special prosecutor appearing for the income-tax department opposed this saying that there is no possibility of compounding an income tax case when the source of the income is from an illegal source such as bribing or corruption.
But the present government helped them to compound the case, which goes to show that they are using the prosecution for their end.
Prime Minister Modi's visit to Mr Karunanidhi's home fuelled speculation of a DMK-BJP tie-up.
I would say the prime minister's advisers and intelligence officials might have told him that going along with this present AIADMK government led by EKS (Edappadi K Palaniswami) and OPS (O Panneerselvam) will damage his image.
To neutralise that, he would have come to meet Mr Karunanidhi.
I don't think there will be a political tie-up between the BJP and DMK.
But the DMK has in the past allied with the BJP.
That was with Mr (Atal Bihari) Vajpayee and then there was a common minimum programme.
If they come forward with that (CMP), then let us see.
But Stalin the very next day said there will be no tie-up with the BJP.
Can legal cases be held like a sword of Damocles above the heads of your political opponents to browbeat them into submission?
Legal cases should be followed to their logical end.
If you do wrong in democracy, you will reap the consequences.
Can I conclude from this conversation that being corrupt is fine as long as you continue to win elections?
That is what happened with Jayalalitha when she was in power. But the courts must step in and say expedite the prosecution.
The Supreme Court has now mooted that all cases involving politicians must be concluded in one year. Therefore, I don't agree with your statement.
Panchayat elections in Tamil Nadu, due in October last year, have been delayed.
According to the Panchayati Raj Act they must hold elections within six months of the previous term getting over. But the government has asked time from the court and the court has given them time.
Grass-roots democracy is nearer to the people and it is essential for democracy.
There is no party politics there and only individuals contest. So the delay is not good for democracy.
The verdict in the 2G scam case is likely to be delivered on December 5.
2G itself is a false case. It was a CAG report that was leaked even before it was filed.
There was a notional loss of Rs 176,000 crores, but 2G licenses could not be auctioned as per the recommendations of TRAI.
The 1999 telecom policy is very clear, that you cannot auction it. In 2007 they said you should have auctioned 2G and had you auctioned it would have fetched the price of 3G.
But you cannot compare 3G to 2G. You cannot compare a first class AC coach to an ordinary sleeper coach. The price difference will be there.
From the evidence that (then telecom minister) A Raja gave, it is very clear that a case cannot be filed at all.
What about the Rs 200 crores (Rs 2 billion) that came to Kalaignar TV (the DMK-aligned television channel)?
That money came through the bank. Not a single rupee was paid in cash.
It was accounted for and proper documents were provided for it. Income tax was paid on it. TDS for interest was paid.
But why would a real estate agent in Mumbai lend money to a TV channel in Chennai?
It was not a real estate agent, you are wrong. It was Cineyug Pvt Ltd which is an event management company which has conducted programmes for Shah Rukh Khan.
Kalaignar TV wanted money at that time and Cineyug wanted to buy its shares.
If it was money for shares, then why did they return it?
At that time, Kalaignar TV was valued at Rs 1,100 crores (Rs 11 billion) and with Rs 200 crores they wanted 33% shares. How can we give at that rate?
There was an option in the agreement that if we cannot agree on the share price we will return the money. So the money was returned with interest.