'The whole idea is to intimidate lawyers like me and others who are helping the Adivasi women seek justice and file FIRs against the security personnel for raping them.'
Shaken but unmoved by the consistent attacks on her, Bela Bhatia, pictured, below, of the Jagdalpur Legal Aid Group, tells Rediff.com's Prasanna D Zore that she will not let down the people of Bastar, who she is helping file FIRs and seek justice against the police atrocities on them.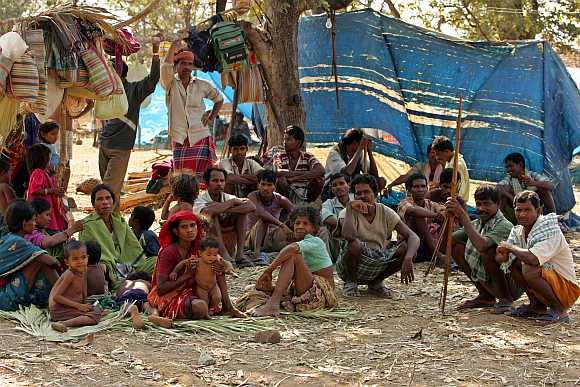 Who were the people who threatened you early this (monday) morning and then later in the afternoon and threatened to burn down your house at your home in Jagdalpur?
At around 1.30 am on the intervening night of January 21 and 22 there was a big knock on the gate of the outer door where I live in Parpa village, Jagdalpur.
My landlord, his wife and I went there and opened the door and there were these two persons who identified themselves to be from a neighbouring village.
One of them said he was a son of so and so, but a person with that name does not exist in the neighbouring village.
My landlord, who is a born tribal, knows everybody from this village very well.
The two people who knocked on the door said they have come from Mauliguda.
It was pitch dark outside and there are no street lamps.
200 metres away from where I stay is a pucca road and in the darkness we could see a large group of people waiting there.
Did you see these people in the darkness?
Later we heard the sound of the vehicle and in the morning villagers told us that they were in a jeep and a Bolero.
There were a few motorctycles also. There could be at least 10, 11 people in these vehicles.
Who do you think is behind the threats to your life?
This incident happened at 1.30 am. And this was immediately after I came back from Bijapur where I was assisting the NHRC (National Human Rights Commission) officials on January 19 and the 20 in Pedagallur and Bellam Lendra taking testimonies from 14 Adivasi women whom they had not been able to take testimonies from in March 2016.
The NHRC team was constituted post the NHRC order of January 6 (Read the order here (external link).
This incident (what happened on the intervening night of January 21-22) happened immediately afterwards.
I feel it is related with my helping the NHRC record the testimonies of these 14 Adivasi women.
I returned from Pedagallur and Bellam Lendra on the morning of January 21 and on the morning of January 22 they were here.
What happened this afternoon (January 23) is again an extension of that.
Yesterday, my landlord and his sons were called to the thana (the local police station) and it was made very clear to them indirectly that they should ask me to leave.
In October (2016) you must be knowing that effigies of lawyers were burnt in Jagdalpur and other places; my effigy was also burnt.
In November there was a fake letter from six persons in the village against me, but that was not the case.
All these six people denied writing this letter.
On January 14, there was another letter stating that I had claimed that villagers were brewing liquor here, which was also wrong.
Who do you think is behind these attacks on you and why?
I think this is the continuation of an effort by the higher authorities here.
You mean the state administration that includes the police, the bureaucrats and the state government?
I would not include everybody, but certainly there are persons in authority who favour a certain kind of counter insurgency which doesn't respect the rule of law.
That is why they attack persons like us who are saying that 'you should respect the rule of law.'
Why does the Samajik Ekta Manch want you out of Chhattisgarh?
The Samajik Ekta Manch has now transformed into Agni.
They are working very closely with the police and in some ways they are plainclothes people (policemen), but they are working on their (the Chhattisgarh police) behalf.
Because even from the way the mob was acting today (on the afternoon of January 23) it was very clear they had some kind of protection from the higher authorities.
How many people attacked your house this afternoon?
Around 30.
Were they all from the Samajik Ekta Manch or Agni?
I don't know which organisation they were part of, but they were doing acts which were illegal in nature and they were doing it with the confidence which comes from them enjoying a certain kind of protection.
They continue to behave in the same way even after the police came from the local thana.
Have these attacks shaken you?
The whole idea is to intimidate lawyers like me and others who are helping the Adivasi women seek justice and file FIRs against the security personnel for raping them. That is their whole objective.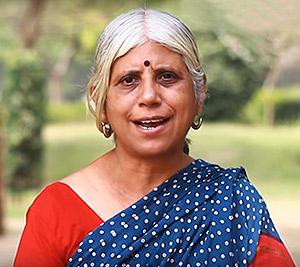 Are you planning to leave Jagdalpur?
They (the mob who entered the house on the afternoon of January 23) took it in writing from my landlord, my landlady and myself... they took it in writing that by tomorrow evening 6 o'clock I will leave (Jagdalpur).
Are you leaving Jagdalpur, then?
I am not leaving Bastar.
What is the next course of action for you?
Right now I have requested the collector (Amit Kataria) to accommodate me at a safe place because I have to move tomorrow evening.
But I have no intention of leaving Bastar at all.
But you will be leaving Jagdalpur?
I will decide where I want to live; whether it is Jagdalpur or any other place.
But I will not leave Bastar.
I am leaving Jagdalpur because I have promised I will leave this village and I do not want my landlord and their family to be troubled.
I will leave this village, but it doesn't mean that I am going to be leaving this area.
I am not leaving this area or its people.
Did the collector assure you of protection?
Collector Amit Kataria was very helpful today because as soon as I called him up (after the attack on the afternoon of January 23), he informed and sent the police here.
I do not have police protection right now, but they were there when all this was happening.
LEAD IMAGE: A camp run by the Salwa Judum in Dornapal, Chhattisgarh.