'Kulbhushan Jadhav is a very sad case.'
'I think Pakistan handled this issue very clumsily.'
'They gave too much of publicity and also said that they will hang him.'
'Now obviously, they are not going to hang him.'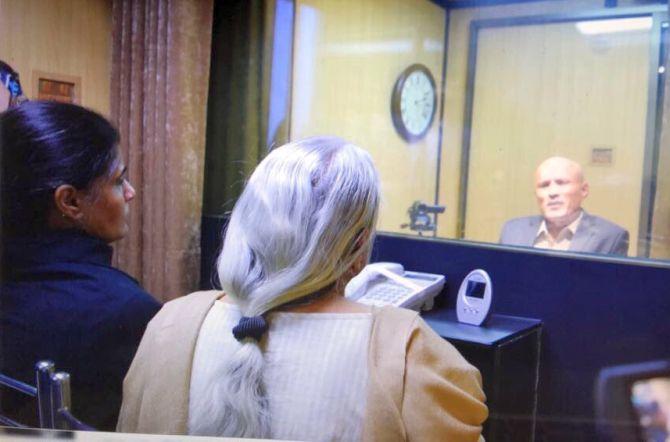 There has been no dearth of books on India and Pakistan and the problems that bedevil their ties, but what sets apart The Spy Chronicles: RAW, ISI and the Illusion of Peace is the co-authors.
Amarjit Singh Dulat is a former chief of the Research and Analysis Wing, India's external intelligence agency, and Lieutenant General Asad Durrani the former head of the Inter Services Intelligence, Pakistan's dreaded intelligence agency.
Two men whose careers kept them on opposite sides, but who, thanks to their interactions in Track II diplomacy in their post-retirement lives, came to trust each other enough to share their insights -- within earshot of senior journalist Aditya Sinha who compiled the book over four sittings in locales like Istanbul, Kathmandu and Bangkok.
There are no dramatic secrets spilled in the book nor are there any damning revelations. But it offers clear insights from two men who had had a ringside view of the ebbs and flows in the never-ending saga that is the India-Pakistan relationship in which Kashmir has come to play a major role.
While General Durrani has been hauled up by the military establishment in his country over the book, Dulat -- who after retiring from R&AW went on to become the advisor on Jammu and Kashmir to then prime minister Atal Bihari Vajpayee from 2001 to 2004 -- has been speaking out on the need for a resolution of the intractable Kashmir problem.
In Mumbai last week to launch the book, Dulat took time off to speak to Rediff.com's Syed Firdaus Ashraf and Saisuresh Sivaswamy in the colonial era Royal Bombay Yacht Club in Colaba.
The first of a multi-part interview.
The negative reaction in Pakistan towards General Durrani over the book and the benign reaction towards you in India, does it explain how different the two nations are? It is almost as if they are on two different planets.
I don't think India and Pakistan are on two different planets. But coming to your point on General Durrani, it is extremely disappointing. He has said nothing wrong and nothing new. All these things he has said before.
I don't know why somebody got excited. I think it is more of a storm in a tea cup and it will pass soon.
What differences did you see between ISI and R&AW?
I don't know how ISI functions. Our view is that ISI has a huge amount of autonomy. They are a State within a State. They get away with murder. They do what they like and they are a very powerful agency.
When I talked to the general he said I got it wrong. Professionally he said R&AW is better than ISI. He said ISI officers have to learn intelligence on the job whereas for us it is part of our career. He felt R&AW is as good as ISI.
We are sitting at the Yacht Club in Mumbai which is a hundred metres away from the 26/11 terror attacks. When such incidents happens, what kind of repercussions are set off over the intelligence failure?
That was very unfortunate what happened in Mumbai on 26/11. But there was an intelligence alert. It came in September 2008 and I am told that there were some precautions taken at the Taj hotel in particular.
The intelligence came from Americans and sadly they did not give us the full picture. David Headley was working for them and this intelligence came from David Headley.
Which period or years do you think were the best for India-Pakistan ties?
There have been many periods where things were all right and seemed to be all right. Surprisingly, even during (then Pakistani military dictator) General Zia-ul Haq's time he tried to reach out to (then Indian prime minister) Rajiv Gandhi. He came to Jaipur for cricket diplomacy. There have been good periods. In recent years the period 1999 to 2008 was a good period.
You mean, post-Kargil?
I am going back to the Lahore bus ride, but unfortunate incidents like Kargil, the Parliament attack and the Indian Airlines plane hijack happened. So let us go to 2005-2007 which was a very good period.
When (then Pakistani military dictator General Pervez) Musharraf came to Delh to watch cricket and our cricket team went to Pakistan where cricketer (Lakshmipathy) Balaji became a hero. Our team was cheered as much as the Pakistan team.
I remember Rahul Gandhi and Priyanka Gandhi too went to Karachi to watch the match. M J Akbar went to Pakistan, came back and wrote a piece that the kind of hospitality he got from Pakistan we will never be able to reciprocate back in India. It was a great time.
I feel that window of 2005-2007 was wasted. It was a huge opportunity. Dr Manmohan Singh talked about it while demitting office, that we almost came to an agreement and we wasted that period.
But in that very same period there were the train blasts in Mumbai which killed more than 180 people in which Pakistan was involved.
The Indian Mujahideen was very much active then.
My point is, you cannot attribute everything to Pakistan.
Whatever Indian Mujahideen is, I don't know what it is, but you can't say Pakistan is responsible for Indian Mujahideen. They might have links.
There are a couple of frustrated boys who go across and we hear stories they go to the Binori mosque in Karachi and get trained. I don't think it is such a huge deal.
Just think the other way. Suppose there are some frustrated Pakistanis who land up here, we would make the same use of them, wouldn't we?
Are you saying R&AW does such things?
What R&AW does, R&AW would know, I am no longer in R&AW. I cannot answer that nor should I know what R&AW does.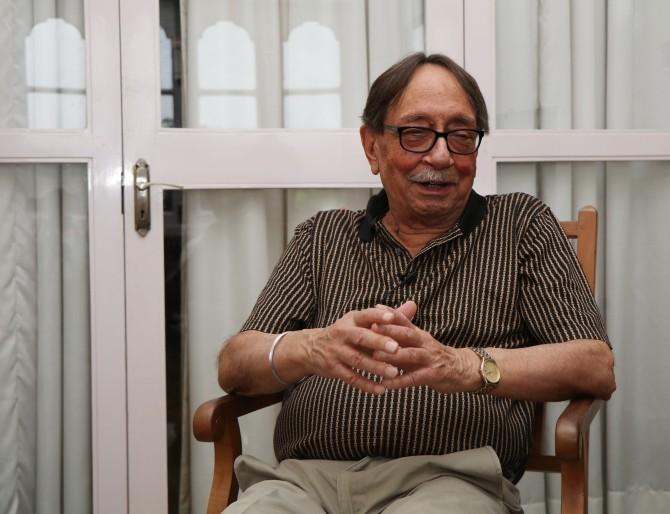 Does R&AW carry out 'blacks ops' in Pakistan?
General Durrani says India is not doing anything. In our time we did not do any 'black operations'.
India's stated stand is not to play any role in terror acts in Pakistan.
That is right and that is what I say. I remember when I was in R&AW, the American anti-terror expert Cofer Black told me they are going to restrain Pakistan. He said we have told them to behave, now you too better behave.
I told him we always behave and he said then it is all right.
In fact, in this book General Durrani says there has been so much talk in Pakistan of India's role in Pakistan, but he says the Indian role is very small in Baluchistan compared to America's.
I say India has in fact no role at all in Baluchistan.
When you were in R&AW, when there were terrorist attacks happening all over, did you feel that it is a difficult life?
This is one of the points I discussed with General Durrani, on how ISI has so much autonomy compared to us.
They are a State within a State whereas we are answerable to our political bosses all the time.
You must have heard that R&AW as an organisation had been softened in the time of Morarji Desai and I K Gujral.
It happens and it depends on the prime minister and politicians.
We have to play as the Government of India says and the prime minister of India says.
Why does Pakistan consider Morarji Desai one of the best Indian prime ministers, so much so that it honoured him with its highest civilian award?
If you talk to the Pakistanis some of them believe Morarji was one of our great prime ministers and that he was a fair man.
He did not want trouble with Pakistan and he did not want Americans to exploit either side. That is what Pakistanis believe.
Did he really clip R&AW's wings whereby it is alleged that some of our field operatives were exposed?
No R&AW official came under trouble because of Morarji Desai.
There was a lot of pruning of the organisation and we lost a lot of posts. Some senior people left as they were not happy.
Does all this help in the peace process?
It has nothing to do with the peace process. It works on its own and that is a political thing.
What role do people like Kulbhushan Jadhav play?
It is a very sad case. I don't know what he was doing.
Some people say he was a spy. The Pakistanis, of course, say that and we are denying it. Nobody knows what he was and at least I don't know.
I think Pakistan handled this issue very clumsily. They gave too much of publicity and also said that they will hang him.
Now obviously, they are not going to hang him.
Are you sure they won't hang him?
I am quite sure about that. I am quite sure when relations between two countries improve Jadhav would come back.
Was Jadhav detained because we arrested a Pakistani spy, so it became a case of tit for tat?
I don't know whose tit for whose tat. If there is such a person and there is some opportunity, then all the more reason you do it more quietly.