'Jaish aided by LeT attacked Parliament knowing mobilisation of Indian military assets would be the consequence.'
'That mobilisation happened, necessitating a military response from Musharraf who moved troops guarding back doors out of Tora Bora, facilitating Osama's escape.'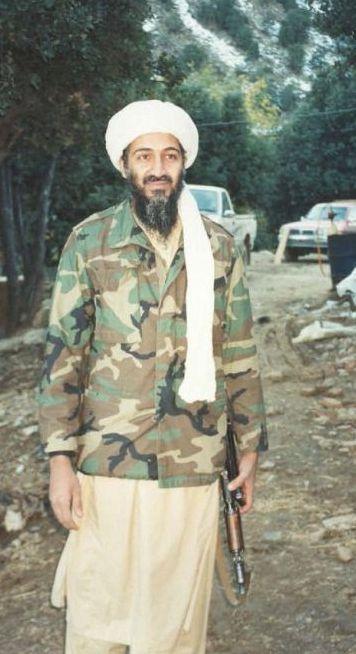 IMAGE: Osama bin Laden in Afghanistan some months before 9/11"
Early December 2001. Osama bin Laden is trapped in caves close to Afghanistan's border with Pakistan.
The Americans are in hot pursuit.
His protectors want bin Laden to slip into Pakistan where the Americans would find it difficult to find him. But that is easier said than done.
The Pakistan army, goaded by the Americans, patrols the border, to prevent Al Qaeda fugitives from crossing the frontier into more hospitable territory.
Then a break, likely inspired by GHQ Rawalpindi, the Pakistan army headquarters.
The December 13, 2001 attack on India's Parliament provokes Operation Parakaram, the biggest Indian military build up on Pakistan's eastern border in years.
The Pakistan army tells the Americans it has no choice but to withdraw troops from the Afghan border since conflict with India seems likely.
Pakistan's Afghan border is porous again.
Bin Laden escapes into Pakistan, where he stays undetected till US Navy Seals arrive at his home in Abbottabad on May 2, 2011.
Cathy Scott-Clark and Adrian Levy allude to the sinister connection between the attack on Parliament, the withdrawal of Pakistani troops from the Afghan border and bin Laden's escape in their new book, The Exile.
The Exile, their fourth book located in South Asia, delves into the mysterious nine-and-a-half years bin Laden spent in Pakistan, eluding the Americans who were determined to bring the man who is said to have masterminded 9/11 to justice.
In their last book, The Siege, Scott-Clark and Levy probed the 26/11 attacks, the conspiracy and the murderous events that followed, which Levy spoke about to Rediff.com in a fascinating series of interviews: 1, 2, 3.
In a two-part interview with Rediff.com's Nikhil Lakshman, Adrian Levy discusses bin Laden, the men who protected the Al Qaeda leader in Pakistan, and who could have tipped off the Americans about his presence in Abbottabad.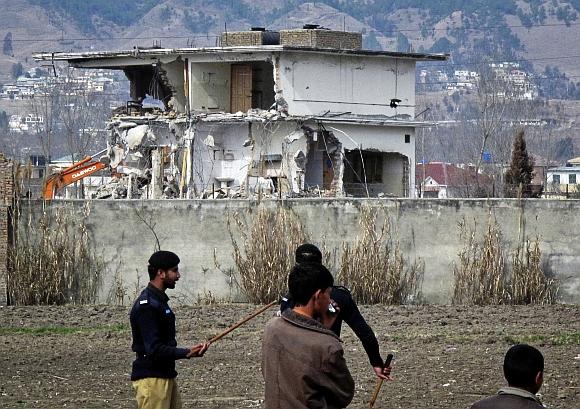 IMAGE: Pakistani policemen and residents near the building where bin Laden was killed by US Navy Seals in Abbottabad. Photograph: Sultan Dogar/Reuters
Mandarins in India's security establishment were long convinced that Osama bin Laden was living in Pakistan? Why did the Americans take so long to discover that fact?
Were they deceived by Pakistani subterfuge, specially Pervez Musharraf's many protestations of ignorance?
Mandarins in India believed that Pakistan was duplicitous -- for good reasons. But none of them knew that Abbottabad was where he landed.
By playing the Al Qaeda card, and preserving the Al Qaeda 'threat', Pakistan ensured it continued to receive political attention and financial sustenance.
When the US relationship needed a fillip Pakistan would suddenly find an AQ High Value Target and flip him (or her) over, or burn one of their assets. This they did many times.
But who really knew Osama was in Abbottabad? Was is institutionally known by army and intel chiefs -- as Sy Hersh would have it or Carlotta Gall?
And was the Abbottabad conspiracy, because that is what it would be, therefore run -- by people on a desk in Aabpara, connected through to Pindi and Islamabad?
Anyone who knows Pakistan also knows that the half-life of a secret is as long as it takes to consume a bowl of nihari -- so that conspiracy would have been blown into the open long ago.
Instead, the ISI creates plausible deniability, and this was what emerged when we investigated.
The lower ranks do appalling things without authority (often).
The absence of oversight, deliberately written into the ISI 'op-sec', enables plots to run that the COAS and ISI DG can point at and say, truthfully, they knew nothing.
This makes Pakistan's Deep State, especially venomous as it is one that relishes ignorance, and seeks opacity -- so as not to be confronted by the full gamut of operations in preparation, some of which would stagger them.
26/11 was one of these.
A long range plan, cooking on the back ring of the stove, as one ISI officers describe it to me, which then boiled over, to meet some specific ground problems experienced by LeT (Lashkar e Tayiba) and by a division of ISI.
The former was splitting and needed juice and a success. The latter had been made incandescent by the arrival of (then Pakistan president Asif Ali) Zadari in office, with his hand outstretched, apparently peacefully, to India.
In the case of Osama -- what we describe it as, is a cape of invisibility.
Its strands included local jihad fronts, spies, and belligerents like (former ISI chief retired Lieutenant General Hamid Gul.
All of these helped to keep the civil forces of inquiry that work well -- like the IB (Intelligence Bureau) and FIA (Federal Investigation Agency) -- away.
But does this make Osama's concealment a State sanctified policy? I think not.
It makes it one that was preferred by the state that chooses to be deaf and blind, and enacted by actors at arm's length from the State.
Is this all semantics? I think not.
This far more complex nuanced picture enables us to really understand the methodology of a State and the tells which could indicate when it will next turn a blind eye.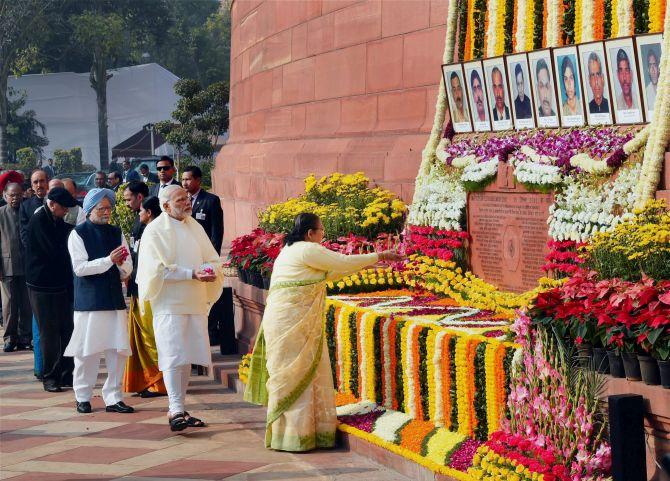 IMAGE: Lok Sabha Speaker Sumitra Mahajan pays tributes to the martyrs of the December 13, 2001 attack on Parliament, December 13, 2016. Photograph: Shahbaz Khan/PTI Photo
In The Exile, you surmise that the December 13, 2001 attack on India's Parliament could have been conceived by the Pakistan security establishment to trigger an Indian military response (what became Operation Parakram) to give Pakistan the pretext to move its troops from the Afghan border to the Indian border, thereby facilitating the safe passage of the Al Qaeda and Taliban leadership -- and OBL, of course -- to Pakistan.
Your theory would mean that such a terror op would need to have Musharraf's okay since it involved such an end result.
Any insights into this hitherto unreported premise?
The details are in the book. But actually the maneuver does not necessitate Musharraf complicity.
Jaish (e Mohammed) aided by LeT attacked the Parliament knowing mobilisation of Indian military assets would be the consequence.
That mobilisation happened, necessitating a military response from Musharraf who moved troops guarding back doors out of Tora Bora, facilitating Osama's escape.
The troops were moved as Musharraf feared a land invasion, and to deter this he showed India his nuclear assets.
So Jaish conspired. Jaish was already an Al Qaeda partner, with Masood Azhar having links to Osama that go back to 1993.
What these episodes show is that the insurgent coalition, the vicious sectarian outfits, often have better op-sec, training, equipment, and discipline than the Indian or Pakistan State.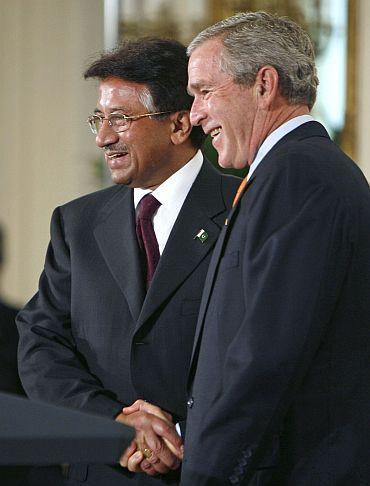 Were the Americans aware of how the Pakistanis were constantly playing them during the war against terror?
Why did they persist with working with the Pakistanis? Was it because they had no choice?
Was it because each time they caviled against Rawalpindi's cavalierly attitude, the Pakistani military and the ISI served them some cherished delicacy -- Ramzi bin al-Shibh or Khalid Sheikh Mohammed?
Yes. Constantly aware and daunted by the decision to drop them. Post Abbottabad that very nearly happened. But then it also nearly happened post AQ Khan, and post 26/11.
There is a view in the US state department and national security council that better the rogue State you can occasionally steer than one left to its own devices.
I think it would be fair to say that no one can 'manage' Pakistan -- not even Pakistanis.
Look at the Panama Papers saga. For one minute. Kleptocrats rule in dynasties. A leak reveals just their surface wealth as expressed in housing units in Mayfair.
The Kleptocrats falsify papers, without attention to detail, so the fraud comes to the attention of the supreme court. Its panel is co-opted by the ISI and army.
The latter says it isn't intervening. But hates Sharif ever since he almost had Musharraf killed in 1999.
So the cycle of sniping and undermining goes on, concealing one truth -- the State, civilian and military, is run by families who devour the wealth of the country -- rarely building systems or facilities that better the people.
It's a rigged market -- almost a Soviet State.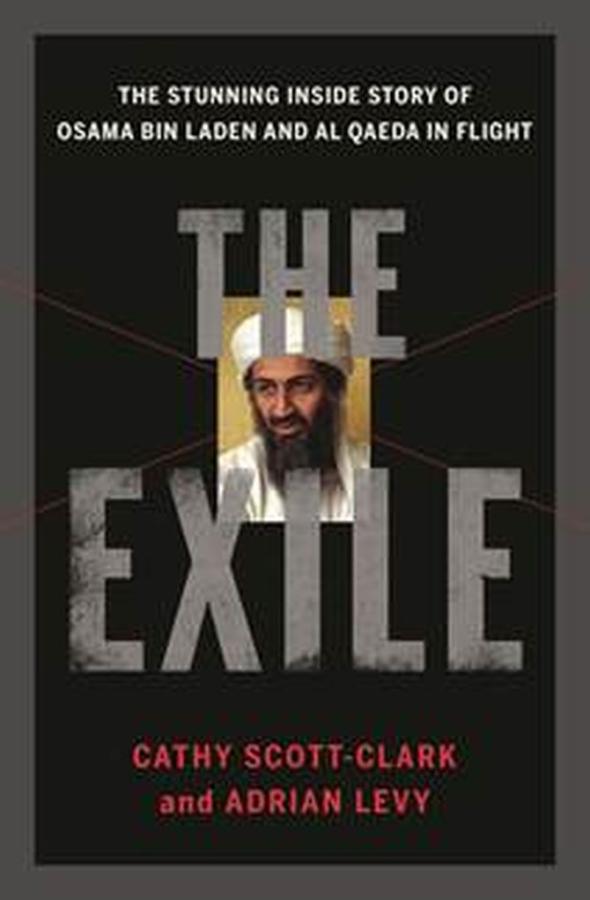 What, in your opinion, did Pakistan and the military gain most from being America's ally in the war against terror?
$$$.
And $$$.
But also $$$.
Personal wealth, and institutional wealth for the military.