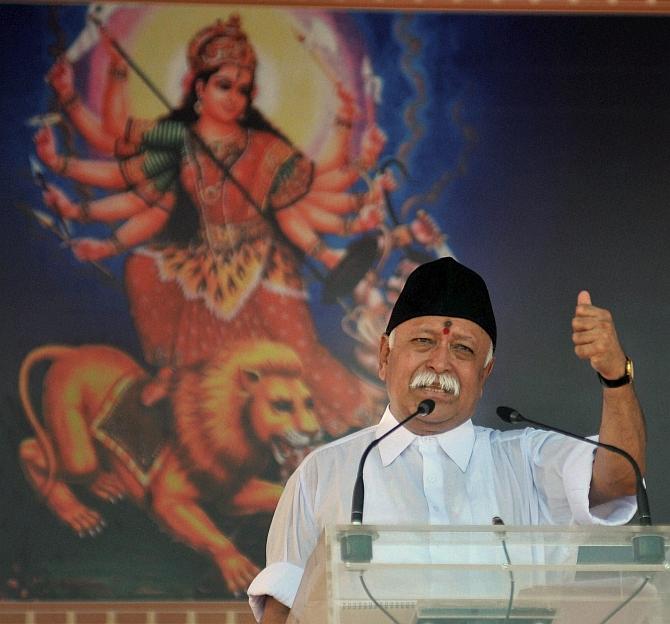 'RSS chief Mohan Bhagwat was on the Hindu extremists' hit-list. In June 2008, this information was made public. Prior to that, you should hear Bhagwat's speeches and listen to his 'liberal' statements.'
'After he was informed that he was on their hit-list, he became a hardliner. He was not like that before.'
Maharashtra MLA Kapil Patil tells Neeta Kolhatkar about his fight against Hindu extremist groups whom he accuses of being behind the murders of activists Narendra Dabholkar and Govind Pansare.
Lok Bharti Party legislator Kapil Patil made waves in the 1990s when he launched a Marathi tabloid Aaj Dinank in which he tackled issues boldly.
Since entering politics, Patil, below, left, has focused on lending a voice to the 'Bahujan' community and the minorities and the issues that affect them.
Through his network as a social activist, he keeps his ear to the ground. Patil recently accused extremist Hindu groups -- who he says subscribe to the 'Nathurami' (after Nathuram Godse, the Mahatma's murderer) ideology -- of conspiring and killing Dr Narendra Dabholkar and Govind Pansare.
You alleged that people of 'Nathurami' ideology killed Dr Dabholkar and Comrade Pansare. Who are these people and on what basis are you making these allegations?
My specific allegation is that both Dr Dabholkar and Pansare were killed by extreme right-wing groups.
It is a conspiracy because they follow a particular modus operandi. In previous attacks -- at a Thane auditorium and in other parts in the state -- the attackers are masked, they come riding a motorcycle, they kill and escape.
The bombs they made were country-made till they got RDX.
These organisations recruit youngsters who are brainwashed by their leaders. They are known to use hypnosis.
After the Malegaon blasts, thanks to the efforts of the late (Maharashtra Anti-Terror Squad chief) Hemant Karkare who pursued them diligently, they were forced to leave the state. First, they shifted to Belgaum and now they are in Goa.
There have been complaints against these organisations, but no government has investigated their actions.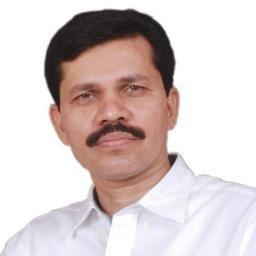 A few years ago, I remember you telling me you were the first politician who was vocal about Hindu groups being involved in the Malegaon blasts.
After you spoke out, Sharad Pawar called on you and only after that did the Maharashtra government re-look at the 2008 Malegaon blasts and thorough investigations were carried out.
How were you so confident that Hindu groups were involved in the blasts?
That is because I had information. (Anti-superstition activist) Shyam Manav gave me the information. I gave that information to Pawar and asked him to investigate the 2008 Malegaon blasts case scientifically.
We got a tip-off about their activities. After that, Karkare pursued the matter thoroughly and we have seen the evidence that came forward.
Why do you think these people would target Dr Dabholkar and Pansare?
These groups are afraid and hence are angry with rational and scientific non-believers who are equipping society with knowledge.
This empowers the poor and deprived, which is a challenge to the ideology and beliefs of these kinds of groups.
Fundamentally, these groups are afraid of Mahatma Gandhi and the Left and hence would not want those ideologies to be spread among the people.
It poses a challenge to their existence. In the minds of the Bahujan, Gandhiji is a huge icon. What these extreme Hindu groups are trying to do is finish the messengers.
You have been calling these extremist Hindu groups 'Nathurami.' Why is that?
In Marathi, we say 'Hitlari.' On the same lines many call these groups 'Nathurami'. I have said that in the (Maharashtra) assembly.
I maintain that the Nathurami people are targeting specific ideologies and trying to spread terror. They have succeeded in spreading fear by killing two important social leaders of this state.
So you believe these Nathurami groups have spread fear in society.
Of course, they have succeeded. But this is not new. These Nathurami people are trying to silence even liberal Hindus within the BJP-RSS fold, and this information even Karkare had.
Karkare had a list of people who were on the hit-list of these extreme groups.
RSS chief Mohan Bhagwat too was on it. In June 2008, this information was made public. Prior to that, you should hear Bhagwat's speeches and listen to his 'liberal' statements.
After he was informed that he was on their hit-list, he became a hardliner. He was not like that before.
There used to be some balance in Bhagwat's speeches, he was seen to be representing the modern Hindu.
In the RSS there have been two main types of followers. Followers of (the late Rashtriya Swayamsevak Sangh sarsanghchalak) Balasaheb Deoras who are more liberal, moderate. They always choose the middle path.
They are (the Bharatiya Jan Sangh president who was murdered on a train in 1968) Deendayal Upadhyaya's followers. They are known to take people along with them. Their opposite were more hardened and extreme followers.
The Deendayal Upadhyaya path was 'soshan mukti samaj ke liye hum bandhe hai (we are bonded for empowering of society and making it free of abuse).' This concept is on the lines of Marxist ideology.
How did you get information?
I have my sources, I have a good network and, most of all, I am well informed. I also read and draw inferences by reading between the lines.
You must understand these extremist groups are intolerant of any liberal, balanced and anti-superstition view. Hence, they also dislike any liberal, balanced, Hindus.
Remember, by and large, our Indian and Hindu society is liberal, secular and follows Sufi traditions. They speak the language of compassion, love and acceptance.
From Kashmir to Kanyakumari, we have great saints and social reformers who follow this path. This ideology wants to wipe out such a Sufi and liberal environment.

The previous Maharashtra government (headed by the Congress-Nationalist Congress Party) was said to be secular and yet it did not arrest Dr Dabholkar's murderers.
Now there is a BJP-led government. Do you think every government has failed to rein in these factions?
No government has taken this issue seriously. The so-called secular government of the Congress-NCP deliberately ignored these extreme groups.
The BJP government is incapable of it, because they are helpless. It is for this government to realise and be sensitive to the fact that people voted for development and not for communal forces.
Chief Minister Devendra Fadnavis needs to restrain these Nathurami factions. The killings are a big blot on the state.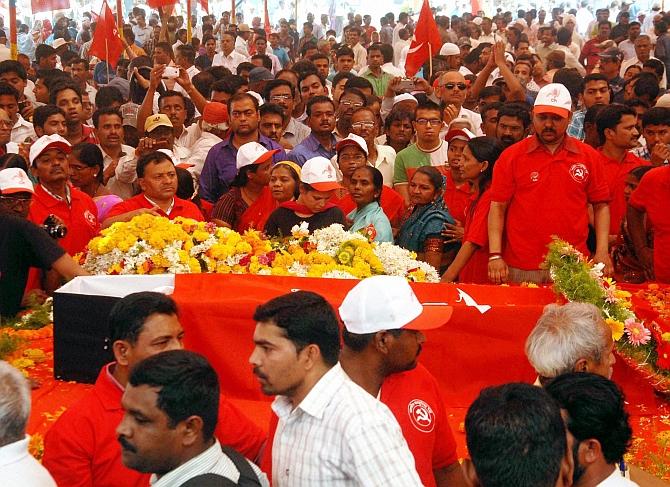 Comrade Pansare's killing came as a shock.
Comrade Pansare's murder is a huge shame on our state. Especially because the killing happened in Kolhapur. It is shocking because the social reaction of the majority has been against communal forces.
This part of our state has been most progressive with social and land reforms. The satyashodhak movement, started by Jyotirao Phule, was popular here, the Communist Party and Marxist ideology was popular here. It is a shame because the city of Kolhapur has been let down.
In an interview to Rediff.com, Jnanpith Award winner Professor Bhalchandra Nemade told me no extremist Hindu group was capable of killing Dr Dabholkar and Comrade Pansare.
No comment. Professor Nemade is an older and bigger personality than me. One needs to know that most are not aware of the various factions that exist.
Do you think the Fadnavis government will arrest the killers?
The government has given an assurance to the state assembly that they will arrest the killers. The BJP accused the previous government of indifference and inaction for not arresting Dr Dabholkar's killers.
This is a fine opportunity for Fadnavis and his government to prove they are more committed than the previous government.
This is an opportunity and challenge to Fadnavis and the BJP government to work within the framework of the Constitution and arrest the accused. Rather than be seen as a government shielding Nathurami factions.
Images: Top: Rashtriya Swayamsevak Sangh Sarsanghchalak Mohan Bhagwat.
Bottom: Communist Party of India leader Govind Pansare's funeral in Kolhapur. Photograph: PTI Photo