'Why should farmers who give us food be vacated to hand over their property to a private company held by one individual?' asks activist S P Udaykumar.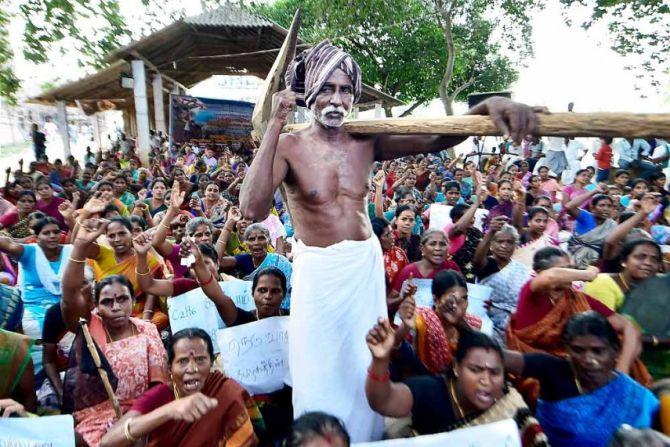 IMAGE: Farmers protest against the proposed hydro-carbon project in Neduvasal, Pudukottai district, Tamil Nadu. Photograph: PTI Photo
Activist S P Udaykumar spearheaded the agitation against the Koodangulam Nuclear Power Project in Tamil Nadu, for which he had over 300 cases registered against him, including charges of sedition.
He contested the assembly and parliamentary elections to further his campaign against nuclear power, but lost.
Unfazed, Udaykumar has been busy with his Green Party, constantly campaigning for the environment.
Last fortnight, when Prime Minister Narendra Modi visited Jaggi Vasudev's ashram near Coimbatore to inaugurate a 112-feet tall statue of Adiyogi (Lord Shiva), Udaykumar wrote to Modi saying the statue was in the catchment area of the Noyyal river where construction is banned and hence the prime minister should not come for the function.
Udaykumar, left, spoke to Rediff.com's A Ganesh Nadar about his concerns over this and other environmental issues in Tamil Nadu.
Why did you write to the prime minister asking him not to inaugurate the Adiyogi statue built by the Isha Foundation in Coimbatore?
The entire construction is illegal. The government has issued notice to the Isha Foundation asking them to vacate that place.
There is a court order to vacate that place, but the government has not implemented the court order because Jaggi Vasudev is an influential man.
But they are not the only violators in that area.
That area is an elephant habitat. How can anyone encroach upon an elephant habitat?
They have no plan approvals from any government agency. Now the prime minister has added legitimacy to an illegal construction. That is not good for his image.
We are facing a severe drought in Tamil Nadu and our catchment areas are very important. We cannot be building on them.
You also support the protests against the Neduvasal hydrocarbon project.
There have been protests in the Cauvery delta against the hydrocarbon project that is coming up there.
The protestors became so agitated that the Tamil Nadu government has since withdrawn permission for the project.
They have given out 31 wells to private companies, of which 14 wells went to just one entity without any auction or tender. How they arrived at this bid, we are not told.
You know who is getting this particular well in Neduvasal?
Davangere's BJP member of Parliament, G M Siddeshwara, whose company Gem Laboratories has been given the licence to extract hydrocarbons, and who is the son of two-time MP Mallikarjunappa.
The government has given them this site for 15 years. All the 31 sites together would generate Rs 49,000 crores (Rs 490 billion) in profit; the government will get only Rs 9,600 crores (Rs 96 billion).
This is their idea of income sharing.
Neduvasal is in the Cauvery delta, which is rice bowl of Tamil Nadu.
Why should farmers who give us food be vacated to hand over their property to a private company held by one individual?
What is important, feeding the people or enriching one individual?
You also announced plans to approach the Supreme Court against PepsiCo and Coca-Cola. Why?
The Tuticorin Thermal Power Plant has been shut down as there is no water to cool it. The Madurai bench of the Madras high court has allowed Pepsi and Coca-Cola to take water from the Thamirabarani river for their bottling plants at this juncture.
What sense does this make? A public utility doesn't have water, but a private company is allowed to use the same water.
I will move the Supreme Court to have the high court order overturned.