'In 2021, assembly elections are going to be held in Assam. The BJP, sitting in Delhi, is thinking everything is hunky-dory in Assam. But that is not the case.'
'People of Assam are no longer with the BJP.'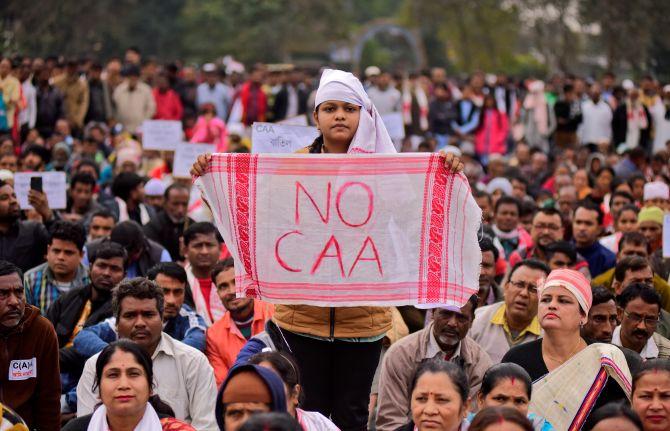 Not too long ago, Moon Talukdar was a member of the Akhil Bharatiya Vidyarthi Parishad -- the student organisation affiliated to the Rashtriya Swayamsevak Sangh -- in Assam.
However, he quit his post after the Narendra Damodardas Modi government passed the Citizenship (Amendment) Bill in Parliament in December 2019.
On January 22, when the Supreme Court was hearing CAA-related petitions, Talukdar, along with other student leaders in Guwahati University, called for boycotting classes.
"Many BJP MLAs are opposing the CAA," Talukdar tells Rediff.com's Syed Firdaus Ashraf.
Why did Assamese students call for boycotting class?
It was against the Citizenship (Amendment) Act and it was very successful as all universities supported it.
We also burnt copies of the CAA. The protests will go on till CAA is scrapped.
This was the message that we wanted to give to the government.
Home Minister Amit Anilchandra Shah has said you can protest as much as you want, the CAA will not be revoked.
In 2021, assembly elections are going to be held in Assam. The BJP, sitting in Delhi, is thinking everything is hunky-dory in Assam.
But that is not the case. People of Assam are no longer with the BJP.
We are fighting against the CAA constitutionally and democratically. The courts have also been approached.
But the protests seem to go nowhere as the government is firm.
Let Amit Shah say whatever he wants, the protests will go on.
Right now the case is going on in the Supreme Court. Shah must say they will accept whatever the Supreme Court decides.
But by making other statements, he is going against the Supreme Court.
The CAA and NRC were part of the BJP's election manifesto in 2019, but it still won in Assam.
The CAA is not a secular bill, it is against the Constitution. Now even if they allow illegal Muslim (immigrants) from Bangladesh with a cut-off date of December 31, 2014, we will not let it happen.
We will not allow any illegal immigrant from Bangladesh who came after March 25, 1971 -- the cut-off date in the Assam Accord -- to settle in Assam.
Assam Chief Minister Sarbananda Sonowal said as a son of Assam he will not allow foreigners (to come).
He is saying that just for the sake of it. Today, he is in a bad position and no one supports him in Assam.
Many BJP MLAs are opposing the CAA. The Assam Accord clearly says that no illegal immigrant will be accepted after March 25, 1971.
800 people were martyred for this cause and now they (the BJP) are saying that five lakh illegal Bangladeshi Hindu immigrants will be accepted.
This will destroy the basic structure of India's secularism.
Sonowal said the CAA will not affect the indigenous tribes of Assam.
Right now their (Bangladeshi Hindus) numbers are small. Today, any illegal Hindu immigrant from Bangladesh can just enter India without documents.
They don't have to submit any documents to any authority. They just have to file a simple application and state that they are from Bangladesh and that they are being tortured in that country because they are Hindus.
Once you say that, it is good enough to become an Indian citizen under the CAA.
But they must have some proof that they were in India prior to December 31, 2014, isn't it?
They don't need to have any proof. The gameplan is that there are 126 assembly seats in Assam and if they change the demography of Assam it will be good for them.
Bengali Hindus will only vote for the BJP. Tomorrow if Donald Trump gives me citizenship of America, I will surely move to America.
The same thing Amit Shah is doing for Bangladeshi Hindus.
Earlier you were with the ABVP, why did you leave it?
They didn't stand by a word of the Assam Accord. When they got in the CAA, I had to quit.
BJP leaders too understood why I am leaving their student organisation.
They know there is opposition across Assam against the CAA.
How is the CAA going to affect Assam? Is it threatening the indigenous culture of Assam?
In our hostels, everybody lives together -- Muslims and Hindus. But when you bring in a communal bill, it divides people.
Moreover, in Assam, the number of Assamese speaking people is decreasing and that of Bengali speaking people is increasing.
Assamese is our state language, but only 48 per cent people speak it. Will you tolerate it if only 48 per cent of Maharashtrians speak Marathi and the other 52 per cent do not?
Today, more than 50 per cent of Assam's population doesn't speak Assamese. Even commercial hoardings in Assam are in Bengali, not Assamese.
Our language and culture are getting affected because the Bengali language is growing in Assam.
In some schools, Bengali books have started to come up.
Let me tell you, we are not against Bengali people, but illegal Bangladeshi Hindus who have come to Assam post 1971.
Tripura has already become a 'Bengal-sthan'.
What should the government do to meet your demands?
They can do at least two things, first to issue an inner line permit in Assam.
Secondly, they need to redefine who are the indigenous people of Assam.
Today, so many people come to Assam for business. We feel only those who have proof of residence before 1951 are indigenous people.