'If you delay the diagnosis even by 24 hours, in that 24 hours individuals would have affected more people.'
'So, contact tracing, testing, isolation, quarantine needs to continue.'
Is India winning the battle against COVID-19?
Are we conquering the pesky virus?
What measures are working?
What measures need to be stepped up?
What can India gain from hindsight?
The past has to be studied to be able build a safe future.
More so in medicine.
And even more so with unforgiving viruses.
As COVID-19 cases in India nearly touches 100,99,066 (as on December 23), Dr John Victor Peter* strongly believes in hindsight.
In a clear-eyed, positive manner the experienced specialist looks at what India did right in its response to the pandemic.
He also, importantly, lists the lessons of the past that could help India move forward in its fight to overcome the deadly viral disease.
An intensive care specialist and the director of the Christian Medical College, Vellore, Tamil Nadu, Dr Peter qualified at CMC and then worked towards further specialisations in Australia, over 7.5 years, earning an FJFICM, FRACP, and later an FRCP** from Edinburgh.
He returned to India in 2006 to work at CMC and was appointed the director of the institution in 2017.
Dr Peter coordinated the campaign to bring CMC Vellore up to speed when COVID-19 hit India.
He is also part of the medical task force advising the Tamil Nadu government.
Dr Peter believes that the Tamil Nadu government's approach to tackling COVID-19 has been very thorough and meticulous.
Rather than focusing on larger lockdowns, Tamil Nadu has doggedly worked at arresting each COVID-19 cluster with tracing, testing and quarantining in a detailed fashion, with its district collectors actually working zone by zone and street by street.
That Dr Peter feels too is the plan for the future.
In a conversation with Vaihayasi Pande Daniel/Rediff.com, the critical care specialist dissects India's approach to COVID-19 so far, points out where the slack is and where the past can help the future:
Before I look at it through the three domains into which I have broadly classified (the examination of the Indian COVID-19 situation) -- Policy, Science and People.
First, everything is much clearer in hindsight.
That to me is very crucial in the way we address this pandemic.
Secondly, this generation that was born in the latter half of the 20th century has not faced any major disasters or calamities.
The response of this generation, in many countries, was hitting the panic button.
Thirdly, each country approached the pandemic in a different way.
Only time will tell us whether something worked or did not worked because of two factors:
1. This is a new disease and we have approached it without much knowledge and mainly on intuition and some logic.
2. I believe many countries have gained quite a bit in the short term.
But it remains to be seen whether these are long-lasting gains.
Fourthly, we can look back and see what we have done well, and what we could have potentially done better or differently.
The past will give us some perspective on how we look at it in the future.
POLICY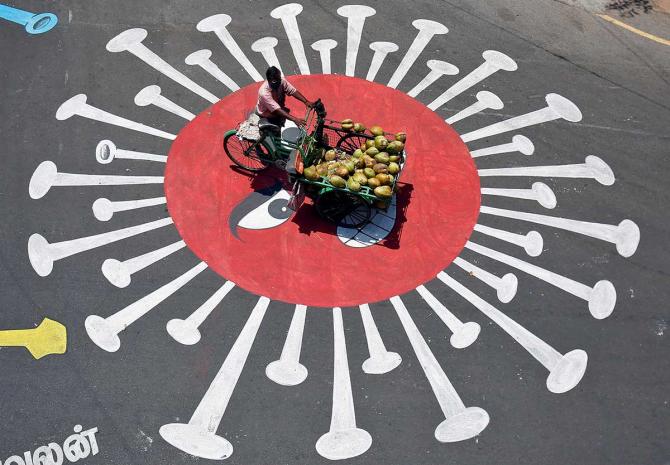 a. The lockdown
It is very important to think this (the lockdown) through very carefully, because many countries, that are having a second wave, are seriously contemplating another lockdown or have already instituted a lockdown.
It is important for us to reflect as a nation on the lockdown and learn from the lessons of the past.
There are three questions about a lockdown -- first is the timing, second is the severity of the lockdown and third is the duration
About the timing of the lockdown: Was it too early, too late or just right?
This is very challenging to answer if you go back and look at two other potential pandemics related to coronavirus.
I'm talking about the 2003 SARS*** epidemic (caused by SARS-CoV-1) which affected about 26 countries -- as per WHO information -- but it didn't become a pandemic.
And the MERS*** (Middle Eastern respiratory virus) which was again a coronavirus that affected 27 countries, but it didn't become pandemic.
We have had multiple corona epidemics in the past, but none of them became so serious that it needed lockdown.
As far as the intensity of the lockdown goes, I think in India, it was quite intense and pan-India.
In hindsight, we have learnt a lot of things.
Like Europe, where each country behaved very differently, in India each state was affected differently.
There was also the rural versus urban differences and within that the urban classification, Tier 1 and Tier 2 cities have been affected very differently.
So, one size doesn't fit all.
If, God forbid, we have a second wave, we definitely need to break it down into small components and not have a pan-India policy.
That's why I said what we have done in the past are important lessons for the future.
I would not say that we need sporadic lockdowns (for festival seasons).
I will use the term cluster control.
Tamil Nadu did it very well.
Very, very inspiring.
They went down to the street level, massive testing, fever camps set up where they would test everyone, so you know how many people that cluster has infected quite early.
Let's not lock down complete cities.
Let's look at zones, regions, even streets.
Tamil Nadu went into those minute details.
And I think, they have been by and large quite successful.
But time will tell.
Time will tell who has done the right thing.
If you look at it from a worst-case scenario.
What if we don't have a vaccine that works, what if we don't have a drug that works over the next two to three years?
Are you going to put life on hold for the next two to three years?
We can't.
All we are trying to do is slow it down.
Slow it down so the healthcare system doesn't get overloaded.
Then there is the duration of the lockdown (ie was it long enough).
I believe, personally, the lockdown gave us sufficient time to prepare.
Now whether institutions and states used this time effectively to build and enhance capacity is something one needs to answer.
From my own institution's perspective at CMC we really utilised the time so well, to build capacity, to come up with protocols, to train thousands of people, bring out sufficient education programmes, videos, modules.
I was also part of the expert group of the state of Tamil Nadu.
I know we put in a lot of effort to ramp up capacity, so much so that we were prepared for COVID-19 when it came.
The first wave has taught us important lessons which you could apply to the future.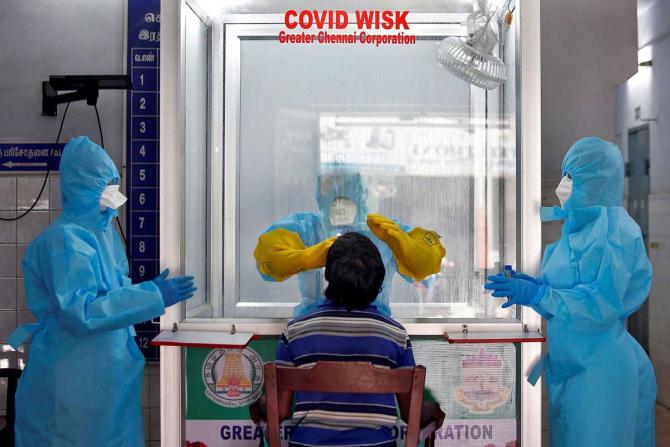 b. Testing policy
Many countries fumbled on this initially and that is true for India also, with a restricted number of centres.
And there was a limitation on who should be tested.
Now, over the last month, for instance, testing has been enlarged aggressively.
Tamil Nadu, Andhra and Maharashtra ramped up the testing capacity very early.
I know the government of Tamil Nadu gave a very clear mandate: Do not worry about the numbers.
Test aggressively.
That is very, very effective policy, because you identify clusters early.
It's based on a very simple assumption: If you delay the diagnosis even by 24 hours, in that 24 hours individuals would have affected more people.
So, contact tracing, testing, isolation, quarantine needs to continue.
This is a very, very important lesson we have learned over the last six months.
Every state, every local administration should not take their foot off the pedal in terms of this very focused testing, contact tracing, isolation, quarantining, because that effectively breaks the cycle of transmission.
Again, a lesson from the past for the future.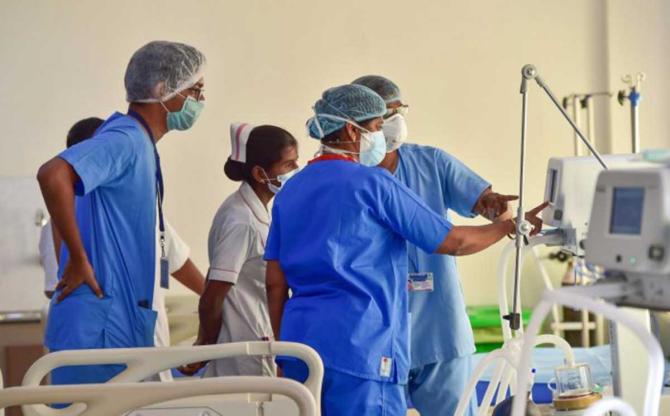 c. Treatment policies
From a policy perspective, I think the Department of Health (ministry of health) took a very long time to come up with policies on how we manage mild and asymptomatic individuals.
This delay put a lot of stress on the health system.
It's very important that we don't make the same mistake for the future.
Things have changed.
Now, there are very clear home isolation protocols.
And they are in place and they seem to be working.
But there is the people's response to this, which I will come to later when I discuss People as a domain.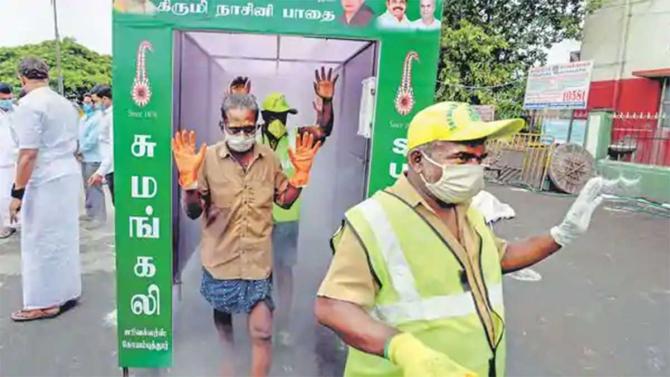 d. Balancing economy and health
There is very clear relationship between health and socio-economic status.
Based on latest reports, it appears that the Indian economy has been hit hard.
But it's not very clear, at this stage, if this has had a direct impact on health.
I'm making a very, very strong statement here.
Why do I say this?
Well, what has the cost of the lockdown been on health of the population?
We need to look at the population in its entirety, rather than the individual.
Every life is precious, don't get me wrong.
But when you look at the country as a whole, and when epidemiologists and public health people look at it, they need to ask this question: What was the cost to health?
You need to balance it from two perspectives.
One, the lockdown period actually reduced a lot of road traffic accidents. Dramatically.
If you look at the various centres -- the number of accidents had reduced, the number of deaths had reduced.
But this would have been offset by probably routine health care which could have been affected.
I am using the word 'probably' because I'm not sure -- we have not quantified whether the delay in access to care increased the likelihood of severe presentations (of various other illnesses).
We don't know as yet.
From an epidemiological perspective, from a national perspective, we would like to have some idea from epidemiologists whether the number of lives saved, on the one hand, balanced, or more than compensated for probably the extra lives lost because of the reduced access to health care.
It is important to keep this in perspective if we have another wave.
We need to look at the total cost.
*The views expressed in this article are Dr Peter's personal views and do not necessarily represent any institution's viewpoint.
**FJFICM= Fellow of the Joint Faculty of Intensive Care Medicine, FRACP=Fellow of Royal Australasian College of Physician, FRCP= Fellow of the College of Physicians, Edinburgh.
**MERS or camel flu first identified in Saudi Arabia in 2012. SARS first identified in Yunnan, China in 2012.
*Kindly note the image has been posted only for representational purposes.
Feature Presentation: Ashish Narsale/Rediff.com