'There will be very strong interest in cooperating with India under any future American administration, but on the margins India will need to be careful not to tip its hand regarding the election.'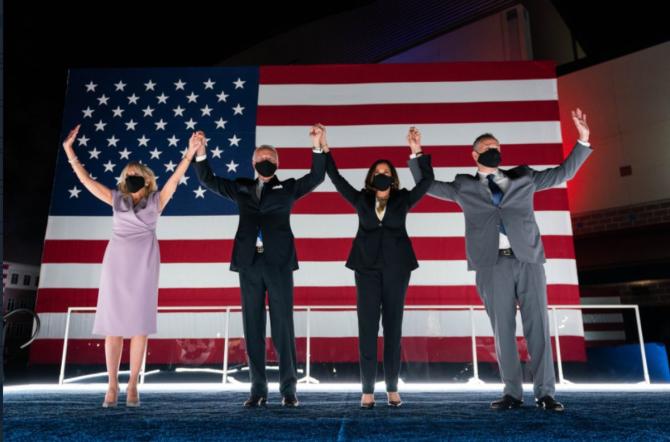 Paul Staniland, a political scientist at the University of Chicago and author of the forthcoming book, Armed Politics: Violence, Order, and the State in South Asia, talks to Aditi Phadnis about the US policy in South Asia after the November election.
If the Joe Biden-Kamala Harris team reaches the White House, do you think Prime Minister Narendra Modi's 2019 endorsement of Donald Trump as the next US president to the Indian Diaspora at his rally in Houston will be a problem?
There is still a lot of time and uncertainty before the election, and Trump is making noises about refusing to accept a loss. So it's hard to prognosticate confidently.
Biden-Harris are currently leading, and showing more consistent strength than Hillary Clinton-Tim Kaine in 2016 in the polls, but the race is likely to tighten given the high degree of political polarisation.
Moreover, the electoral college gives disproportionate weight to Trump's base, so it is possible for him to be re-elected while losing the popular vote again by millions of votes.
Trump's allegations of impending rigging, attacks on the reliability of mail-in voting, and general abuse of the State apparatus add a further, very alarming, element of uncertainty.
What about India and Modi's outreach?
Countries need to maintain collegial relations across leaders in other countries. Modi also engaged in outreach with Barack Obama, for instance, and Shinzo Abe has cultivated Trump.
The danger for India is that the 2019 and 2020 rallies were unusually public and enthusiastic compared to more sedate, conventional, joint press conferences and statements.
Leaders like Abe have not held rapturous mass rallies with him. There will be very strong interest in cooperating with India under any future American administration, but on the margins India will need to be careful not to tip its hand regarding the election.
Trump is seen by many in the US as a fundamental threat to American democracy, so this is not a normal election.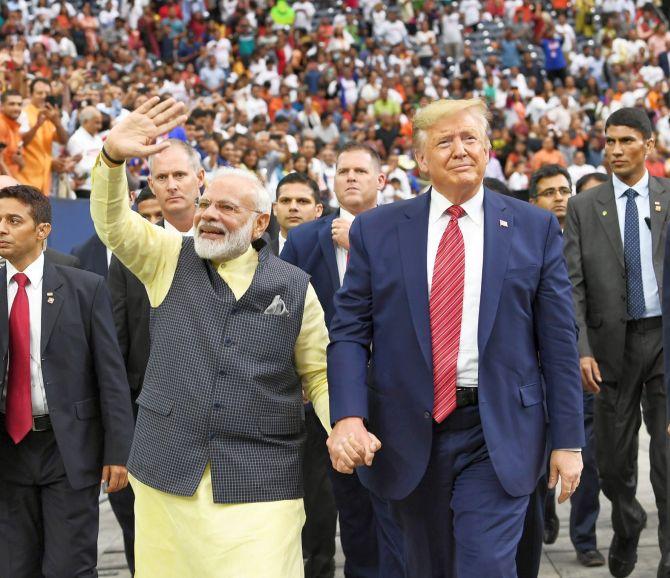 What will Biden-Harris do to make the elephants in the room go away: The H1B visa issue? Trade issues? Make America Great again (protectionism)? China?
We should assess broader statements by Biden and Harris, since they have not released a specific South Asia policy plan. A few strands seem important.
First, Biden has highlighted the importance of democracy and liberalism as counterweights to the influence of China, Russia, and other illiberal regimes.
In the eyes of many Democrats, the diffusion of authoritarianism and illiberalism is bad for American democracy at home and American allies abroad.
Democrats recurrently stress India's importance as a strategic partner, while also being more critical -- even if only rhetorically rather than with substantive policies -- on human rights issues than Trump.
This combination of views -- broadly pro-India and sceptical of some Indian policies -- is common in the US (and many other countries).
At the same time, there is a recognition in the US that America's own serious domestic issues require urgent attention to increase its credibility abroad.
Second, and potentially complicating the first strand, is an emphasis on competing with China.
In South Asia, I suspect that any future administration will face tensions in both competing with China and pushing for liberal democracy.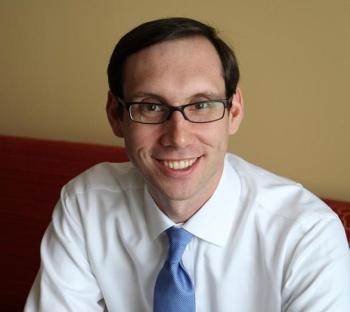 IMAGE: Paul Staniland
So what does this portend for the future?
When you combine these strands, it will be easiest for India to frame itself as an effective democratic competitor to China if it avoids the kind of violence and political instability that we saw in the second half of 2019 and into 2020, which was seen by many as a distraction from focusing on the issues that American strategists care about (economic growth and China).
Given the dilapidated state of American infrastructure, inadequate State capacity, and the economic slump caused by COVID-19, there will be an overwhelming interest in domestic rebuilding before moving into ambitious global economic policies, but some movement on trade issues is certainly possible.
The Democrats are the more immigrant-friendly party, but much will be determined by the outcome of Senate races.
If the Senate also turns Democratic and the House stays under Democratic control, then there will be vastly more space for ambitious policies than if the Republicans retain control.
Interested Indian observers should definitely pay attention to trends in close Senate races, especially if it looks like Biden is going to win.
Feature Presentation: Rajesh Alva/Rediff.com