'Our priority is how to reduce the waiting time for people for darshan.'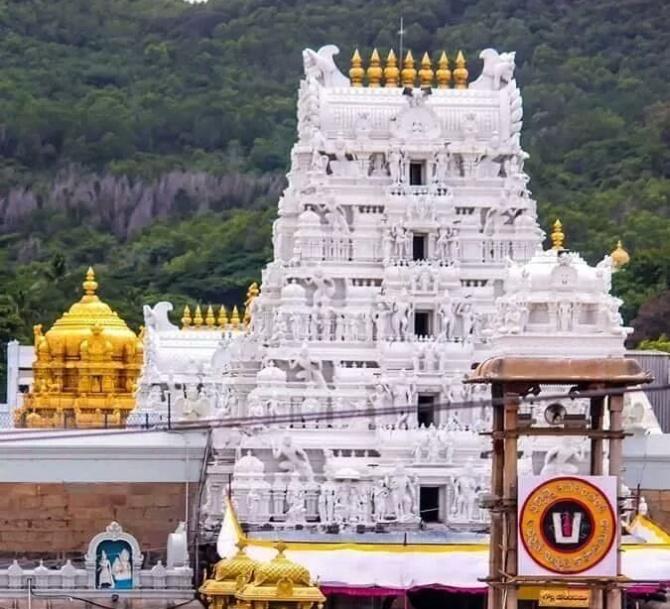 Y V Subba Reddy took over as the 50th chairman of the Tirumala Tirupati Devasthanams which manages the famous Lord Balaji and dozens of other temples, educational institutions and hospitals.
"TTD has a hospital. I want to make it a world class healthcare centre like AIIMS so that every ordinary person will have the best healthcare facility available," Reddy tells T E Narasimhan.
What are your priorities as the new TTD chairman?
I want to clean up the system and address the issues, including the alleged missing jewels of Swami (Lord Balaji), diamonds and the movement of cash without proper security.
You may remember that such a movement of cash without security has become an issue in the election period.
All this happened between 2014 and 2019 (when the Nara Chandrababu Naidu-led Telugu Desam Party was in power and the chairman of the TTD board was appointed by his party).
While on the one hand, we will probe all the alleged irregularities and scams, our priority is also to see how to reduce the waiting time for people for darshan.
Today, it takes a minimum of 14 hours and a maximum of 24 hours for an ordinary person to have darshan, especially from April to June which is the peak period.
We are trying to reduce the layers, currently four, to two.
My vision is that over a period of time, the time spent by a common man even during the peak hours must be brought down to four hours.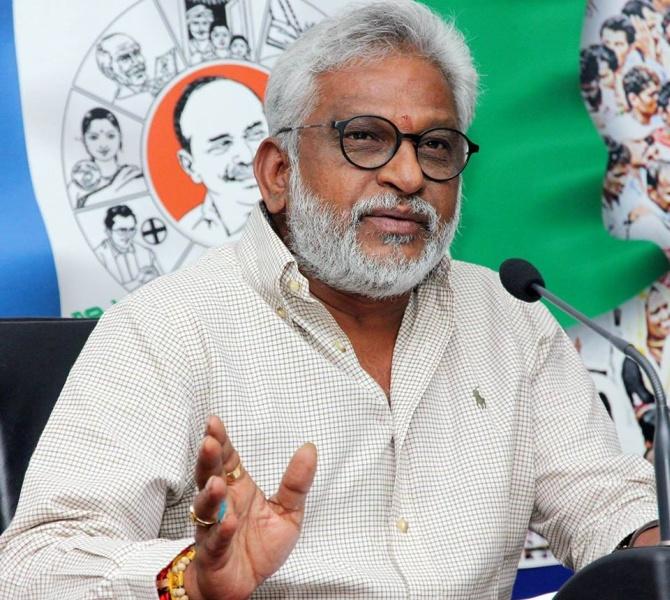 Which means you have to give up the VIP darshan and protocol darshans?
Now we have a total of four layers, but we are looking at reducing it to two.
We can't remove the protocol darshans, for the top government officials or those who need to spend more time in public service so that they can go back to work at the earliest. VIP darshan will have one layer, instead of many.
Chief Minister Y S Jaganmohan Reddy has suggested how to spread the word of Hinduism and work for the development of the TTD. I will work on those directions.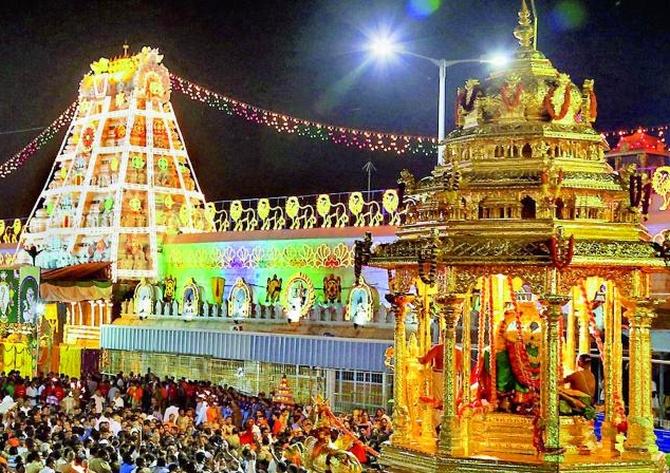 People allege that you are a Christian and there were protest against your appointment. Your views?
It's a false allegation and politically motivated. They started spreading the rumour because everybody knows that Jagan's family is Christian.
Being his uncle, some people tried to spread the rumour that I am also a Christian.
The fact is that I am not Jagan's direct uncle. His father and I are co-brothers, and I have been a Hindu all my life.
I have visited Sabarimala nearly 30 times and I have donated buildings to Tirumala decades back.
Anybody can come to my home any time and verify what my religion is and whom I worship.
In the recent times, it has become a big issue. The previous government tried to appoint a Christian woman. Later, this was withdrawn due to protest.
It's all politically motivated. The chief minister himself clearly told me there should be no compromise when it comes to upholding traditions and customs.
The new board will adhere strictly to the prescribed agamas without any deviations.
Recently, a large sum of gold was seized during transhipment by Punjab National Bank. What happened to that issue? What sort of action/system are you putting in place so that this does not happen again?
Initially, it was said it was gold. But it was a cash consignment of around Rs 1,200 crore to Rs 1,300 crore, which was transported without proper security, that too during the election time.
How such a big amount was moved without any security or documents, we don't know. There is no clarity. We are probing this and putting systems in place, including CCTV cameras, so that such issue will not happen again.
We want to be transparent on everything.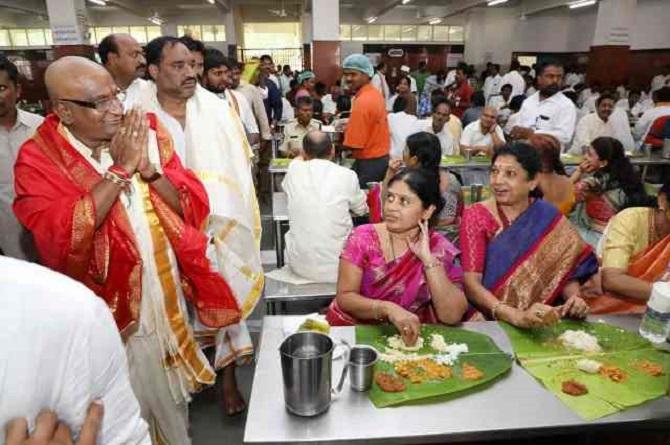 What are the long term measures you are planning for the development of Tirumala?
I have been visiting Tirumala from my childhood and during those days, except for two months, this place used to get rain every day. Today we don't see much rain.
I think this is due to climate change and global warming. This is a holy place. But look at the pollution around you. Every day more and more people come for darshan.
On an average nearly 80,000 people come to Tirumala every day, of which nearly 75 per cent use public or private transportation while the rest come on foot.
9,000 to 10,000 private vehicles come here, while another 1,500 public transport buses ply from various parts of the state. This is a serious concern.
I want to make this place an emission free location. People come here to pray to the Lord and they need a better environment.
We cannot bring in such changes overnight. To start with, we are planning to make 15 to 20 buses, which are carrying devotees to the temple, free of cost.
These are running on diesel at present. We want to turn these to electric vehicles.
Similarly, there are about 1,500 buses, operated by state transportation, which are running between Tirupati and Tirumala.
We cannot convert all of them into electric buses at one go, but we can do it in phases, with the support of the government. TTD has its constraints in terms of budget.
While the devotees visiting the temple offer money, TTD runs on a budget and we need to keep the expenditure under control.
We can bring in the positive changes over a period of time.
I am also planning to appoint consultants and work with companies, like L&T, on alternate transportation possibilities like tram cars that run on electricity.
I think my management skills would be helpful to manage TTD in such aspects.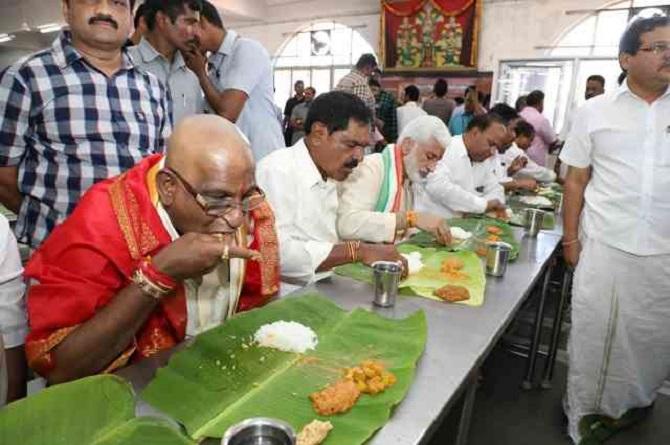 A couple of years ago, there were reports that TTD is planning to set up Tirumala-like temples in other parts?
That will definitely encourage devotees. During the Telugu Desam Party regime, they did not take up construction of any temples.
Y S Rajasekhara Reddy's government introduced a system to build temples primarily in Dalitvadas, for poor people to have darshan. They can't afford to go long distances for darshan.
The plans were to set up small temples costing around Rs 5 lakh to Rs 10 lakh, with total TTD support. I want to reintroduce that system, provided the board approves.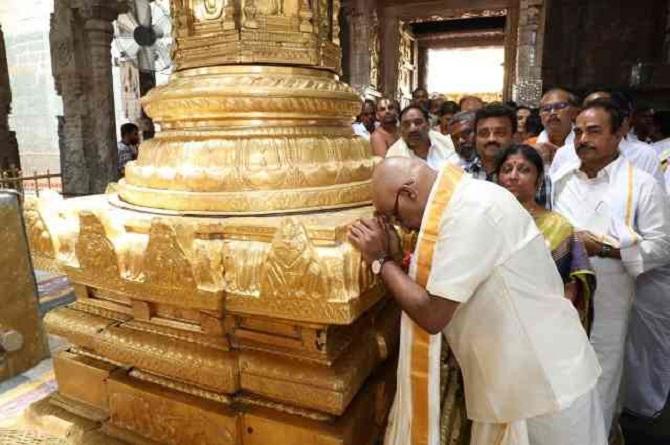 What are the initiatives in education and healthcare?
We are spending crores of rupees that belong to Lord Balaji to support people. My priority is to provide proper medical care for the people.
TTD has a hospital. I want to make it a world class healthcare centre like AIIMS so that every ordinary person will have the best healthcare facility available.
TTD runs 25 educational institutions including Vedic universities. We will try to improve the quality of education and facilities in these institutions.