'They bluff and lie repeatedly and we swallow their lies.'
'Because we are soft and polite, we get into a mess of our own making.'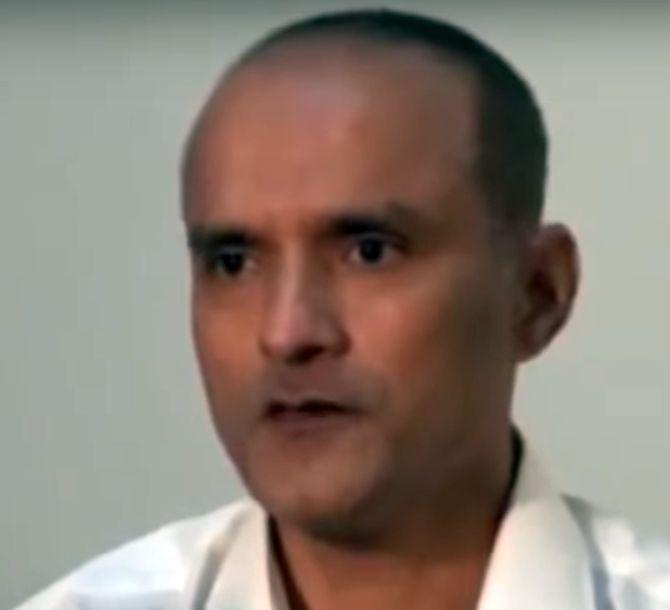 Former Indian Navy officer Kulbhushan Jadhav, who was arrested on charges of espionage in March last year, was awarded a death sentence by Pakistan after a 'secret trial.'
While Pakistan insists that the sentence is based on 'credible' and 'specific' evidence, India has condemned the death penalty as an act of 'pre-meditated murder' by Pakistan and warned of serious consequences.
Ambassador Rajiv Dogra, who served as India's consul general in Karachi, speaks with Veenu Sandhu about the case.
India has termed Jadhav's trial as 'farcical.' What are your views?
I would maintain that there was no trial at all. People think it was a trial conducted under the new dispensation given to the Pakistani army to try terrorists.
That is not correct because the section they have quoted is from the British time -- 1923.
Even under the so-called new military powers in Pakistan for the speedy trial of terrorists by military courts, a notice that a trial has started against a particular accused is always given.
In Jadhav's case, no notice was given. No one knew that a trial had started.
So obviously it was a decision taken in a hurry.
Pakistan has one law for Indians and quite another for everyone else.
Recently, there was news in the Pakistani press that Shakil Afridi, the doctor arrested for links with Osama bin Laden, was tried by a sub-divisional magistrate in a civil court and kept in a civil prison in Khyber Pakhtunkhwa.
His crime in Pakistani eyes should have been much bigger than whatever Jadhav has been accused of.
There is also the case of Raymond Davis, a declared spy who was also tried in a civilian court and kept in a civilian prison -- Kot Lakhpat.
Not only was he a spy, but he had also murdered two Pakistani citizens in broad daylight. He was later released on $2 million blood money.
The fact is that spies of other countries are tried in a civilian court and can be released.
Indians, however, are not tried or given any consideration of law.
Instead, an arbitrary law is made on the spot to punish any Indian according to the Pakistani military judgment.
Do we then need to get tougher with Pakistan?
They bluff and lie repeatedly and we swallow their lies.
Abdul Basit (Pakistan's high commissioner to India) has been quoted in recent newspaper and television interviews saying that the Indian government knows why Jadhav has been tried in a military court and what the charges against him are.
But Indian newspapers now say that the Indian government has no idea where Jadhav is and why he is being held in prison.
The fact is that the Pakistan government had approached the Iranian government to find out why Jadhav was operating in Iran.
And now Pakistan is saying, 'No, he was spying in our country.'
If that was the case, then why did Pakistan reach out to Iran?
We should be posing these tough questions to Pakistan.
Our fault is that repeatedly we submit to Pakistan's bluff.
The other problem is that we are very generous with Pakistan.
Recently, the Indian Coast Guard released two Pakistani marines who were found in Indian waters.
What were they doing in Indian waters? Were they not spying? They were.
Yet, when the head of their marine department rang up his counterpart here, we went out of our way, rushing aircraft and ships to the site to rescue those two as a humanitarian gesture.
But we need to understand that generosity does not work with Pakistan.
Compare this with what Pakistan did when an Indian soldier strayed across to that country a few months ago.
The standard operating procedure between India and Pakistan is that any soldier who has strayed across must be returned within 24 hours. But they kept him and tortured him for two or three months and then, as a great favour, returned him to us.
In Jadhav's case, my hunch is that he would have been tortured to such a degree that he would hardly be coherent.
That is why they would hesitate in releasing him.
So, this one-sided equation does not help India.
It did not help in 1947 and it will not help in the future.
What is Pakistan aiming to achieve through Jadhav's case?
Pakistan's prime minister and foreign minister had earlier admitted that there is no evidence against Jadhav. Then why are they making such a hullabaloo about it now?
There are two reasons.
One is the propaganda bit, to put India down on the international mat, to show that it is engaged in acts of terror in Pakistan and is equally a terror State.
Secondly, we have to see it in the context of Kashmir.
Pakistan thinks because Kashmir is on the boil, the time is ripe to invite international mediation.
And incidents like Jadhav's are just the kind to increase tension to draw international attention.
The Pakistani game plan is bigger. So Jadhav or whoever it will be next are just means to achieve that larger goal.
Pakistan has questioned why Jadhav had two passports, one with a Muslim name. It is using this argument against India's contention.
Pakistan says Jadhav has these many passports and that is why he is an Indian spy.
Well, Dawood Ibrahim has 10 Indian passports, but he is not an Indian spy.
If India were to send him as a spy, it would not send him on an Indian passport. It would send him on, say, a Pakistani, Nepali or Bangladeshi passport.
I don't know why we are not forcefully rebutting such baseless arguments. Because we are soft and polite, we get into a mess of our own making.
Sartaj Aziz (the foreign policy advisor to Pakistan's prime minister) had openly said in their senate in December that Pakistan does not have enough material on Jadhav.
Now, suddenly in three months they have enough to award him a death penalty? It is all a made up story to put India in a corner.
How should India react?
Besides rebutting these accusations, we should not be giving TV space to people like Basit who uses it for propaganda.
Secondly, we must effectively inform the world that we are concerned.
The government should at least issue a travel advisory to Indians to not travel to Pakistan.
When senior clerics from the Hazrat Nizamuddin dargah can be detained and questioned by Pakistani intelligence officials on suspicion of spying, then which Indian is safe there?