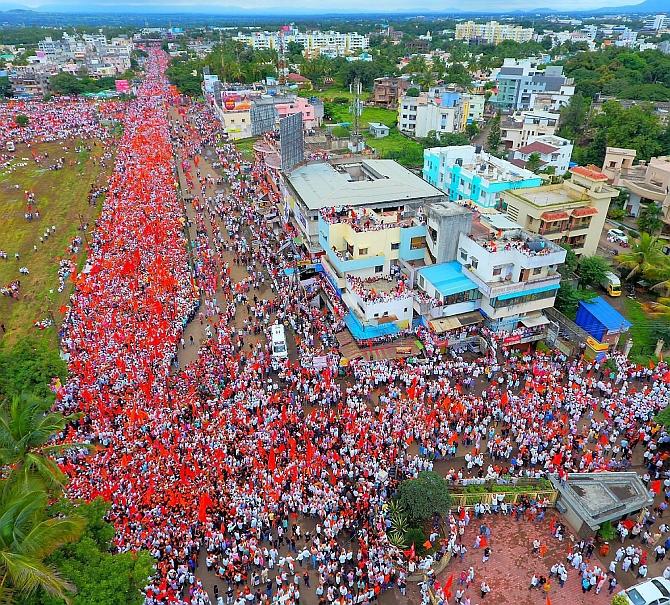 'The Kopardi rape/murder was the immediate cause of the unrest.'
'However, there is a feeling of isolation and anger that has been simmering within the Maratha community.'
'The protests gave Marathas a sense of belonging.'
'They felt they have a stake in the protests and the issues being raised.'
'As for the future, let us see what happens.'
'All I can say is it will not stop here.'
The silent rallies across Maharashtra which has seen millions of people from the Maratha community marching in organised protests in every district have left politicians of all parties and the state administration shaken.
The new political storm with never seen before numbers over the last two months promises to change the political landscape of the state.
Pravin Gaikwad, below, left, one of the main organisers of the protests, in an exclusive interview with Neeta Kolhatkar for Rediff.com explains how the protests indicate a paradigm shift in Maharashtra's politics, social structure and power dynamics.
What was the spark for these mook morchas and why have they caught the imagination of the Marathas in every district? Is it the Kopardi gang-rape and murder of a Maratha girl?
Yes, the Kopardi rape/murder was the immediate reason and it rattled all of us.
As Marathas we have been targeted under the Prevention of Atrocities Act and it has been a contentious issue with the community.
The rape/murder of a 14-year-old Maratha girl on July 13 by three Dalit youth was the immediate cause of the unrest.
However, there is a background to the feeling of isolation and anger that has been simmering within the community.
Can you explain the background for this mass feeling of isolation and anger among the Marathas, known to be most politically powerful community?
You must remember that for many years the Maratha Seva Sangh, Maha Sangh, Shiv Sangram, Sambhaji Brigade, etc have been our grassroots organisations involved in keeping together our caste members and discussing important issues like reservations.
One important point is that we never accepted the leadership of any one politician.
On June 6, it was announced that Sambhajiraje Chhatrapati (a descendant of Chhatrapati Shivaji) of Kolhapur will be nominated to the Rajya Sabha by the BJP (Bharatiya Janata Party).
I do not have anything against him, but this reflects the attitude of the government. They do not want to address issues and try to kill the ideology of the masses by diluting the leadership within the community.
Whenever there is a potential simmering crisis, the government will co-opt the leadership by giving them some post.
This is what the previous governments did with Sharad Joshi and his Shetkari Sanghatana. He was also given the Rajya Sabha nomination and the problems of small and landless farmers were forgotten.
Their issues remained unresolved, but the authorities succeeded in killing a potential agitation.
We saw the same with dilution of the Dalit Panther group as Ramdas Athawale was taken into mainstream politics and government.
The second point is the portrayal of Marathas in popular culture.
In the recent blockbuster Sairat, a young couple is shown wanting to break caste barriers. The rich girl is from the Maratha community and the boy is a Koli (fishermen community).
In the end the boy is murdered by the girl's family. Now this is the stereotype propagated by popular culture.
The portrayal of Marathas as villains every time has caused immense anger within the community.
On July 15, the Maratha Golmej Parishad (round table) conference was held in Kolhapur. During this time the news of the Kopardi rape/murder began trickling in.
That triggered intense agitation and anger that needed channelising. It was a time for introspection and action.
How did the community think of these mook morchas?
We first thought of looking within before we reached out to the community and then to society outside.
We agreed on a few conditions. The first being there will not be one leader who can hijack this protest.
We had not thought of continuous protests or rallies. We thought of one or two rallies to show our anger against government inaction.
Our first three demands were the death sentence to the three Dalit accused; an amendment to the Atrocities Act because it is being misused against our community and lastly, education for our children and jobs.
Our first protest was on August 3 in Ahmednagar. It saw a tremendous turnout and we never imagined that three lakh (300,000) people would attend it.
We planned to have one in Mumbai immediately after it, but we were not allowed.
At that time the Ambedkar Bhavan protests were being held by the Dalits and there was an official clampdown. We then decided to spread the message to nearby regions like Marathwada.
We began a WhatsApp group and SMS service. Let me tell you we do not depend on the popular media, which we know by experience is biased.
The tremendous power of social media has been amazing. I can't tell you how short messages appealed to our youth. Nearly 95 per cent of our community became aware and alert.
It was a simple message: 'Me morchat janar ahe, tumhi yenar ka?' ('I am going to the morcha, will you also come?')
This caught on like wildfire. People came forward to contribute and made the message resonate.
Suddenly members of the Maratha community came forward to contribute their cars, stickers, banners and T-shirts.
We laid down conditions. We informed every member of the specific one-line messages and forwarded them. They got them made and brought them. We said these are your personal souvenirs so you will carry them back and dispose them.
This message touched our people and gave them a sense of belonging. They felt they have a stake in the protests and the issues being raised. It has made each aware of their roots, that they are Marathas.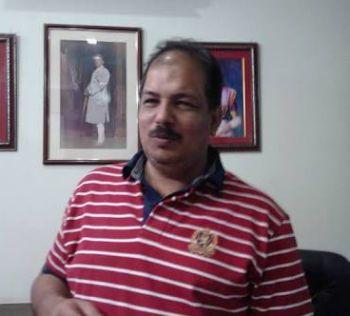 Who are the real leaders of these protests?
Who is sponsoring these rallies?
Where have you raised the funds?
Who is providing water, food and other logistics?
More than 35 percent of Marathas (who comprise 32 percent of Maharashtra's population) are poor, labourers and uneducated, how can they afford T-shirts, banners, etc?
Let me tell you now there is no stop to our ideas or protests. We initially thought the last of the protests will be Kolhapur (held on October 15). However, now our last round of protests will be in the Konkan region.
Initially, we had modest plans. But now every Maratha wants to be part of these rallies. They feel they are so close to bringing change and they will not get an opportunity again. It is now or never.
On October 23, it will be in Sindhudurg and Konkan. Our mega morcha will also reach Mumbai, but it will not be soon, maybe closer to the winter assembly session.
As for the criticism by our well wishers (laughs), let me tell you no one leader can or could have achieved what we have seen. It was truly magical.
Once a community (samaj) comes out on the streets, one does not need money or resources. We have entrepreneurs, businessmen, shopkeepers, transporters, designers, social media experts, people who are doing every task for the whole community in these rallies.
We have our own rules for code of conduct: Bring your own flags, water, 2 bananas, 1 biscuit pack. People came forward with more ideas and plans.
Members from other communities and religions participated in these rallies. Now Muslims have joined us since the last few weeks.
These are no ordinary political rallies. It is now an andolan (campaign) -- a mass movement has been created and no one person or party can hijack it.
There were reports that Maratha leaders like the Pawar family, Udayan Raje Bhosle and others participated, but were kept right at the end of the rallies.
Was this deliberate?
Then is it true that these rallies have political backing?
After the first rally when news reached Sharad Pawar, he was shocked. He called me and thought that the three lakh turnout was exaggerated.
He was in Aurangabad later and he asked around in the local media, the police and his supporters who told him that the actual number of people who participated was 5 lakh (500,000). In Pune the real figure was 35 lakh (3.5 million) members.
We are asking for definite change.
There is a vacuum created by our own leaders. Social activists got restless and society at large got fed up.
You can't bring so many people by luring them with money or gifts.
Yes, Ajit Pawar, Sambhaji Raje, Udayan Raje and many others attended rallies in their districts. But let me make it clear our volunteers and participants prevented them from hijacking the show.
Firstly they were all made to walk and that too at the end. None of the members of our rallies acknowledged these political leaders.
Each participating member is clear, it is my protest, I have created it and nobody else has a right to snatch it away from me or take credit for it.
How are the marchers so disciplined?
It is being alleged that the RSS (Rashtriya Swayamsevak Sangh) has to be behind this or some other force.
These allegations show the extent to which we have created restlessness among the political class.
Our grassroots organisations are well organised and disciplined and followed our code of conduct.
The discipline is credit worthy. When I tried to enter a rally from the front, the volunteer girls pulled me up. They snatch cellphones from those taking seflies.
Despite the high numbers there was no noise or chaos. It was all in order. Nobody has been given special treatment.
We plan in detail with the traffic and city police. Based on social media responses we give crowd estimations to the police. They sat with us with all their maps and detailing. They tell us how to move the people from point to point.
We have made it a rule that first will be girls, then women, then youth, elderly, men, others and the last two tiers are for volunteers who serve, pick up things and leaders who wish to participate.
Other than reservation and abolishing of the Prevention of Atrocities Act, what are your real demands?
What is the future for this mass movement?
Let us accept that the Dalits and OBCs (Other Backward Classes) have got protection due to the Prevention of Atrocities Act and benefits due to the reservations.
When we demand reservations one needs to understand that we have a majority of poor and uneducated people. It (Reservation) will have to be from the OBC quota.
I do understand the suffering of Dalits and it has taken ages for them to get a respectable status in our society. They got the rights only thanks to Dr Babasaheb Ambedkar.
Our leaders, on the other hand, fell for populist measures. Sharad Pawar renamed Marathwada University as Dr Babasaheb Ambedkar Marathwada University, but failed to give us reservation or a respectable status in society.
After V P Singh announced increased quota in reservations, the Dalits thought they would get the benefits. Members of the OBC castes did not even know they would get benefits from these reservations. At that time the OBCs in Maharashtra did not want reservations.
Forget accusing us of being close to the RSS, it is the OBC leaders who have been close to this ideology.
Gopinath Munde and others did not go with (V P Singh's) Janata Dal, they went to the BJP -- despite the RSS and the BJP opposing reservations.
Earlier in Maharashtra, the OBCs as a caste group were affiliated to the Congress. The Marathas leaders were accused of usurping power and having led the state for so many decades.
They asked us, why we are complaining today. But like I said earlier, our political families are disconnected from reality and society at large.
These stakeholders became rich and ignored the rest of the Maratha community, which were deprived.
So everyone who attends these protests wants justice.
Everyone has faced hardship, struggle and injustice and now wants not only answers, but ways to deal with it.
How many people know that the majority of farmers who committed suicides are Marathas?
The majority are poor, small-holding famers and labourers.
We have asked the government to waive loans, provide irrigation, power subsidy and other measures to reduce agrarian stress.
Our other demands are stop privatisation of jobs and education. Especially education, we strongly demand the government take responsibility.
The best schools in villages are the district schools which have good infrastructure, best paid teachers, big grounds and yet we see parents wanting to send their children to expensive, private schools.
In this situation, how can we call our country developed? It actually means we are bankrupt.
If the government has shirked its responsibility to educate every child, who will take the onus now?
And believe me if they begin to give quality education through municipal, government and district schools, we will not need reservations.
Many accuse the Marathas of eroding the education system. We have a few leaders who have created education power centres, but that does not make the whole Maratha community rich and powerful.
If we make the government take responsibility in most of these sectors and stop privatisation, it will automatically create space. We will need no reservations.
Right now, the government is creating this helpless situation and the need for reservations.
The privatisation that began in 1991 was bad for this country.
We were just not prepared and the stark contradictions in our society were just not addressed.
We are fighting against all of this.
As for the future, I can say we have started a social revolution.
A first of its kind and it is big. We do expect some change. Let us see what happens.
All I can say is it will not stop here.