Nawaz Sharif's appointment of a new army chief will influence India-Pakistan relations, says Aditi Phadnis.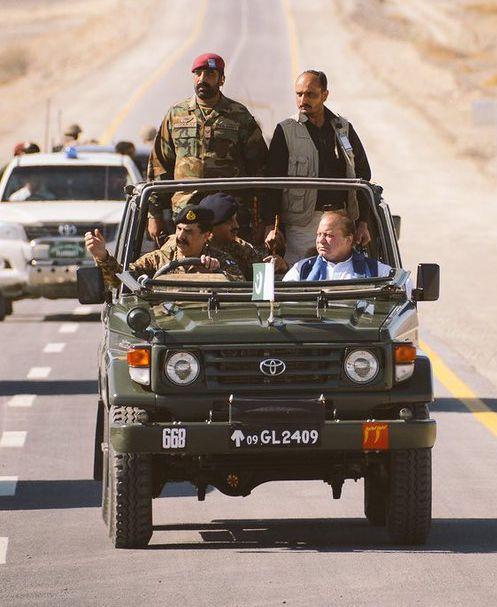 Given the central role Pakistan is playing in events in the subcontinent, now seems a good time to survey the leadership of the Pakistan army and assess whom Prime Minister Nawaz Sharif could appoint as the next chief of army staff and chairman, joint chiefs of staff committee to replace General Raheel Sharif and General Rashad Mahmood, the incumbents whose terms come to an end in late November.
Every tea shop, dhaba and television anchor in India has a view on Pakistan and what is wrong with it.
But how much do we really know about how decisions are taken in a country that is India's closest neighbour?
To those Indians who simper and preen at India's democracy, journalist and diplomat Hussain Haqqani says Pakistan never really had a choice: The domination of the military was thrust on it.
He says when India was partitioned, Pakistan's share comprised 21 per cent of British India's population and 17 per cent of its revenue but as much as a third of the armed forces that had been raised by the British during the Second World War.
Under the terms of Partition, Pakistan received 30 per cent of British India's Army, 40 per cent of its navy and 20 per cent of its air force.
Prime Minister Liaquat Ali Khan was forced in 1948 to allocate 75 per cent of Pakistan's first budget to cover the salaries and maintenance costs of this huge force.
Haqqani argues Pakistan was not like other countries that raise an army to deal with the threats they face. It inherited a large army that needed a threat if it was to be maintained.
That threat was India.
When you add to this the latest Amnesty International report that says Pakistan hosts the third-largest refugee population in the world (1.6 million people) -- mostly fleeing the war in Afghanistan -- it is not hard to imagine the kinds of pressure the country's infrastructure must face and the average Pakistan's yearning for a government that, well, just works.
Little wonder then that periodically the army emerges as the only efficient interface between the citizen and the State.
So who really runs the Army?
The Pakistan army has, not unnaturally, traditions similar to the Indian Army and is as professional. As in India, so also in Pakistan, while the COAS leads the army, the joint chiefs of staff, who is technically senior to the COAS, is a nominal head.
The prime minister of Pakistan appoints both incumbents, although many inputs go into the selection. The Dawn newspaper reports that this will be the fifth time that Sharif -- who already holds a record of sorts for being the prime minister who has appointed the most army chiefs -- will pick the top commander of the country's nearly 550,000 ground troops.
If the botched attempt to replace General Pervez Musharraf with General Ziauddin Butt in 1999 is counted (Nawaz Sharif tried to replace Musharraf with Butt, but found himself jobless instead), this will be the sixth time Nawaz Sharif will get to choose the COAS.
His past choices were General Asif Nawaz Janjua (1991), General Waheed Kakar (1993), General Musharraf (1998) and General Raheel Sharif (2013).
What are the choices?
In terms of seniority (and past events have shown that it is always perilous for a civilian government to ignore seniority), Chief of General Staff Lieutenant General Zubair Hayat is the senior-most followed by Multan Corps Commander Lieutenant General Ishfaq Nadeem Ahmed; Bahawalpur Corps Commander Lieutenant General Javed Iqbal Ramday; and Inspector General Training and Evaluation Lieutenant General Qamar Javed Bajwa.
The dossiers of the top six generals (three are excluded — one who is serving with the UN and two who are ineligible because they have not commanded a corps) are already with Sharif, who is possibly weighing eligibility on three parameters: Which of the six said what during the 2014 Islamabad sit-in by Imran Khan and Muhammad Tahir-ul-Qadri (rumoured to have been facilitated by the army and one of the biggest political setbacks to Nawaz Sharif); what role they played in the war in the tribal areas; and what their position is on India.
General Zubair Hayat is from the artillery and is tipped to be the man likely to become the CJCSC. It is in appointing the COAS that the rub lies.
The man Nawaz Sharif knows best is General Ramday from the infantry (Baloch regiment), whose family has political connections with the Pakistan Muslim League (Nawaz). Ramday is a nephew of a well-known (some say infamous) judge in the Pakistan supreme court, Justice Khalilur Rehman Ramday, and is due to retire in August 2017.
The problem is, Nawaz Sharif will have to supersede nearly six generals to appoint Ramday.
General Ishfaq Nadeem Ahmed is also one of those punters are putting their money on. One of Raheel Sharif's protégés, Ahmed is one of those who took the campaign in North Waziristan -- the Zarb-e-Azb -- forward as it was visualised by him as director general military operations.
As this is generally considered to have been successful, Ahmed is up there as Raheel Sharif's successor though he is said to be straight-talking. He is from the infantry.
General Bajwa is also from the infantry and is at the GHQ as inspector general of training and evaluation. He and former Indian COAS General Bikram Singh served together in Congo in peacekeeping operations.
India will have to assess the new COAS on the basis of his record. But whom he chooses will also tell us the way Nawaz Sharif's mind is working.
Look out for clues.
IMAGE: Pakistan army chief General Raheel Sharif takes to the wheel to drive Prime Minister Nawaz Sharif on the newly constructed Rs 13 billion Gwadar-Turbat-Hoshab road in Balochistan, which is a part of the ambitious China Pakistan Economic Corridor project, February 3, 2016.