'After we released the report, the stir it created took us by surprise.'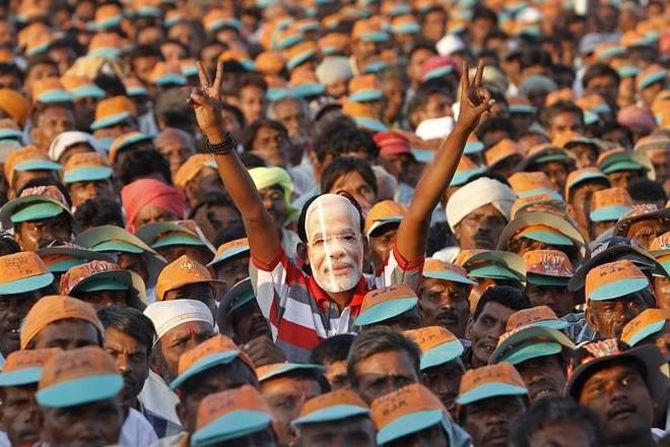 The Pew Research Centre suddenly found itself catapulted into India's partisan electoral politics with its latest survey on Indian public opinion.
The survey discovered that 88 per cent of Indians are upbeat about Prime Minister Narendra D Modi.
Bruce Stokes, director, Pew Global Economic Attitudes at the Pew Research Centre, discusses some of these issues with Subhomoy Bhattacharjee.
How do you react to the uproar created by the release of your survey?
We are very surprised. I was not aware that the Gujarat assembly elections were round the corner.
In India, elections are so regular that it is impossible to keep track of all of them.
After we released the report, the stir it created took us by surprise.
As you know, across the world, we do our surveys in the spring season. So we did the same here.
Would the results have differed if the survey had come after the goods and services tax roll-out?
It is difficult to say. We are very particular about the design of our survey, the way we select our samples and practically every word in our questionnaire is carefully scrutinised.
Yes, we did miss out on the GST and it's possible that it may have an impact. But our questions had quite a bit on demonetisation.
Also, we do these surveys face-to-face.
In the United States, for instance, plenty of our surveys are done on the phone. But abroad we do them face-to-face. So to answer your question, it is difficult to say.
Again, we have not timed the survey to appear in any particular month or after an episode. The routine we follow is a set yearly pattern.
There are also questions about the size of the sample.
I don't want to brag, but The Economist has termed us as the gold standard in this field.
Without getting into what that means, we take enormous care to construct our sample.
For India, we are asked questions if a sample like ours can accurately represent a country of 1.2 billion. It is something that we consider carefully.
The first question to ask any survey is whether it fits the population that it wants to measure. So, we have been careful to build up state-wise, age-wise, reflecting all these.
And it works. For instance, before the 2014 general election, we had tried to sample the winner, and we were told it would not work.
Yet, it did. Then there have been cases, not in India though, where we have rejected the results because we felt that the sampling was not done properly.
So, while you are only as good as the last survey, our methodology is pretty good.
There is no reason to believe that a larger sample of say 25,000 would show more accurate results.
Do you employ local partners?
We do. In India, for instance, the survey is done in eight languages.
We write the questions in English, translate those and again translate them back to assure ourselves that the exact right questions are being asked.
There is always a back-and-forth with the vendors.
There have been cases when we found that a word was impossible to translate accurately and then had to do the process from scratch.
You need that kind of detailed supervision.
Any plans to extend the scope of your work in India?
There are plenty of issues to track in India and we are quote optimistic about those.
Photograph: Reuters