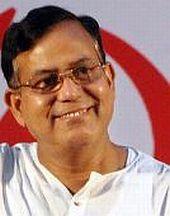 Former member of Parliament and Communist Party of India-Marxist veteran Mohammed Salim is not ready to accept that West Bengal is heading towards a change in governance.
Rather, he has already started planning for the eighth Left Front government in the state.
Complete Coverage: Assembly Elections 2011
In an informal conversation with rediff.com's Indrani Roy Mitra, Salim speaks about Trinamool Congress' much-hyped poriborton, what made Left fare badly at the last Lok Sabha and municipal elections among many other issues.
In the 2009 Lok Sabha election Salim contested the new Kolkata Uttar constituency, and lost to Trinamool candidate Sudip Bandyopadhyay.
Change or poriborton happens to be the new buzzword in Bengal. What do you feel?
Sadly, yes. But the Trinamool Congress has not been able to define the word. If you ask me, TMC's policy has always been that of opportunism.
At times, it inks a pact with the communal force called Bharatiya Janata Party whereas at Jangalmahal, it aligns with the radical outfit like People's Committee Against Police Atrocities.
Therefore, can such a party bring in a change? And that too for the better?
We have to understand that in a democracy, the relationship between the ruler and ruled is like that between a mother and a son. It's constant and not negotiable.
But the Trinamool-Congress alliance is almost certain of bringing in a change.
(Smiles) Let's wait till May 13. Truth will prevail. People will win.
What, do you think, made people turn away from the Left?
People did not turn away from us. They were angry and disappointed. We made mistakes as far as our land acquisition and industrialisation policies were concerned.
But we learnt from our mistakes and have been able to win back people's faith.
What, according to you, has been Trinamool Congress' USP?
You mean unique selling proposition? Trinamool has always attempted to sell old wine in new bottles.
It has tried to fool the people by making them dream the impossible (to turn Kolkata into London etc) and has also repeatedly demonised the Left by coining terms like harmad.
But I have to say, all its efforts have fallen flat.
We have often heard you saying that TMC-Congress alliance would have done better if the elections were held a couple of months earlier. Why so?
Yes. TMC has always tried to harp on mass hysteria, which is exactly why (TMC chief) Mamata Banerjee tried her best to have the election advanced, but in vain.
People of Bengal have seen the true face of TMC in the past few months. People have been witness to the party's performance at the rural and central levels.
And that, I am sure, has shaped their decisions.    
Would you like to comment on the TMC election manifesto?
(Laughs) I really don't know what to say. Things that are discussed in Washington and in Davos were smuggled into it.
The TMC manifesto shamelessly propagates the party's pro-American stance.
Many celebrities and industry captains (like Amit Mitra) have joined TMC.
When you lack in political resources, you opt for gimmicks. It's quite natural for Trinamool Congress to rope in famous names.
But that, I don't think, would be enough to win people's confidence (read votes).
It has been alleged that the Left Front and Bharatiya Janata Party are working in collusion.
(Laughs) And which political party is saying so -- the one that once entered into an alliance with it? It's hilarious, really.
How many seats do you hope to win?
I am no astrologer.
But going by the election trend and popular support, we are quite confident that the people of West Bengal would stand by us.
I am certain we would reach the magic figure with ease.
How can you be so sure, especially when your results in the Lok Sabha and municipal elections had been pretty bad?
I am not denying that.
But you have to take into account that Lok Sabha and municipal elections are quite different from assembly elections.
People of West Bengal are an educated and enlightened lot. They do know whom to vote for and when. Let's all wait till May 13 for their verdict.
Should you come back to power, what would be your party's agenda?
As always, we would focus on pro-people policies.
We would concentrate on land reforms, more efficient public distribution system, employment generation, protection of minorities among other issues.
We are determined to continue the good work we have been doing all these years and help West Bengal progress.
What if you lose?
We are in politics. A win or a loss is all but parts of our careers.
Whatever be the result, we would continue to work for our party and would go on serving the people. 
Image: CPI-M leader Md Salim