'The state government would have to divest the Mumbai police commissioner of the powers of this investigation. Mr Javed's power will have to be divested or withdrawn and then conferred on Mr Maria specific to this investigation.'
'If the government issues a notification to this effect, then it would be lawful. Whether it would be palatable to Ahmad Javed or not is another question.'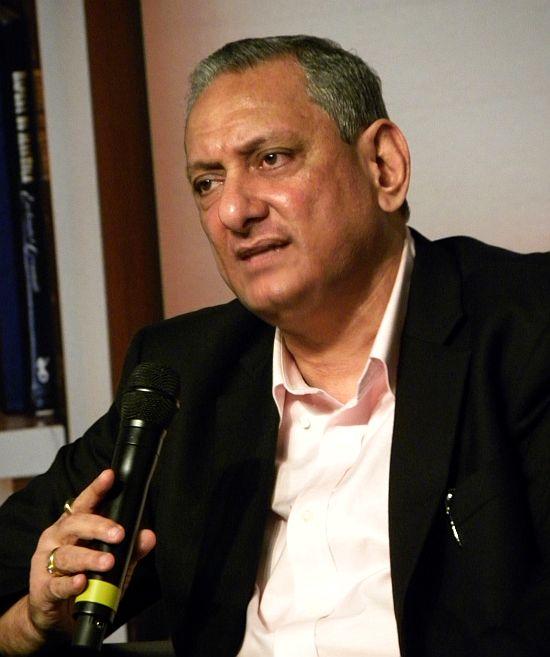 Former Indian Police Service officer-turned-lawyer-activist Yogesh Pratap Singh has been outspoken on Rakesh Maria's September 8 transfer as Mumbai police commissioner and Ahmed Javed's appointment as his successor.
Singh, pictured, below, discussed the impact of these transfers on Mumbai's police force in this interview with Prasanna D Zore/Rediff.com
What exactly is the legal issue involved in Ahmad Javed's appointment as Mumbai's police commissioner in Rakesh Maria's place?
Under the IPS (Cadre) Rules 1954 framed under the All India Services Act 1951, every post which is required to be occupied by an IPS officer, its rank and designation is specified.
Under the same rule, the position of commissioner of police, Mumbai, is that of an additional director general of police. Therefore, an incumbent of the same rank (ADGP) can be posted there, under this rule (But Ahmad Javed's rank before he was appointed as Mumbai police commissioner is that of Director General of Police, a post higher in the hierarchy than an ADGP).
In case an amendment is required, and in case the state government (of Maharashtra) feels that the post (of Mumbai police commissioner) has to be upgraded (from ADGP to DGP), then they will have to send a proposal to the central government. The central government then approves the upgradation of the post.
For a short-term purpose, just to fit in a particular officer in a specified post, such things are ad hoc in nature and should not be done.
They may be ad hoc, but are they illegal?
Mr Ahmad Javed is of the rank of DGP so he should have been posted to a post which was of DGP rank. This is the first illegality.
The other illegality is the ground that the state government has used for this transfer stating that Mr Maria (seen above at the Times Literary Festival in December 2013) had to be promoted on September 30 and therefore was required to be transferred.
If the promotion theory is right, then why did they transfer a DGP rank officer (Ahmad Javed) to the post (of Mumbai police commssioner)?
Hasn't the Maharashtra government issued a temporary order to elevate the rank of police commissioner to accommodate Ahmad Javed, a DGP?
If there is no officer available, only in 'exceptional circumstances', they can make these ad hoc arrangements. There were enough officers available (of the rank of ADGP who could have replaced Rakesh Maria as the police commissioner instead of Ahmad Javed).
Was Ahmad Javed's appointment as Mumbai police commissioner done under 'exceptional circumstances'?
No, these were not exceptional circumstances and in case they are challenged in a court of law the state government would face a tough time.
Additional Chief Secretary (Home) K P Bakshi has said that Rakesh Maria's transfer was carried out as per another provision (section 22 (N) (II)) of the Maharashtra Police Act, operative parts of which say 'in exceptional cases, in public interest, and on account of administrative exigencies, the competent authority shall make mid-term transfers.'
Would Ahmad Javed's appointment still be illegal?
The Maharashtra Police Act is subsidiary to the All India Services Act 1951, which is a central legislation. They cannot use the provisions of the Maharashtra Police Act. A state Act cannot supersede a central enactment.
Also, is this appointment (of Ahmad Javed) fit to be an 'exceptional case'? This is a routine case.
Even if the transfer is to be done under this provision, the transfer has to be done of an officer with a commensurate rank, a rank commensurate to the post specification given in the IPS Cadre Rule (1954).
The Maharashtra government has said that Mr Maria will oversee the Sheena Bora murder case. Who will Mr Maria report to now?
Again, such arrangements are not acceptable under the law.
The statutory investigations are carried under Chapter 12 of the Code of Criminal Procedure, and unless and until there is an officer who wields this statutory powers, s/he is ineligible to be a supervisory officer.
So, under Section 36 of the Code of Criminal Procedure superior officers of the police have been accorded statutory powers. But Mr Maria being DG Home Guards (now), is in a different organisation altogether.
If he is required to head the probe then it has to be duly notified under the Code of Criminal Procedure and under the Bombay Police Act. He has to be appointed as a special police officer to perform such functions.
This is not a tenable decision unless the Maharashtra government issues a notification.
But the state government can always issue such notifications.
(That is) possible, but then by such one line administrative diktats you can't start the birth of statutory investigation. These are statutory powers that determine the rights to life and liberty of individuals. And they cannot be governed by administrative decisions in this way.
So, unless Mr Maria is accorded with powers of a superior officer, he cannot supervise (the Sheena Bora murder case) legally.
Can this decision be challenged in a court of law?
Certainly, and this could undermine the investigations (into the Sheena Bora murder case). During the trial if these questions arise, it will vitiate the investigations. So, they (the state government) should follow the proper procedure. Let them notify it.
But then, how will people of two (similar) ranks reconcile to each other? Because, now Mr Maria is of an equivalent rank of DG (same as Ahmad Javed's) and the two officers don't share cordial relations with each other.
If in case the Maharashtra government does issue a notification that allows Mr Maria to oversee the Sheena Bora murder case, then how will the day to day investigations proceed?
In that case, they (the state government) would have to divest the Mumbai police commissioner (Ahmad Javed, in this case) of the powers of this investigation. Mr Javed's power will have to be divested or withdrawn and then conferred on Mr Maria specific to this investigation.
Is there a provision in law to do this?
If the government issues a notification to this effect, then it would be lawful. Whether it would be palatable to Ahmad Javed or not is another question.
This will further lead to an unhealthy relationship; it will lead to administrative conflict and it will blur the hierarchical command of juniors.
Because the juniors in this case then would be reporting to Mr Maria, but for all other residual matters they would be reporting to Mr Javed.
This will create a lot of confusion.
Additional Chief Secretary (Home) Bakshi has said that Mr Javed's appointment is an 'administrative exigency'...
Yes, but then you need a plausible reason to call it so.
The plausible reason the state government has given is the forthcoming festival season for which if the new police commissioner were to be appointed after Mr Maria's promotion due at the end of this month, the new commissioner would have been in saddle 'in the middle of the Ganpati festival' and in effect would not have had enough time to oversee the security arrangements?
No. That's not a plausible reason.
Will just a week's time (the Ganesh festival begins September 17) be enough for the new incumbent to apprise himself of the security situation in Mumbai?
There was no need to transfer Mr Maria in the first place. As it is his promotion was only due after 30th (September).
But the additional chief secretary (home) has said that it would have been 'inappropriate' to implement the transfer in the middle of the Ganpati festival. But the Ganpati festival ends on September 27, three days before Mr Maria was due for promotion.
Well, Mr Satyapal Singh (when he was Mumbai's police commissioner; he is now the Bharatiya Janata Party MP from Baghpat, UP) was not promoted for eight months. Promotion is the prerogative of the state government. These are all contrived excuses.
What do you think could be reason behind Mr Maria's 'promotion'?
Perhaps, the state government was not happy with him.
For what? For the Malad hooch tragedy? For not gauging that Yakub Memon's funeral would be attended by so many people? For the police arresting consenting couples from hotels? Or for his keen interest in the Sheena Bora murder case and his media briefings?
That is what makes the transfer malafide. Because if they were unhappy with him they should have noted it down that because of these, these, these, reasons it is inexpedient to have him as the police commissioner and therefore we are transferring him rather than to create the pretext of the festival season.
This pretext is not credible at all. Nobody will believe it.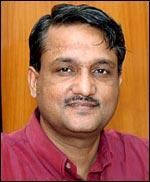 How will this Rakesh Maria-Ahmad Javed controversy affect the morale of the police force given that it is happening just before the beginning of the festive season in Mumbai?
It brings to the fore rivalry and infighting among IPS officers with the state government being the tool to resolve such infightings. It also undermines the neutrality of the home department vis-a-vis its officers.
Ultimately, all these things have a cascading effect. Juniors watch their seniors. The public watches the cops. Naturally, this (Javed-Maria issue) will further permeate the politics downward (in the police ranks).
Such arbitrary decision-making has a very negative impact in the short run as well as in the long run.
Will a week's time be enough for the new Mumbai police commissioner to apprise himself of and to lead the security arrangements for the festive season because that is the reason given as to why the state government brought in Mr Javed at this time insead of after September 30 the date after which Mr Maria was due for a promotion?
Logically, this reinforces the apprehension that the decision of the state government was based on a contrived pretext of law and order arrangements during Ganpati. In fact, how will a person in a week's time equip himself with the fundamentals of bandobast?
The Ganpati bandobast is system-specific. Even if nobody is there the bandobast goes on. Even if the commissioner is in temporary charge, even then it doesn't affect bandobast. The commissioner doesn't do bandobast. It is system-specific and it has evolved over the years. The system ensures the bandobast.
Isn't maintaining law and order ultimately the city police commissioner's responsibility?
Whoever is the commissioner will oversee the system. It's not that Mr Maria only can do it or Mr Javed only can do it. Under a Supreme Court ruling no officer is indispensable. Whether Mr Maria or Mr Javed is at the helm doesn't affect the bandobast.