'Dr Kafeel is being framed by the Yogi government because he talks about the BRD hospital all the time.'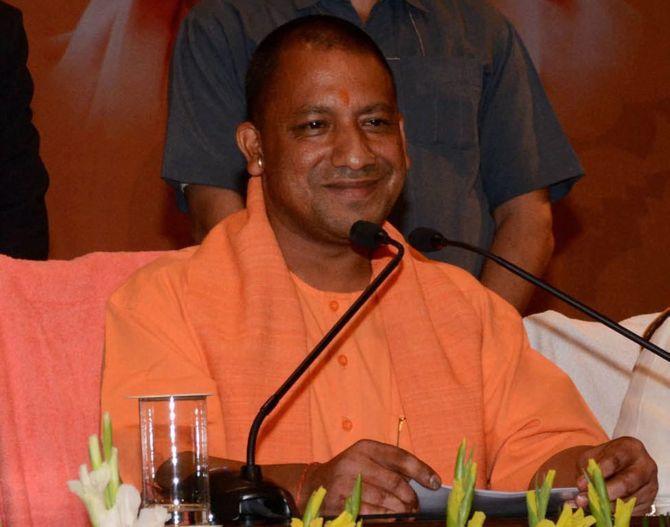 Dr Kafeel Khan was a doctor attached to the BRD hospital, Gorakhpur, in 2017 when his life changed perhaps forever after he was accused of negligence that led to the death of several children due to lack of oxygen.
Dr Khan was arrested and spent nine months in prison.
About two years later, an Uttar Pradesh government probe cleared Dr Khan of all major charges, prompting him to seek an apology from the Yogi Adityanath government.
Gorakhpur, incidentally, is the pocket borough of Chief Minister Adityanath who was elected to the Lok Sabha from there for five terms since 1998.
Subsequently, Dr Khan was also given a clean chit by a court in September 2019.
The government inquiry, too, found out that Dr Khan in fact spent his own money to obtain oxygen cylinders for the patients and worked overtime during the crisis.
Dr Khan has been arrested once again.
He was arrested by the Uttar Pradesh special task force from Mumbai on January 29 in connection with a speech he had delivered during an anti-Citizenship (Amendment) Act protest at the Aligarh Muslim University on December 12.
This time, the charges against Dr Khan are serious as he has been charged under the National Security Act.
Dr Khan's elder brother Adil Khan spoke to Rediff.com's Syed Firdaus Ashraf about what led to Dr Khan being booked under the NSA.
---
On December 12, 2019, when there was a protest at the Aligarh Muslim University against the Citizenship (Amendment) Act, Dr Kafeel went there to support their cause.
He went there because when Dr Kafeel was arrested wrongly by the Uttar Pradesh government in 2017, AMU students came out in large numbers to support him.
When he went to speak at AMU, Yogendra Yadav, president of Swaraj India, too was present with him.
After Dr Kafeel delivered his speech, the Hindu Mahasabha filed a case against him under section 153 A (promoting enmity).
(In his speech apparently, Dr Khan said, 'We (Indian Muslims) are 25 crore (250 million) strong and we cannot be scared.')
He was arrested 40 days after that speech.
Dr Kafeel got bail in this 153 A case.
As soon as he got bail, he was booked under the National Security Act.
The Supreme Court of India has said once you get bail, you cannot be charged under the NSA.
But here he was arrested under the stringent law.
On February 10, 2020, he had got bail. He was charged under the NSA on February 13.
Dr Kafeel was not released for three days even after the first court order giving him bail.
We then went to court and filed a petition for contempt of court.
Parmeet Kumar, a court officer, was appointed then at the Aligarh court. He was told to go and release Dr Kafeel right then on February 12.
But even after that he was not released.
The excuse the authorities gave us was that the media presence was too much, so he would be released the next day at 6 am.
Next day we came outside the jail at 6 am hoping he would be released.
Time passed, but still Dr Kafeel did not come out of the jail.
At 9 am, we came to know that he had been arrested under the NSA.
This is andha kanoon (blind justice) of the Yogi Adityanath government.
Dr Kafeel was highlighting the bad state of the BRD Hospital continuously. Therefore, he got into the bad books of the Yogi government.
Even today, that hospital is being run by only three doctors.
(Former UP chief minister) Akhilesh Yadav built a new hospital, but it has not been inaugurated.
Who will work in the hospital for Rs 60,000 when you know that you will be arrested for no reason if children die?
Dr Kafeel is raising issues of children dying in the hospital even today.
He was cleared and given a clean chit by the courts and government, but children are still dying.
So who should be held accountable?
They have finished Dr Kafeel's family economically and financially.
We are leading a hand to mouth existence.
My own distribution business is over.
We are selling our cars and also our land.
We cannot do land deals as buyers have been threatened.
Friends and extended family members are helping us to run our household.
When my younger brother Kashif met Dr Kafeel, he was told that he is being kept in isolation.
Dr Kafeel told us to carry on his fight legally so that he can come out of jail.
All the allegations against Dr Kafeel Khan are false.
He is being framed by the Yogi government because Dr Kafeel talks about the BRD hospital incident all the time.
Yogi speaks of Ram Rajya, but there is not a single doctor who wants to work in the paediatrics ward at Gorakhpur's BRD hospital.
This year the government showed 65 deaths.
But the fact is that more than 1,500 children died in BRD in 2019-2020.