'Muslims eat beef, some Hindus and poor people also eat, so why should we stop them from eating?'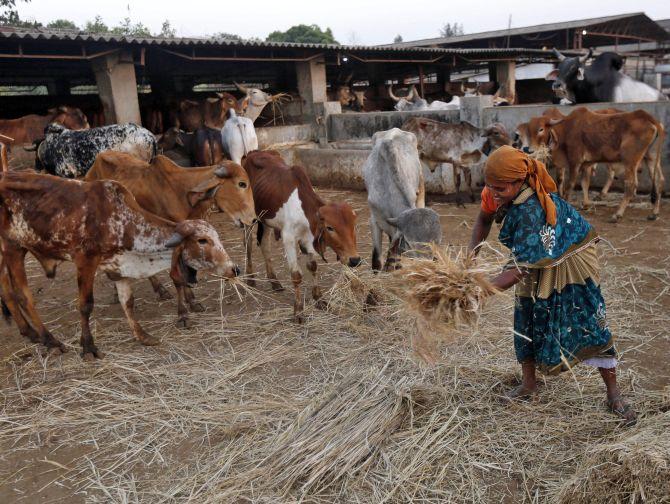 Bhimrao Dhonde, the Bharatiya Janata Party legislator from Ashti, Beed, Maharashtra, has criticised the beef ban implemented by the state government led by his party.
Speaking in the Maharashtra assembly on Thursday, March 10, Dhonde said the beef ban, which was implemented in the state last year, needs to be withdrawn as it has led to farmer distress.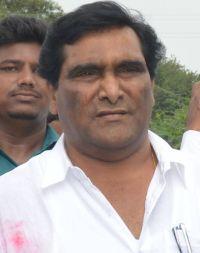 Dhonde, image, left, spoke to Syed Firdaus Ashraf/Rediff.com why he wants the controversial ban rolled back.
Why did you make the statement in the state assembly against the beef ban?
The (farming) system works this way. Farmers use the bull for farming. When the bull attains 10 years of age, a farmer sells that bull (to the slaughter house) and whatever money he earns from the sale, he buys a young bull.
Farmers do that because an old bull is of no use in farming.
Moreover, I feel it is not right to decide what people must eat. I don't think it is right.
Muslims eat beef, some Hindus and poor people (also eat beef), so why should we stop them from eating (what they want)?
Is there any link between farmers committing suicide and their inability to sell bulls after the beef ban was imposed in Maharashtra?
That is one of the reasons. A farmer has only two assets with him. One is land, the other is animals. He has only these two properties. If he cannot sell the animal, how will he get the money?
When the Maharashtra government brought in this law, they had argued that farmers are forced to sell their bulls because of their helplessness.
Yes, that is true. (But) when they are old, what will we do with the bull?
Today, the food of the bull has become very expensive. If there is an old bull and he is not working, then a farmer now has to feed him, which is a regular expense.
Every day he has to shell out Rs 200 to support that old unproductive bull.
A bull is useful for a farmer for 10 years and after that, when he becomes old, it is of no use in farming.
Once the bull attains 10 years of age if you tell the farmer that he has to keep the bull in his house and feed him, then the farmer will surely face difficulty.
An unproductive bull can live for another seven years. So, where will the farmer get the money to feed this bull?
Another important point is -- where will the farmer buy a new bull from? He can only buy a new bull after he sells his old bull. This is a circle which has been going on for centuries.
How much money is needed by a farmer to maintain an old bull?
Due to the drought situation now, it will take at least Rs 100 per day to maintain an old bull. It is expensive to buy grass and water.
But there are government gaushalas (cow shelters).
Where are they? The shelters the government has will only run till June, then they will shut down. Even here, there are very few gaushalas. They are run by some sansthas (organisations) . Moreover, they don't take bulls, they only take cows.
Do you think the government should build more gaushalas?
It is not possible to keep bulls in gaushalas. Every farmer owns a bull. Take any village in Maharashtra, there are approximately 700 bulls in every village. For that you have to construct gaushalas in every village, which is not possible.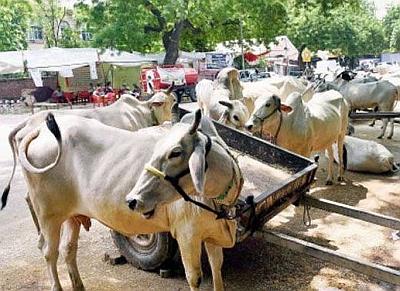 Can't the farmers opt for buffaloes for farming instead of bulls?
Farming can only be done with bulls and not with buffaloes. In some places, people do farming with the help of buffaloes. But 95 per cent of the farming is done by bulls.
As an MLA, do farmers come and tell you about the problem posed by the beef ban?
I am a farmer myself. One of my cousins, who is a farmer, said he had a bull worth Rs 1 lakh (Rs 100,000) and now people are not willing to pay more than Rs 20,000 (for it). He said he made a loss of Rs 80,000.
He told me he wants to sell the old bull and get a new one. He is now asking whether our government will compensate him for his loss.
When this law was passed, why didn't you oppose it?
This law is 15 years old. The bill had been sent to the President in the 1990s for his approval, but it was only approved by him last year.
You are a BJP MLA. Did you raise this issue in your party?
I spoke in the assembly, I say this everywhere. I was not in the BJP earlier, I was in the Congress.
So is it the Congressman in you speaking against this law which has been brought in by the BJP?
No, this is a business issue and farmers don't belong to any party. Farmers only ask me what to do with the old bulls? The poor people say they get beef for Rs 150 and mutton for Rs 600 per kg. So how will a poor man eat mutton?
Should the Maharashtra government withdraw the beef ban?
They have to take it back. If you want to save farmers and give protein to poor people, then you have to take back this bill.
I want gau hatya kanoon (cow slaughter law). I am against gau vansh (cow progeny slaughter). The cow is different and the bull is different. The cow is good. It is pure and useful. But what do you do with a bull (when it is old)?
One reads that so many gaushalas are being launched, even the Vishwa Hindu Parishad is working to build more gaushalas.
The VHP is working at two or three places, but there are bulls in every village.
Every farmer has a bull and the population of tractor farmers is not more than five percent in Maharashtra.
Farming runs on bulls, but old bulls cannot do farming. Only young bulls can work in farms and now if you cannot sell old bulls, then what will you do with them?
How many farmers use tractors for farming?
I cannot give you the exact figures. But if you consider Maharashtra's population as 11 crore (100 million), then six crore (60 million) people are involved in farming.
Now if you say that there are 10 percent of tractor farmers in Maharashtra, then their population will be around 60 lakhs (6 million). But the rest of the farmer population (5.40 crore/54 million) is dependent on bulls for farming.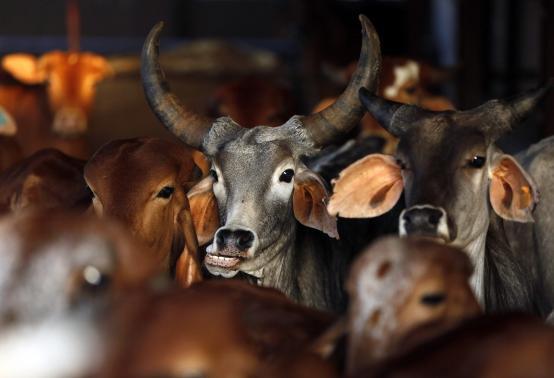 So once the bulls become old, do the farmers set them loose to roam in villages as they can't afford to maintain them?
No, they are not doing that. Farmers are taking care of their bulls. Farmers love their bulls. He will not allow his bull to roam freely in villages because he can go and destroy others' farms.
But it is not possible to take care of old bulls and therefore, I am saying that the ban must be withdrawn.
Are you not afraid of going against your party's stand?
I am not against the party. I am talking for farmers and poor people. I am a farmer by profession. I have studied BA LLB, but my base is that of a farmer. My entire family is in farming and I own a lot of animals too.
My base is that of bulls and whichever party you are in, it has to work for the people.
But there are gaushalas run by the government, you can sell your bulls there.
Where are they? There are no gaushalas run by the government. Only organisations owned by Jains are running gaushalas and they take care of cows, not bulls.
Are you not afraid that you could be expelled from your party for speaking against the beef ban?
No. Because I am speaking for the rights of the people.