'If we get a hearing soon, I am hundred percent sure he would be a free man as they do not have any evidence against him.'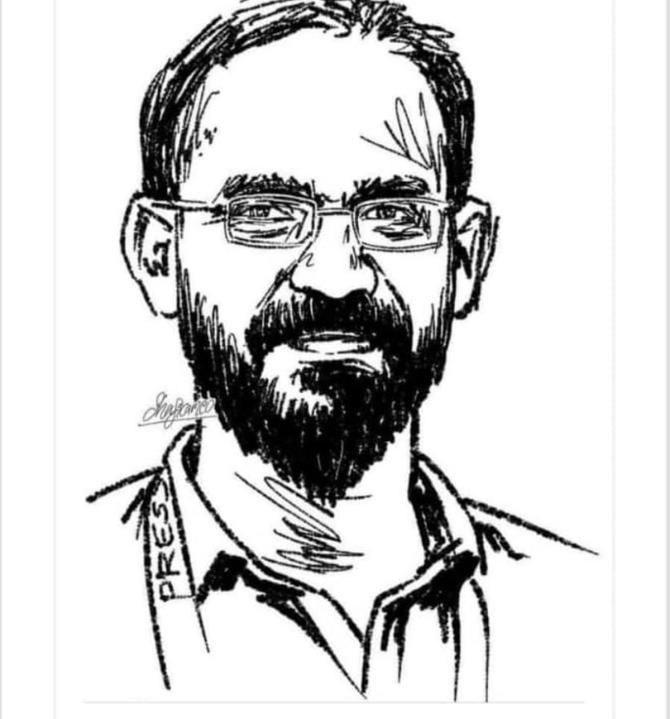 In November last year when Rediff.com's Shobha Warrier spoke to Raihana Kappan, a month after her husband Sidhique Kappan, a Delhi-based journalist was arrested in Mathura under Section 17 of the Unlawful Activities (Prevention) Act, she was hopeful that he would soon get bail and come back home.
He was on his way to Hathras to meet the family of the girl who was gang raped and murdered.
A year and more has passed. Sidhique Kappan is still languishing in jail.
With the support system gone, his 38-year-old wife who has never worked and three children, including a college going teenager, have to fend for themselves.
Raihana talks to Shobha about her life without her husband in the first of a two-part interview.
We spoke quite a few times in the last one year. Your husband is still in jail. How did you tide over the last one year?
I was full of hope in the earlier days because I was sure there was nothing in the case for them to deny him bail.
Today, my state of mind is totally different. I have no idea in which direction they would take the case forward.
If they can keep an innocent man in jail for one whole year, I do not know how many more days or months they would keep him there.
The only hope we have is the highest court, but then, the case is getting delayed a lot.
If we get a hearing soon, I am hundred percent sure he would be a free man as they do not have any evidence against him.
These days I only feel anxious; anxious about the future, anxious about the direction in which things will move.
Wish I could get to hear something positive. But nothing of that sort has happened in the last one year.
How frequently are you allowed to talk to him? How is his state of mind?
We talk to him for five minutes most of the days. We pay for the calls from here so that he could make the call. At least, now we know that he is alive.
Unlike me who learnt about UAPA now, he knows what it is.
So, there is no way I can console him saying it is okay, and you will be out soon.
He knows the reality.
Could they come up with any evidence? No. On the other hand, it is said that they are using the articles and interviews he has done as evidence.
We have not seen the charge sheet yet. Other than what has come in some local newspapers, we have no idea what is there in the charge sheet.
Why is it that they are not giving us the charge sheet even after one year?
Does he talk about this when you call?
He says unless he sees the charge sheet, how will he know what false accusations they have made against him.
I am told the accusation against him was that he spoke in favour of Islam in some of his articles.
It was as if he has written only about Islam, he has written hundreds of articles in his career as a journalist.
And he had covered those stories the other journalists also have done.
What I cannot understand is, when Kappan writes about the same issue, how does it become different?
We can only prove all this in the court but for that, the case has to be heard in the court...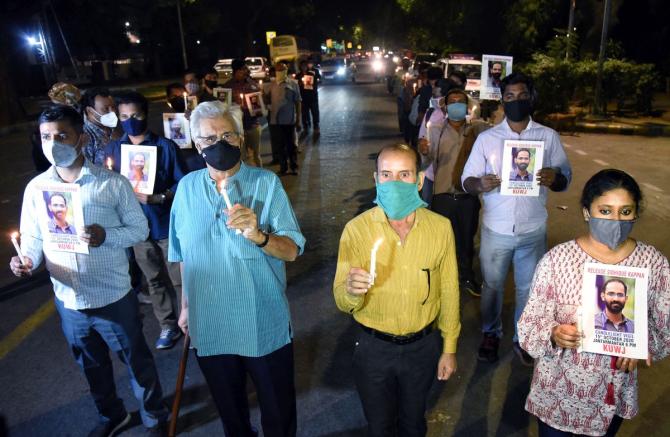 In the last one year, he could come home also only once, that too when his mother was very ill...
Yes. That was the only time the court let him come home. That was the only time in the last one year we also saw him.
Do you know how many applications I have given to get permission to meet him in person? Do we, his family, not feel like seeing him?
When he is not a convict, why do you punish him and his family so much? Even the convicts get a chance to meet their families..
It would have helped him a lot if he was given permission to meet his family at least once in a month.
If we were allowed to have a video call once a week..
Why are they not letting you make video calls?
I have no idea. They only let us make audio calls.
No permission to meet him. No permission to make video calls. Are these not violation of human rights?
What has this man done to deny his rights to meet even his wife and children?
They arrested him based on a suspicion. Has the case been heard in a court? No.
Has he been punished? No.
Then, why is it that he is not allowed to meet his family?
What is happening there?
Is it because he is a Muslim? Is it because he is a Muslim journalist? I don't understand.
Feature Presentation: Aslam Hunani/Rediff.com