'People ask me from where I get the strength to fight this battle. I really do not know.
Perhaps God is giving me the strength as I am fighting for truth.'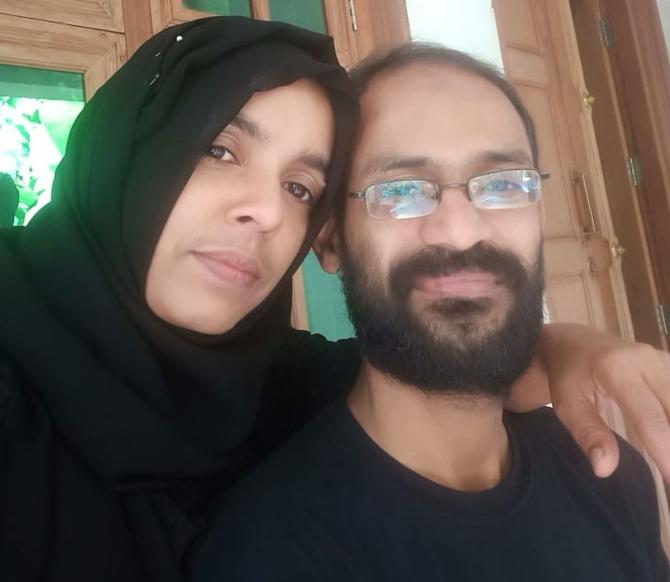 October 5, 2020. The life of a Delhi-based journalist changed forever when he decided to visit a village in Uttar Pradesh where a brutal rape had taken place.
The same day, the life of his 37-year-old wife who had till then lived a quiet life taking care of their children also changed dramatically.
The life of their three children aged 17, 12 and 8 also was not the same anymore.
From then onwards, not a moment passed without the journalist's 90-year-old mother shedding tears for her son.
Sidhique Kappan, the journalist who has been languishing in a crowded jail in UP, is covid positive and not just in a hospital, but chained to the hospital bed, unable to even go to the toilet.
It was the last straw for Raihana, Kappan's wife, who has been running from pillar to post to get her husband released from the clutches of the UP police.
A couple of weeks ago, when Shobha Warrier/Rediff.com spoke to her, Raihanna sounded helpless and dejected. Now, one senses a new vigour and determination in her voice.
"I will not rest till my innocent husband is released from jail," she says.
On the 21st of April, our advocate informed me that Ikka (Sidhique Kappan) was tested covid positive, and that he had been shifted to a hospital.
I came to know from him that Ikka was taken to the hospital after he fell down in the bathroom. That was when he was tested for COVID-19 though he had had fever for the last fifteen days.
We didn't have any other news after that. I was not able to talk to him also.
I think it was on the 25th that I got a call from him, that too from somebody else's phone, perhaps some other patient's phone.
His voice was very feeble and he sounded so desperate. He told me that he fell down in the bathroom and got a cut on his chin. It was so painful that he was not able to eat any food. He said he was also tested positive.
Then he said, 'I want to go to the toilet. That is what I want urgently. Because I am chained to the bed, I am not able to get up and go to the toilet. They refused to remove the chain. I am urinating in a bottle. But I want to go to the toilet urgently.'
'Please do something. Please tell our advocate to somehow get me released from here so that I can go back to the jail. I can't bear this anymore.'
It was like I was hit by an electric shock. For a moment, I was so numbed that I didn't know how to react. Tears started rolling down from my eyes.
You can imagine how miserable he must have been to make a call from a stranger's phone to ask me for help. He was literally pleading, begging for help. It was the voice of a sick person who was all alone, so far away, that too being treated so cruelly.
The call lasted just two minutes.
Initially I didn't know what to do. My children and I felt so dejected that we cried hopelessly. But that was only for a few moments.
Then, I gathered strength, and I was no longer helpless. I knew I could not afford to be weak and waste any moment thereafter.
If I became weak, who would fight for my husband? Who would take care of my children?
If not me, who would raise voice for my innocent husband?
That was when I decided to enter the battlefield.
I immediately called our advocate to decide the future course of action.
He advised me to write a letter to the Chief Justice of India as what was being done was total human rights violation. I drafted a letter to him that night itself.
My questions were...
How can anyone treat a human being like this, chained to the bed like an animal?
If the police were so worried that he would escape from the hospital bed, they should have kept him in a separate room. That was how you treat another human being.
Can you imagine the mental state of a person who was chained to the bed and not able to even go to the toilet for four days? Would he eat anything in such a condition?
Do you know he had had fever for fifteen days? It could have been covid as many inmates had tested positive. But he was tested for covid only after he fell unconscious in the bathroom.
He had told me that he could not eat the jail food; even the smell made him nauseous. He was so weak that when he ate the food, he got loose motions. So, he was surviving on the vegetables he got from the canteen. He was also fasting in the month of Ramzan.
Till his call came, we had no idea what condition he was in. The medical superintendent had told the advocate that he was better and eating properly. So, we thought he was recovering.
That was when his call came.
Now, the UP police say that he was never chained and it was a lie. Yes, we do not have any evidence to prove that he was chained except the call from him begging for help. Except the hospital workers, nobody went inside as it was a covid ward. The police were only guarding outside.
But why should he call me and lie about the pathetic state he was in?
It was based on the letter I wrote to the CJI that the Supreme Court took up the matter and asked the state of UP to furnish his medical records before the Court.
I had requested the Court to transfer him to AIIMS in Delhi so that he got better treatment and better food.
There was a time I could not see any hope anywhere. But when so many people came forward to support me, it gave me a new energy.
For the first time, eleven MPs from Kerala, the chief minister, Binoy Viswam Sir, M A Baby Sir and all the religious organisations have pledged their support to me.
The chief minister also got himself involved by writing a letter to the UP chief minister as there was blatant human rights violation in this case.
KUWJ (Kerala Union of Working Journalists) has been with me from the beginning, offering all the support and giving me the strength to sail through.
All these people have told me that they would be with me till he was released.
Because of the support I am receiving from all these people, I feel hopeful, I feel confident.
At least the Supreme Court has agreed to listen to what we have to say.
For the last seven months, an innocent man has been rotting in a UP jail. I would like to see that he got bail immediately. Not just bail, he needs freedom from this torture.
I know I am waging a war against a system that is crucifying an innocent person. People ask me from where I get the strength to fight this battle. I really do not know.
Perhaps God is giving me the strength as I am fighting for truth.
Let the truth prevail, and I am sure ultimately truth will win.
Feature Presentation: Aslam Hunani/Rediff.com